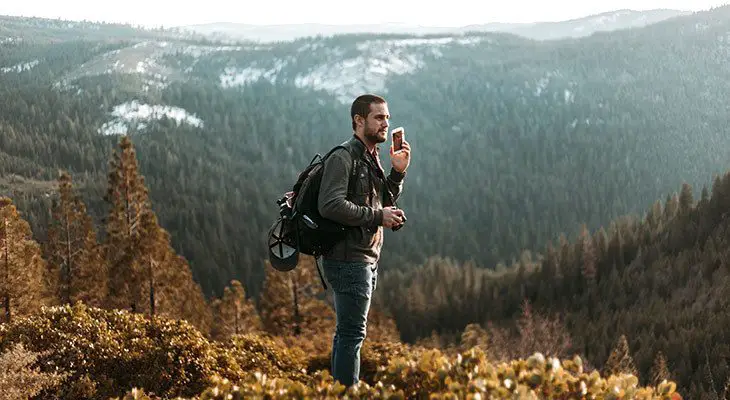 4 Ozark Trail Backpacks: Reviewed, Rated & Compared
If you're planning a camping trip in the near future, you may want to invest in an Ozark Trail backpack to take with you. Ozark Trail is a popular outdoor brand that's currently owned by Walmart, and they produce durable backpacks that are ideal for hiking and camping – but that isn't all.
Ozark Trail are also known for producing affordable backpacks, so their bags are very popular with students and young professionals who are on a budget. So whether you're planning on spending a few nights in the mountains or simply heading to a lecture, an Ozark backpack could be perfect for you.
What Makes The Ozark Brand Popular?
One of the main reasons why Ozark are so popular is because of how affordable their backpacks are. Camping equipment can be very expensive, with most backpacks costing hundreds of dollars, which just isn't an option for many people - especially first time campers who aren't sure if they'll be camping again.
In comparison, Ozark is a very affordable brand, with most of their backpacks costing less than $100. Yet despite this, their products are still top notch. They're all made from high-quality materials, and many of their bags are weather-resistant.
Make sure you understand the definition of terms like waterproof and water-resistant before making your purchase by reading a handy article like this one.
Ozark sell a wide range of backpacks to meet different needs, including cooler backpacks to keep food cold and water-resistant bags that are perfect for long camping trips.
The Ozark offices are located in northwest Arkansas, in the Ozark mountains, somewhere you might end up exploring with one of these packs on your back. All of their backpacks are designed in America.
---
Who are Ozark backpacks made for?
Ozark backpacks are designed for hikers and campers, but in reality they're used by a much wider range of people due to how affordable they are.
For instance, the brand produces affordable, everyday backpacks with lots of space inside, which is perfect for students who have to carry books and a laptop around with them all day.
The temperature control backpacks are also popular with office workers who take their lunch to work with them, as the bags are designed to keep the contents warm or cold throughout the day. Sure, the backpacks were actually designed to keep water cool on during summer hikes, but they can also make sure your sandwich doesn't get warm and stale during a hot day at the office!
Ozark have a very versatile range of backpacks that cater to a lot of different needs, which this is why the brand is preferred by many campers and hikers, as well as students and young professionals.
So, no matter what your needs are, it's very likely that there's an Ozark backpack that's perfect for you.
---
4 Best Ozark Backpacks Reviewed
From backpacks that can fit 35 liters inside them to temperature control bags, here are four of the most popular Ozark backpacks.
1. Ozark Trail 35L Choteau Daypack Backpack
Quick Look - Bag Features
The Ozark Trail 35L Choteau Daypack is one of the most popular Ozark backpacks. The pack is lightweight and very comfortable to wear. It has wide air-mesh padded shoulder straps to distribute weight evenly across the body, so even if the bag is full it shouldn't be uncomfortable to wear.
The backpack also has a back panel that allows air to travel through the back, helping to keep you feeling cool and fresh. This is very useful for people who are planning a long hike in warm weather.
The backpack is made from polyester and heavy-duty ripstop material, so it's very durable and strong. If you're not sure what ripstop material is, have a read of this explanatory article.
No matter how much you put in the backpack, it should be able to withstand the weight. There are also compression straps that help to stabilize the backpack when you're wearing it, as well as two sternum straps for support.
Inside the backpack you'll find a pocket that's thermal insulated, and this can be used to keep your food warm or cold. Outside the bag are two pockets that can each hold a bottle of water.
The backpack also has lots of storage compartments, including an interior storage section that can hold a water bottle, a tablet or a laptop. This is ideal for office workers and students.
2. 45L Montpelier Technical Backpack
Quick Look - Bag Features
The Ozark 45 litre Montpelier Technical backpack is well suited to hikers and campers. The large bag is built with an aluminium frame that can be removed, although it's unlikely that you would want to remove the frame if you're fully filling the bag.
This is because the frame helps to give the bag a more supported structure, so it makes it easier for you to fill the bag. The frame also helps to distribute weight throughout the bag, so there's less pressure on the wearer's back.
Built to hold as many items as possible, the bag has a cinch closure and a large internal compartment. This compartment can easily hold a laptop, a tablet or a few bottles of water. There's a convenient, stretchy front pouch, and there are compression straps to help stabilise the back when it's full.
The bag also has some safety design features. There's a reflective safety print on the bag, so it's ideal for cyclists as well as hikers.
However, it's worth noting that the bag only has three compartments with zips; one large compartment and two smaller compartments. This means almost everything will need to go in one compartment, which isn't such a problem if you plan on taking everything out while you're camping. However, you'll need to pack smart if you're keeping the bag packed for most of your trip.
Finally the bag has wide, padded shoulder straps to ensure that it's comfortable to wear. This backpack is well-suited to car camping trips and everyday life, especially if you're carrying a lot of things with you.
3. Ozark trail Lightweight 40L backpack
Quick Look - Bag Features
If you're planning a long camping trip and you need to bring lots of things with you, you may want to invest in the 40L trail backpack. This midsized backpack is designed for hard-core campers, and there are lots of useful little features. Unlike the Montpelier Technical backpack, this backpack comes with lots of functional pockets that make it easier to organize and store your stuff.
The main compartment in the back comes with quick zip access, and inside there's a smaller pocket for important items. There are also trekking pole attachment points, so it's perfect for uphill hiking.
The backpack is also very comfortable to wear, due to the padded waist belt that comes with reinforcement straps. This means that the bag will be stable and secure when you're wearing it, even if it's full to the brim.
This backpack is larger than the other backpacks on the market, so if you're just looking for a backpack that you can take to work, this probably isn't the backpack for you. But if you're planning a camping or a hiking trip, this bag will be perfect!
4. Ozark Trail 24-Can Cooler Backpack
Quick Look - Bag Features
The Ozark Trail 24-can cooler backpack is smaller than the other backpacks on this list, but it still has some handy features. The main feature of the bag is the cooler interior that can fit up to 24 cans, as well as some ice packs. This section is well insulated to ensure that the items inside will stay cold for hours, so it's perfect for an overnight camping trip with friends.
However the main section won't stay cold for days, so if you're camping for more than one day you may want to bring a cooler instead. The backpack also has a deep zipper, which can make it slightly harder to pack the bag, but it's still effective.
If you're looking for a cooler backpack that's easier to fill, the North Coyote Cooler backpack is a great alternative.
While the Ozark Trail Cooler backpack may not be suited to long hiking trips, it's ideal for a quick overnight camping trip or a day at the office - and the price tag is definitely very reasonable.
---
People Also Ask (FAQs)
Are Ozark backpacks good quality and durable?
Yes, they're well made with high quality fabrics.
I need a large backpack. Will this brand be good for me?
Yes, Ozark sell a wide range of large backpacks, including a 65-liter backpack.
Are Ozark trail backpacks good for fishing?
Yes, some Ozark backpacks are suited to fishing trips. It's best to pick up an Ozark backpack with lots of pockets, such as the Technical backpack, as this will make it easier for you to organize your fishing gear.
Can you take this backpack as a carry-on bag on airplanes?
Some smaller Ozark backpacks can be used as a carry on, but the larger backpacks are too big to be used as carry on luggage. It's always best to call your airline prior to flying to get an exact answer as each company's policy can vary.
How do you wash or clean a Ozark backpack?
You can clean your Ozark backpack by wiping it down with a damp cloth. You can also wash the backpack on a low heat if it needs a thorough clean.
Where can you buy backpacks at cheap prices?
---
Conclusion
Ozark backpacks are perfect for outdoor enthusiasts, as well as young professionals and students. This is because the backpacks are very affordable, so they're suited to people who don't have a high budget – but they're also very durable, so they should last for quite a while before becoming damaged.
So whether you're looking for a simple backpack that you can use to carry your lunch and your laptop, or you want something a little more complex for a long hiking trip, Ozark should have a backpack to suit your needs.