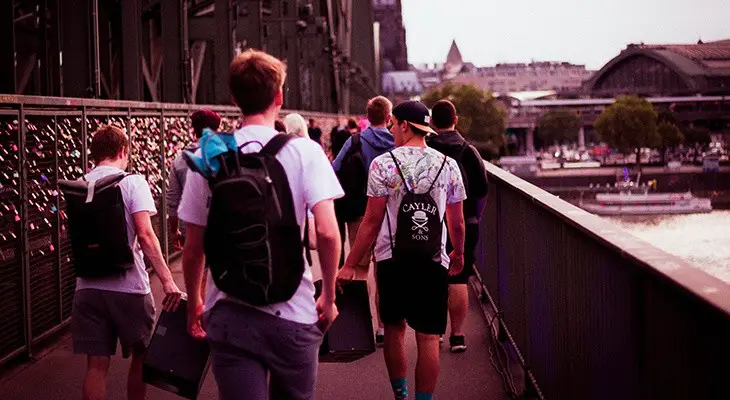 5 Best Oakley Backpacks: Reviewed, Rated & Compared
The Oakley brand has become a very popular one over the years, and they've been a favorite of mine for quite some time now. With their stylish designs and great build quality, it's not hard to see why.
So, today I'll be doing an overall Oakley backpack review and comparing them, making it easier for you to make that hard decision. 
Oakley Backpack Comparison Table
Oakley Men's Bathroom Sink

23 Liters (17"x11.75"x7")

Oakley Men's Kitchen Sink

Oakley Men's Blade Wet Dry 30

Oakley Men's Voyage 23L Roll Top

20 Liters
(19"x12.5"x6.5")
---
What Makes The Oakley Brand Popular?
Oakley started its career back in 1975 by selling high-end sunglasses mainly used for snowboarding or outdoor activities, but since then they've branched out into different ranges. These ranges include clothing, shoes and men's and women's backpacks. They were acquired by fashion eyewear giant Luxottica back in 2007. 
The Oakley brand quickly gained popularity in the outdoor adventure world, but since then has gained notoriety as a fashion statement. With its sleek designs and style, it's no surprise that Oakley has become popular.
Their functionality has really driven the popularity of these bags, making it a must-have item. With multiple pockets, it's easier for you to store your items but still retrieve them quickly. All of their products are designed carefully and always meet the demands of the task at hand. 
---
Who are Oakley backpacks made for?
Oakley backpacks seem to be mainly aimed at young adults. They have stylish designs, making it a go to choice. They perform well for the traveling person that likes to pack light and have easy access to all of their belongings. All Oakley backpacks come with a laptop sleeve so they work great for a digital nomad.
Their backpacks definitely seem to focus on outdoor activities like snowboarding, hiking or climbing. With all the extra space these Oakley bags provide, it's no wonder the active person would choose these backpacks.
They also come with a sunglasses compartment making it great for hikers on those sunny mountain days.
---
What We Looked At: Oakley Backpack Buying Guide
Materials
This is an important factor when it comes down to choosing the bag that's right for you. If the material is too thin you have the risk of the bag splitting. If it's too thick it may be too heavy with all the combined weight of your items.
Find a bag that's lightweight but tough. This way, the bag will last a long time and not break after plenty of use. 
Water Resistance
When shopping for your next Oakley bag, you should consider if you want a water-resistant or waterproof backpack. If you frequently carry expensive electronics, such as a laptop, with you, then you should opt for a waterproof Oakley laptop bag.

You can also get a water-resistant backpack, which will hold up to light rain storms and splashing. Check the specs of each Oakley bag below to make sure you're buying the best option for you.
Shoulder Straps
Choosing a bag with good straps is important as it's the difference between cutting into your shoulders and carrying with ease. Having adjustable straps ensures the bag doesn't do damage to your back over time.
Making sure you hit the right balance will ensure your bag is comfortable in any situation no matter where you go and how long you go for. Look for durable padded straps with adjustability to ensure you get the perfect fit. Your backpack should be resting on your hips instead of your shoulders.
Size
Picking the wrong size can be a drag. Too small and you can't fit the items you need into the bag. Too big and you have unnecessary weight. It's all about finding the right balance.
Picking the right size avoids the need for multiple bags, making life easier for you. If you're planning to use your Oakley backpack for overnight trips, then you should opt for a larger one. If you just need it to carry a few things to work, then a smaller Oakley bag might do the trick.
Comfort
No matter what you plan to use your Oakley backpack for, it needs to be comfortable. Some of the main comfort features to looks out for is a padded and ventilated back panel, adjustable external straps, and even distribution of weight. 
You should also consider a backpack's contoured design. This will help with the overall fit of your pack when it's on your back.

Compartments
Having the right compartments in your bag is great. It enables you to spread your equipment around, making it easier to find.
That being said, you really need to examine the size of the compartments, making sure they can fit the correct items. Just because the width is suitable for your laptop, doesn't mean the depth will be.
You should look for external organizational pockets such as a sunglasses pocket, media storage, and a space for pens and other supplies. All of these pockets should be easy to access.

Style Options
Style options are important for everyone. No one wants to be walking around with a backpack that doesn't suit them.
But the style of the bag doesn't just mean if it looks good, you also need to look at the suitability of the bag. Does this style of bag suit your needs? Is it going to perform the task it needs to? Looking into this before you choose the bag will help you to stop making a bad decision in the long run.
Oakley backpacks tend to come in black and red as opposed to more flashy colors. They also have a more rugged and tactical look than other brands. We recommend sticking to a style that suits you.

If style is a priority for you, check out this article which focuses on how to choose a great backpack for your look. 
Warranty
Looking into the warranty your bag comes with is important. Why? Well, if something goes wrong with the bag you want to make sure you're covered. When considering the warranty there are a few things you should look into, such as what it covers and how long it lasts.
Many big brands have warranties nowadays. It's good business practice and keeps customers happy. Most Oakley backpacks come with a one-year warranty, which is reassuring for consumers.
Price
You should decide on a budget before you buy a new backpack. While Oakley backpacks tend to be a bit pricier, there are still options for budget-minded people. In this case, the higher price tag of Oakley bags translates to an overall higher quality.

---
5 Best Oakley Backpacks Reviewed
Here are the five best Oakley backpacks. We chose these because they're at the top of the market as we speak.
We compared a variety of style options from Oakley men's backpacks to unisex bags. Each bag has its own features. Take a look to find out which bag it right for you.
1. Oakley Men's Bathroom Sink
The Oakley Bathroom Sink backpack is the younger brother to the Oakley Kitchen Sink backpack below. It has specialized zipped pockets all over the bag, making this a great backpack for any trip you may be taking. The 4 interior slips and 5 exterior clips make this an extremely secure backpack and suitable for the city and the countryside.

It also has a great cushioned laptop compartment that will comfortably fit 13" devices. The build quality is amazing and has stitching that seems to last forever. The nylon fabric is very robust and abrasion-resistant.

It features a padded back with ventilation marks, which really enhances the comfort level and keeps you cool during those long summer treks. The shoulder straps are fully adjustable giving this bag a great feel to it.

Overall, this really is a great Oakley backpack for both men and women. The clasps are very solid and the zips slide like butter, not showing any signs of stress. I'd definitely recommend this if you're looking for a durable backpack to withstand some harsh weather, that will be as suitable for the office as for the outdoors.
---
2. Oakley Kitchen Sink
Best Oakley Tactical Backpack
The Oakley Kitchen Sink backpack has unlimited options when it comes to storage. It has a large sleeve that can easily hold a 17" laptop. It sits within the main compartment.

The zipped side pockets are massive so there's plenty of room for all the stuff you may need quick access to (like water bottles). The front compartment includes organizing features that will help you keep everything in its place. 
On top of this, they feature three external straps that are fully adjustable making them great for holding jackets or other clothes. For a look at all the different features and compartments, check out this no-frills YouTube video. 
It's built with great materials - nylon and polyester - which gives this bag great durability making it great for anyone outdoorsy or who loves traveling. Extra padding on the back and shoulder straps make this super comfortable to carry. The bag also comes with waist straps to help with weight distribution.

If you're looking for an Oakley tactical backpack that can carry a large amount of equipment, then I'd highly recommend this bag. I wouldn't use it as an everyday backpack, as due to the size and toughness it would be better suited to serious outdoor adventurers. 
Check out our in-depth review of the Oakley Kitchen Sink backpack here.

---
3. Oakley Men's Blade Wet Dry 30
The Oakley Blade Wet Dry 30 backpack is ideal for the nomadic surfer. It features a fins' and a wax compartment. The polyester-elastane fabric is also saltwater resistant and quick drying.
This Oakley bag also includes a laptop sleeve that can hold a 15" laptop with ease. Again, this is a big backpack with plenty of room to fit all essentials and more, making it ideal to carry and organize everything you need for your next adventure.

Unfortunately, the straps don't hold up as well on this backpack and ended up digging into my shoulders. The back on this one doesn't seem to be as well-ventilated so prepare to get a sweaty back.

The bag comes with a dry bag, which is great if you plan to go surfing or any other ocean-related activity. You can just whack all your wet gear into the bag and not have to worry about soaking anything else.

Other than the dry bag, I don't feel the bag holds up as well as the others do. The lack of back ventilation and the straps really didn't do it for me.
---
4. Oakley Men's Voyage 23L Roll Top
The Oakley Voyage roll-top backpack is great for casual outings and weekend-hikes, as well as for work or for school. It's made of nylon fabric with a polyester coating which means it is very long-lasting.

The roll-up feature is a great add-on allowing you to shorten the bag at any time and adjust the size so that it works for you. The only downside to roll-top style backpacks is that they take a bit longer to open and packing becomes more difficult. The minimalistic design means that it's also a very light bag to carry, which is great if you have heavy items with you.

This Oakley pack has a zipper on the side which allows easy access to the center of the backpack. It also features other useful compartments, such as card slots and a laptop compartment that can fit a 15" laptop and has great cushioning, meaning you don't have to worry about it getting scratched.

One of its most praised features is indeed the design, making it a more attractive and modern option than the standard, traditional backpack.
---
5. Oakley Enduro 20L 2.0
The Oakley Enduro 20L 2.0 backpack was designed to give excellent storage when it comes to electronics and all your essentials, making this a great backpack for work or school.
The Oakley Enduro backpack has a laptop sleeve that can fit a 15" laptop or tablet which has easy access. Considering it's one of the smaller bags, it has a surprising amount of room, as well as a variety of useful pockets to organize your stuff. Because of that, even if you don't want or need to carry electronics, it is a nice choice to keep your books or even your training gear for your trips to the gym.

The backpack is also very well padded all around, so you don't have to worry about the straps digging in. The placement of the pockets works really well with the bag, but it could do with a few more on the external of the bag.

Moreover, it is very durable. The fabric and the general structure means that this model is meant to last.
---
How Do These Oakley Backpacks Compare?
Size
The sizes of these backpacks can vary so it's important to look at what you need from your Oakley backpack. For example, if you're looking for a bag to go hiking with that fits everything you might need, look at getting the Oakley Kitchen Sink backpack.

But if you're looking for something a little bit more practical for day to day, you might want to look at the Oakley Bathroom Sink backpack. It's a bit smaller and easier to use as an every day carry bag.

Knowing the size of the backpack will help you make a better decision and will save you a lot of hassle. If you plan to travel, ensure you know the dimensions to save you trouble when you get to the airport.

Price
The price of these Oakley backpacks ranges from $30 - $150 so again, choosing a backpack wisely can save you money. The cheapest option is the Oakley Enduro 20L 2.0 Backpack which would perform well for college or work.
But if you're looking for something to go hiking with that can stand harsh elements, then look at getting the Oakley Kitchen Sink backpack. It may be the most expensive on our list, but it is better-suited for long trips. 
Functionality
Oakley backpacks are very functional in design. They really looked into how each backpack should perform. The placement of the compartments makes it easy to access your stuff and most come with a laptop sleeve.
All the bags are very adjustable making them great for everyone, and the stitching stands the test of time. All backpacks come with a manufacturer warranty of one year after the time of purchase.
---
People Also Ask (FAQs)
Are Oakley backpacks good quality and durable?
Oakley bags are very durable. Each one is made with the best materials, the stitching is great and lasts the test of time.
Are Oakley backpacks good for school?
The Oakley Enduro 20L 2.0 backpack is great for school as it features plenty of pockets to store all your school equipment. It's also not so big that it'd would be hassle.
I need a large backpack. Will this brand be good for me?
If you're looking for a large bag, the Oakley Kitchen Sink backpack is the place to look. It features plenty of room in both the internal and external pockets.
Can you take this backpack plus a carry on bag on airplanes?
All of the above backpacks are suitable for carry-on. Some of them can be used as your 'extra' bag to go under the seat in front of you, and some as your larger carry-on, so be sure to check the dimensions and the airline's rules before you fly. 
How do you wash or clean an Oakley backpack?
Where can you buy backpacks at cheap prices?
If you're looking for cheap prices, then check out the Amazon store for Oakley bags.
---
Conclusion
Oakley backpacks are extremely well made and suitable for any situation making them a very versatile bag.
You really can chuck these bags around with little concern of wear and tear. They also cope well with pretty hash conditions, which is great if you're looking to go on long hikes. Also, the comfort level on Oakley backpack line is unmatched.
Overall, I'd highly recommend them to anyone looking for a stylish yet functional backpack.