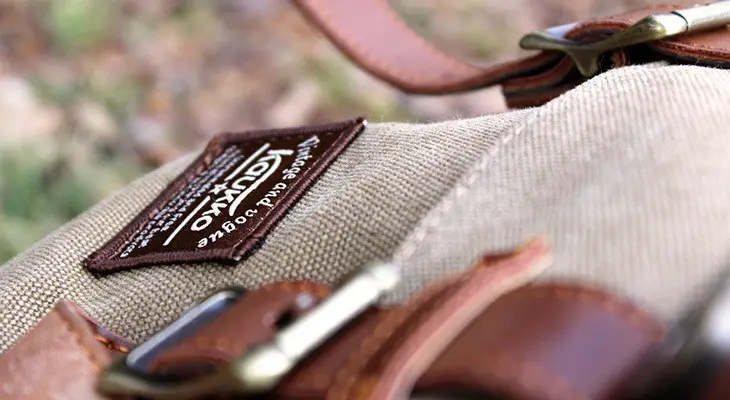 5 Best Kaukko Backpacks: Reviewed, Rated & Compared
Kaukko describes its brand as one that pairs "modern functionality with fashion style" and this sums it up pretty well. All of the Kaukko backpacks look great and sleek but come with all of the features and functionality you'd expect from a great backpack brand.
We took the most popular Kaukko backpacks and tried them out to help you know which one is best – the comparison wasn't easy, all bags are great! Check out our Kaukko backpack review below.
Kaukko Backpacks Compared
| | | | | |
| --- | --- | --- | --- | --- |
| | Kaukko Outdoor Canvas Laptop Backpack | | | |
| | Kaukko Vintage Canvas Backpack | | | |
| | Kaukko Outdoor Vintage Backpack | | | |
| | Kaukko Water-Resistant Backpack | | | |
| | Kaukko Vintage Canvas Laptop Backpack | | | |
---
What Makes the Kaukko Brand Popular?
If you look on any customer review website or talk to anyone with a Kaukko backpack, they'll say all Kaukko bags are really good value for the standard of product and amount of features you get.
They last a long time, can handle a lot of weight, and look stylish no matter what you're wearing – what more could you want?
The Kaukko backpack brand prides themselves on minimalistic, sleek designs which come in understated colors and so are a favorite of a lot of fashion bloggers and Instagram influencers because of their cool design.
---
Who are Kaukko Backpacks Made for?
Kaukko backpacks are made for anyone who wants a stylish, modern bag but with a high level of functionality. We'd especially recommend Kaukko bags to anyone who doesn't want to shell out hundreds of dollars on a minimalistic bag, but still wants high quality.
A lot of other options on the market charge upwards of $100 for a similar standard of bag – if that doesn't sound good to you, then Kaukko backpacks are definitely the right choice.
All brand options are unisex, so you don't need to worry about choosing one that's not going to look right. Because of their high level of features, Kaukko bags are great for anyone who demands a lot from a bag and wants it to last.
---
What We Looked At: Kaukko Bag Buying Guide
Materials
All of the Kaukko backpack options we reviewed were mostly made of highly-durable canvas material, nylon, and polyester, which received great reviews from customers. All of the leather put on the bags is genuine, which means that you're getting a real, top-end bag for a very cheap price.
For a simple guide to your different backpack material options, head to our handy backpack material buying guide.
Straps
Depending on the style of the Kaukko backpack, the straps changed to increase functionality and suit the purpose of the bag. The Kaukko Outdoor Canvas Laptop Backpack contained two thick back straps to help decrease the weight felt on your back and avoid strain.
The Kaukko Vintage Canvas Backpack had similarly styled straps but they were a little thinner to suit the style and purpose of the bag. The Kaukko hiking-style backpack had the thickest straps of all, obviously to cope with the added weight and demand on the backpack during hiking trips.
Size
Sizes of these Kaukko backpacks varied depending on the type you choose. The multi-functional Kaukko hiking backpack has a 27L capacity, sure to hold all of the necessary items you'll carry on your next climbing trip.
The outdoor hiking backpack and the lightweight backpack had a smaller capacity at 18.6L, but this is still sufficient for most personal items you need when out and about. The last option we reviewed was the vintage backpack, which had a similar capacity at 18L.
Comfort
If you plan to carry a Kaukko backpack around for work or travel, it needs to be comfortable. Every Kaukko bag we reviewed was comfortable to wear and didn't put any unnecessary strain on the back, neck, or shoulders.
The Kaukko Canvas bags are well-designed with soft material and straps. During our Kaukko backpack review, we were able to carry these backpacks all day without any trouble.

Compartments
All of the Kaukko bags came with a wide range of compartments, designed to fit a whole range of different items that you may want to carry. All of these bags could fit at least a 15" laptop and charger, which makes the bags really versatile – both for sports and for work/college.
There were assorted, smaller compartments on the outside of each Kaukko bag for easy access, which were coupled with much larger, and much more secure compartments on the inside for your bigger items or more valuable items.
Style Options
Backpacks have become a hugely popular fashion statement. in recent years. According to Mic, we're in the era of the backpack. 
The good news is that all of the Kaukko backpacks were really stylish – it was definitely one of their best features. The hiking bags were sleek and stylish, even despite their high levels of functionality and size. 
The vintage backpack was definitely the most casual, stylish option out of all of the bags – perfect for day to day use both for work or in school.
Price
One great thing about the Kaukko backpack range is that every bag is reasonably priced. You will find that you can pick these up for around $40 or less from Amazon. The money for value factor is hard to beat.
For example, when comparing Kaukko vs Herschel backpacks, you'll find that Kaukko canvas bags run a bit cheaper. 
Warranty
All Kauko bags came with a 6-month warranty, which wasn't as impressive as some other market options which boast a lifetime warranty for their bags.
This probably won't come as much of a surprise to you though – if you're paying such a low price, a lifetime warranty can't really be expected. Other bags, which offer the lifetime warranty, typically start around $100-200.
---
5 Best Kaukko Backpacks Reviewed
1. Kaukko Outdoor Canvas Laptop Backpack
This bag is one of Kaukko backpacks largest options, boasting a 19L capacity and an ability to store a 15" laptop or tablet. This travel backpack is suitable for a wide variety of purposes including camping, backpacking, flying on airplanes, and even just going to college or work if you are carrying a lot of things. The additional zipped pockets are great for storing and organizing all of your items, which is why this is a good option for students.

The Kaukko Outdoor Canvas laptop backpack is made of durable polyester material, finished with high-quality linen for extra strength and style. You can be sure that whatever you carry will be protected, due to the padded design in the backside. The cushioning makes it comfortable for your back as well.

This model comes in a really wide variety of colors, so you're sure to find something that suits your individual style and color preferences. There really weren't any cons to this bag – it kept scoring well in every part of our review process.
---
2. Kaukko Vintage Canvas Backpack
This is Kaukko's smallest, most casual, and arguably most stylish option that we reviewed. The capacity is lower than the other options at 18L which makes it perfect if you want a more lightweight option.

The Kaukko Vintage Canvas backpack is made of an eco-friendly canvas material which is then finished with a nylon lining for added strength and waterproof protection. It is also quite durable, made of high-quality materials that will make every cent worth the spent. There was a slightly smaller choice of colors than the other backpacks, but there were still many more variations than what you would usually find with most brands.

The magnet straps are very practical, and they make it easy to access all of your stuff without having to struggle with broken zippers. It features some handy pockets on the outside that will keep everything organized and in place.

Suitable for men and women, casual workers and frequent travelers, this is an option that not many people would turn down.
---
3. Kaukko Outdoor Vintage Backpack
Another lightweight and stylish option from Kaukko, this brilliant, casual, and lightweight backpack is perfect if you need to pack some serious versatility and size into a bag but you also want to look good while wearing it.

The Kaukko Outdoor Vintage backpack is made out of a nylon and polyester mix and can easily fit a 15" laptop inside. There are several different compartments available to increase this bag's versatility, meaning whether you're heading to the library or up a mountain, you're sure to be able to fit all of your things in - water bottles, umbrellas, jackets, snacks, books. Yes, there is space for all of that.

One of the biggest pros of this bag was the range of colors and design – there were almost 30 colors on offer! That means you do not have to settle for a style that doesn't fit your needs and preferences, because there will probably be a perfect color that matches your personality,
---
4. Kaukko Water-Resistant Backpack
Best Water-Resistant Model
The Kaukko water-resistant backpack differs from the typical Kaukko style we've seen in other options, meaning it wasn't as stylish or sleek looking to the eye.

This is probably because what it loses in style and appearance, it makes up for in strength and versatility – just by looking at it, you can tell this bag was designed to cope with anything you throw at it. It has a huge capacity at a whopping 27L, water bottle compartments, and a totally breathable back mesh fabric for when you're on the go. It is a perfect option for outdoor activities, airports, and backpacking adventures.

The polyester material of the back is sure to make it water-resistant but also extremely durable, meaning this bag can go anywhere with you and last through the years. The only con was that it didn't have a very wide range of color options, but this is to be expected when the bag is built for purpose and strength and not so much for its appearance.
---
5. Kaukko Vintage Canvas Laptop Backpack
The Kaukko Vintage Canvas Laptop backpack was definitely one of our favorites for a variety of reasons – it looked great but also delivered such a high level of versatility and strength once we put it to the test.

This bag is made of a really high-quality and durable oxford fabric and is lined with nylon to give it an extra-strong finish. The bag had similar capacities to other Kaukko options and could comfortably fit a 15" laptop in addition to several other things. It features a range of very discrete, elegant pockets; so you can carry and organize a variety of items without causing the bag to look bulky and informal.

This model also boasted a truly unique feature – you can either use it as a sling bag or a backpack, making it a lot more versatile than the other Kaukko options. This bag is perfect for someone who is on the go a lot and wants one bag that can do it all.
---
How Do These Models Compare?
Size
All of the Kaukko backpacks we reviewed had amazing capacities and were a great size, meaning you could fit anything you wanted to in them. The largest one with the most storage was definitely the multifunctional hiking backpack, packing in a great punch at 27L.
If you're looking for something more understated, the vintage backpack was great, lightweight and had a good capacity at 18L.
Price
One of Kaukko's most winning features is the price – all of their bags were cheap and under $50. This is great for such stylish bags which offer such high levels of versatility and durability.
When bags have a price like this, it means that every budget can afford them and enjoy a high-quality bag.
Functionality
All of the Kaukko bags were highly-functional and offered over 10, specific compartments to cope with whatever you needed to carry.
The materials are all specially chosen to suit the purpose of the bag and give you the level of functionality and durability that you need. Each bag can easily fit most standard laptop sizes, in addition to water bottles, books, etc.
Kaukko vs Herschel Backpack
When it comes to Kaukko vs Herschel backpacks, if you look online at a lot of customer reviews, Kaukko seems to come out on top because of the quality of the material they put in their bags.
While both options are a great choice, we found that Kaukko scored consistently highly in our review process and each bag offered the same level of versatility and strength, all while looking like a really stylish bag. If its comes down to value for money when comparing Kaukko vs Herschel backpacks, we think Kaukko takes the win.
---
People Also Ask (FAQs)
Are Kaukko backpacks good quality and durable?
Yes, absolutely – it was definitely one of the most obvious features during our review process.
Are Kaukko backpacks good for college?
Definitely – each of the bags we reviewed had a great capacity and storage size to allow you to fit your laptop, some books, a water bottle and other miscellaneous items that you take to college.
I need a large backpack. Will this brand be good for me?
Yes, the Kaukko backpack brand would be great. We would really recommend the multipurpose hiking bag – it has a capacity of 27L!
Can you take this backpack as a carry-on bag on airplanes?
All of the Kaukko bags comply with generic airline regulations in terms of carry-on size. However, always check with the specific airline you're flying with before you travel to be sure. 
How do you wash or clean a Kaukko backpack?
Using a cloth and some warm, soapy water to wipe down the bag after usage should be sufficient. 
Where can you buy backpacks at cheap prices?
Amazon was the best place we saw to purchase Kaukko bags – the prices were always much better than other places.
---
Conclusion
In conclusion, we really loved the Kaukko backpack range – they were great value and provided a really high level of functionality, versatility and durability. We recommend the Kaukko Outdoor Canvas laptop backpack for a versatile and stylish option.
If you don't fancy shelling out $100s of dollars on something that you can buy for around $40, this is the brand for you!