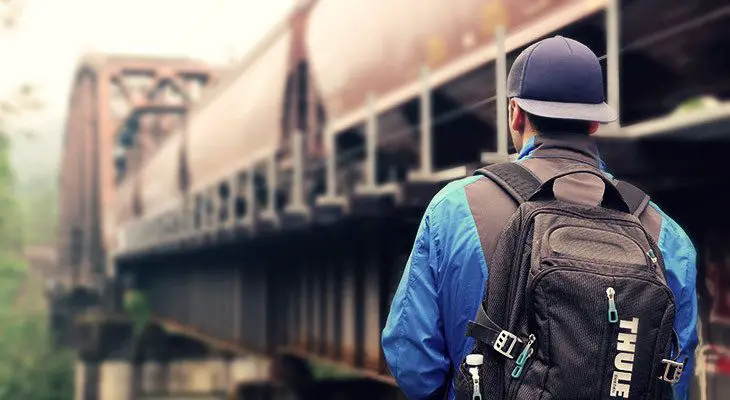 6 Best Thule Backpacks: Reviewed, Rated & Compared
When it comes to backpacks, Thule has it covered. Read on to find detailed reviews of six popular Thule backpacks so you can make the right selection for your needs.
I've scoured the features, pros, and cons of each model, as well as comparing them to see how they differ.
Thule Backpacks Compared
Small 14L, Medium 20L And Large 23L

Thule Aspect DSLR Backpack

Medium
8.7" X 20.5" X 11.8"

Thule Unisex VEA Backpack
What Makes The Thule Brand Popular?
Thule is a Swedish brand with a mind-boggling catalog of backpacks, luggage and laptop cases (to name just a few).
They also specialize in racks and carriers for those intrepid folks out there who love the snow, trails, and sea. In fact, Erik Thulin's first product was a fishing rod that he started selling to fellow Scandinavian enthusiasts back in 1942. 
But in this review, we're zooming in on one of the backpacks.
---
Who are Thule backpacks made for?
Well, this is an interesting question as the answer is…"all kinds of people". One of the great things about Thule is that they have catered their backpacks to a wide range of people. Thule has designed their backpacks for modern, busy and stylish customers.
Students, children, professionals, sports people, hikers, explorers, backpackers... everyone's included. All genders are catered for, especially when it comes to hiking and travel backpacks. Size, shape, and weight have been considered in order to be suitable for the male and female anatomy and optimal comfort.
---
What We Looked At: Thule Backpack Buyer's Guide
Materials
I study what the bag is made of, including straps, handles, zippers and the main body. Thule backpacks are made with strong materials designed to withstand weight, wear and tear. They also feature hardened materials to create shell-like pockets where glasses and delicate items can be kept safe.
Thule describe their backpacks as "weather resistant". This means they can handle some rain but not a downpour, and wouldn't stand up to being submerged in water. To really get to grips with what these terms mean, which can be handy when you're backpack hunting, read this handy guide. 
Straps
Straps are a crucial part of a backpack so we've checked each one to judge how versatile and comfortable the pack will be. Thule straps do vary from style to style, but they've all been made for comfort and adjustability. Some have chest straps, while others are more minimal.
We'll let you know how adjustable the straps are, how comfortable they are and whether or not they have any other extra features.
Size
Size, capacity, and dimensions are extremely important to be clear about before making a backpack purchase. Thule backpacks come in different sizes, ranging from around 14L to 45L. Some of the backpacks in this review come in a range of sizes, and some come in just one size.
Compartments
Backpacks are all about transporting items, and to do that, they need compartments. Basically all Thule backpacks offer large main compartments as well as a range of smaller pockets, both internally and externally. Many of the styles also feature hard-shelled compartments and laptop sleeves for specialized storage.
Style Options
Color choices, overall style and aesthetic are important when choosing a backpack. You have to like the look of it to want to wear it, after all... unless you're super easy to please. Thule backpacks generally come in muted, dark colors and simple shapes.
Warranty
It's always good to know what your options are should your item break or prove to be faulty. All Thule backpacks come with a limited lifetime warranty.
---
6 Best Thule Backpacks Reviewed
1. Thule Crossover Backpack
Quick Look - Bag Features
The Thule Crossover 32L backpack is a tidy-looking backpack with a black body and a splash of blue with the zipper tags. It has been designed for modern, busy people who need to keep their laptops, smaller devices and all kinds of items with them safely and comfortably.
I can see this backpack as being ideal for school and university students, or professionals who have a decent commute to work.
But as it has lots of little pockets and compartments for various items, it could also be great for travelers, day trippers and weekends away. You could stash a spare pair of shoes or clothes in the large compartments, as well as a laptop, toiletries, a book and other knicknacks in the smaller pockets.
The crush-proof SafeZone compartment protects small, breakable items like glasses, jewelry and small electronics. The adjustable straps also feature a chest strap to clip into place when you're on the go and can't be dealing with slipping shoulder straps.
---
2. Thule Subterra Daypack
Quick Look - Bag Features
I really like the satchel style of the Subterra Daypack. It has a certain old-school style to it with the clippable flap. There are four color choices: black, blue, khaki and sand so you can have a change from the usual black if you fancy. It has one main compartment for large items such as shoes, clothes, and books.
Inside the main compartment is a laptop sleeve and smaller tablet pocket, both of which hold your tech tight and keep it safe. You can access your tablet and laptop two ways, with a discreet side zip or by opening the main compartment zip.
The straps are adjustable and you also have the option of an adjustable chest strap to secure the bag onto your body without slipping down your shoulders. The molded SafeZone pocket is made of a hard material so even when your bag is thrown around, your glasses, phone and breakables are kept safe and intact.
For keeping often-used items such as pens and keys visible but safe, there's a mesh pocket inside the bag for accessing common items easily.
Tempted? For a look inside this backpack, check out this video by Chase Reeves, who is a big fan of the product, besides the fact that there's no outer quick access pocket for a water bottle or something similar.  
---
3. Thule EnRoute Backpack
Quick Look - Bag Features
The EnRoute backpack comes in three different sizes, 14L, 20L and 23L, but I'm focusing mainly on the 23L for this review. The three different sizes do have varying shapes and designs to fit with their sizes.
The 23L has an oval-shaped body with adjustable straps and chest strap. The Thule 23L is awesome for students and professionals because it has padded pockets especially for keeping laptops and tablets safe and tightly held.
The main compartment opens thoroughly, with an L-shaped zip so you can see right into the bag without having to do the annoying "reach in and hope for the best".
It has plenty of extra pockets for keeping smaller items safe, as well as the Thule SafeZone hard-shell pocket for protecting delicate items. I'd say this is a great choice for students and workers who need to access their books and laptops quickly and easily.
---
4. Thule Lithos Backpack
Quick Look - Bag Features
The Lithos backpack is (in my opinion) the most attractive of the six backpacks in this review. It comes in three color options: black, blue and burgundy, each with a stylish matte marled effect.
We're looking at the 20L size here. It does come in 16L too, but it has a different design. The construction is reasonably simple: a large main compartment which opens out wide for easy visibility and access. Inside the main compartment, you'll find dedicated padded sleeves for laptops and tablets, holding them tight and secure to stop them from sliding or knocking about.
The front panel has zip access and little sleeves for sliding your phone and pens into. You can slip your drink bottle into the open side pockets on the outside, great for avoiding leakages inside your bag all over your stuff.
The mesh pocket on the inside is really handy. You can see what's in there for quick access, while still keeping everything contained. The Lithos differs to the other models as it doesn't have a chest strap or any other tabs or straps on the outside of the bag. It has a super-sleek design.
---
5. Thule Aspect DSLR Backpack
Quick Look - Bag Features
The Thule Aspect is a very specifically-designed backpack for photographers and filmers. It has been designed to safely carry a DSLR camera, accessories, and tripod, as well as a laptop and tablet. Sure, you could use this backpack even if you don't have a camera, but it would be more worth your while getting another, less-specific model.
This bag is great for travelers who love to take photos and videos as well as for journalists and professional photographers. It has a removable padded hip belt which also has easy-access pockets, which is pretty cool for being on the go and needing free hands for filming.
The storage items are abundant: open external pockets for tripods, smaller front pockets with zips, a back compartment for laptops and tablets and a padded pocket just for your camera and accessories.
---
6. Thule Unisex VEA Backpack
Quick Look - Bag Features
The Thule Unisex VEA backpack is ideal for active professionals and students who cut a regular path from home to the gym, to work/school. It has a really cool rucksack style design, with a flap-over closure which can fit a yoga mat underneath it.
The main large compartments are divided into two, one for gym gear and one for laptops and professional/study items. You also have a special pocket for storing dirty gym shoes. You can access the shoes from the outside of the bag, keeping them well away from your clean clothes and professional stuff.
If you're worried about scratching your phone or glasses, you can put them into the plush-lined pocket  with easy access, keeping them protected. Basically, it's great for people who go from the gym to work, or vice versa and need a bag which can keep the two sets of "gear" separate. 
---
How Do These Models Compare?
Let's take a look at how these models stand up against each other in terms of size, price, and functionality.
Size
Small
The Lithos and the EnRoute are the smallest out of the six styles. The Lithos has a capacity of 20L, and the EnRoute has a capacity of 23L. The EnRoute also comes in a 20L and a 14L size, but the shapes and constructions are slightly different.
Medium
The Subterra has a capacity of 25L, as does the Unisex VEA. It's a bit harder to tell where the Aspect  stands in comparison to the other models as the capacity in liters is not supplied. But I would place it in the medium range, perhaps just inching over into the large category. 
Large
The Thule Crossover style has the largest capacity at 32L.
Price
Most expensive
The Unisex VEA is one of the more expensive models, followed by the Subterra.
Middle of the road
The Crossover and the Aspect are the mid-range packs out of these six styles.
Most affordable
The Lithos is the most affordable out of the six styles, followed by the EnRoute.
In summary, here's how they compare, from most expensive to least expensive:
Functionality
Work and gym/exercise:
I would absolutely go for the Unisex VEA style. It has been designed for keeping gym gear and work items separate, making the gym-work transition easy, clean and tidy. 
Photography:
The Thule Aspect DSLR is quite clearly the best model out of the 6 for carrying cameras and photography equipment.
Studying/school/work:
The Lithos and the EnRoute would be my pick for commuting to and from work or school. If I had to choose one, it would definitely be the Lithos for the simplistic design and attractive, office-friendly aesthetic.
Hiking/weekends/day trips:
The Crossover and the Subterra would both be my recommendations for a weekend and day trip backpack. 
---
People Also Ask (FAQs)
Where are Thule backpacks made?
Thule backpacks are designed and made in Sweden.
Are Thule backpacks good quality and durable?
Yes, Thule backpacks are designed and made with strict guidelines and thorough testing. The limited lifetime warranty given to most Thule backpacks is a testament to Thule's dedication to quality and durability.
I need a large backpack. Will this brand be good for me?
Yes, Thule has a wide range of large backpacks for adventuring and traveling. The Guidepost 85L men's backpack is a great example of a large backpack by Thule.
Can you take this backpack + a carry on bag on airplanes?
It depends on the size of your backpack, your carry on bag and the airline restrictions, which you should always check before travelling. However, most Thule laptop backpacks and smaller backpacking packs should be fine to take on board. All Thule backpacks and luggage can be taken on board as checked-in luggage. 
How do you wash or clean a Thule backpack?
The best way to clean your Thule backpack is to wipe it with a damp cloth and leave to dry in a drying cupboard or even hang it on the washing line on a warm day.
Where can you buy backpacks at cheap prices?
Amazon is the best place to find a Thule backpack at a good price. They often have specials and sales, so keep an eye out for a saving.
---
Conclusion
Thule offer a great range of attractive, modern and intuitive backpacks for all kinds of busy people. While there are a few niggles here and there as expressed by customers, the overall quality and durability are impressive.
If you're a student, a commuter or a regular day-tripper or weekender then a Thule backpack is a great choice.
Images via: https://www.thule.com/en-us/us