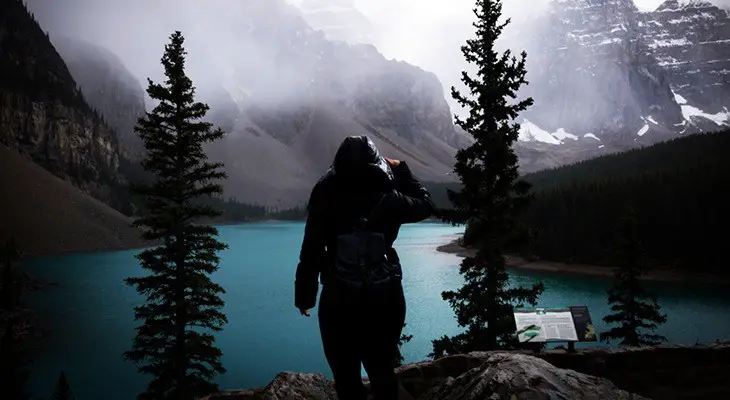 Best Swiss Gear Backpacks: Reviewed, Rated & Compared
You've come to the right spot for a detailed review of two popular backpacks by SwissGear.
If you're after a high-quality backpack to stash your laptop and items for work, school or day tripping, then you'll definitely want to keep reading...
Who are SwissGear backpacks made for?
Swiss Brand backpacks are aimed at young professionals, corporate commuters, students and weekend travelers. They're not made for hikers, campers or intrepid adventurers. Most of their backpacks are small-to-medium sized and have dedicated compartments for laptops and tablets.
They're the type of backpacks you expect to see on high school or college students, workers on an urban commute, people going on a short weekend trip or overnight stay.
SwissGear backpacks are suitable for both genders, and many models come in different colors to suit different style preferences. With some styles, you have the option of plain, classic black or something with more of a punch such as blue or red. Other styles only come in black.
Kids are also catered for by SwissGear, with brightly-colored and patterned backpacks in smaller sizes and weights, ideal for school and sleepovers.
So, if you're a student, a busy worker with a hectic commute, a regular day tripper or weekend holidaymaker with an attachment to your laptop then a SwissGear backpack is for you.
swissgear backpack Features we looked at
Here's how we analyzed and reviewed each backpack...
Materials
Most SwissGear backpacks are made from strong polyester of a durable material of various denier levels. For example, the backpacks reviewed here are made from 1200D polyester. The padded back panels are made with mesh fabric for breathability and coolness.
The backpacks in this article have metal zippers with, however, when it comes to zippers, I did come across quite a few complaints about ripping, splitting, and breaking. The handles are made from fabric, some with a rubber-like tube over the top for comfortable gripping.
Straps
SwissGear straps are designed for comfort and adjustability. The straps on the models reviewed here are padded, adjustable and have mesh fabric on the back so the wearer keeps cool. They also have a built-in suspension system to keep weight off the shoulders. We delve deeper into customer's experiences with straps in each review.
Size
Most SwissGear backpacks are around the small-medium size (when comparing them to the large, super-capacity backpacks for hiking). The backpacks reviewed here are around 26L in capacity and 18 inches in height, give or take. 
Compartments
These backpacks are all about the laptop compartments. They have dedicated compartments with padding to keep tech items safe, and dividers for adjusting to different laptop sizes. SwissGear also has their Floating TabletSafe feature which is basically a pocket which supports and "cradles" tablets so they don't get knocked about.
These backpacks also have lots of smaller pockets and compartments for smaller items, as well as key holders and slots for pens. These bags are not waterproof and can only withstand a very light smattering of rain.
Style Options
The 1900 model comes in many colors such as black, blue, light gray, red and dark gray. It seems the 5977 only comes in plain black. Both models have curved edges and are tapered so they're wider at the bottom and narrower at the top. All colors have a silvery-gray lining on the inside of the laptop compartment.
If you're not sure what color backpack will work best for you, read this Life Hacker guide to choosing the perfect backpack. It makes some good points about color choice, as well as pointing out some other features to look out for. 
Warranty
For backpacks purchased from the SwissGear website, a 10-year extended warranty applies. However, for purchases from other sellers, the backpack comes with a 3-year limited warranty.
---
Best SwissGear Backpacks Reviewed
1. SwissGear Travel Gear 1900 Scansmart TSA Laptop Backpack
Quick Look - Bag Features
The Travel Gear 1900 backpack is a medium-sized pack (26L) designed for easy and convenient traveling. This is where the "ScanSmart TSA" feature comes in. The backpack unzips all the way so that the bag can be laid flat. If you're still not sure of this relevance of this, it's explained in this handy guide to choosing a carry on bag by Tortuga Backpacks.
Essentially, this means that you don't have to take your laptop and other things out of the bag when it comes to the x-ray line at the airport. Laptops have their own pocket, which some customers have said could be improved by adding padding to the bottom and edges of the laptop pocket for extra protection.
There are lots of little pockets and compartments such as the "media pocket" with earphone port so you can safely stash your phone or iPod and loop your earphones through the bag, to your ears.
There's an organizer pocket on the outside front of the bag so you can easily get to your pens, keys, phone, and other smaller things. Carry your water bottle safely on the outside of the bag, in the mesh side pockets.
The shoulder straps are padded, adjustable and feature in-built suspension to help keep heavy loads off your shoulders and back. The back of the bag is also padded and has a mesh layer to keep your back cool and cushioned.
There's certainly no shortage of large and small storage areas and pockets with this backpack. However, some customers have experienced ripped zippers, splitting seams and issues with water damage. This is a small percentage of reviewers, as this backpack has an overall Amazon customer rating of 4.5 stars. 
2. SwissGear Travel Gear 5977 Laptop Backpack

Quick Look - Bag Features
The Travel Gear 5977 is extremely similar to the 1900. In fact, the only differences are: it's very slightly smaller. Also, it doesn't have the two small loops on the outside of the organizer pocket, which the 1900 doesn't have. Another small difference is that the 1900 comes in lots of colors, while the 5977 only comes in black and gray.
The 5977 isn't available from the SwissGear store, which suggests it was a limited edition style or simply not in production anymore. However, it is available on Amazon. The negative reviews for the 5977 are almost the same as for the 1900, mainly: the zippers are prone to breaking and it's not waterproof.
The 5977 has the ScanSmart TSA feature, allowing you to keep your laptop and tablet tucked away in the bag when you go through the TSA process. It has side pockets for laptops, an organizer pocket at the front and mesh pockets inside.
The 5977 has a padded, mesh-lined back so you can be comfortable as you walk. The same goes for the straps. They're padded, mesh-lined and adjustable to suit your body. 
---
What Makes The SwissGear Brand Popular?
You may be familiar with the SwissGear brand because of their long history with watches and Swiss army knives (read about the interesting story behind these knives here), but it's the backpacks we're looking at in this article! 
If you still need your memory jogged to picture this brand, just think of a white cross with a red background, SwissGear's signature logo. SwissGear undeniably makes backpacks for modern people with fast-paced, modern lives where laptops and tablets are a crucial everyday item.
They're also made for people who travel a lot and require a backpack which is easy to take through TSA (i.e. the part at the airport when you have to pass all of your carry-on luggage through the x-rays).
For this reason, they developed their ScanSmart Technology which allows you to unzip the bag so it lays completely flat. Watch this quick demo video to see how simple it is. This exposes the laptop (and other surrounding items) to the x-ray, meaning you can keep your laptop in the bag.
SwissGear backpacks are well designed, user-friendly, well-made, and durable, which makes them a popular brand for low to mid-priced backpacks for commuting, work, study, and leisure.
However, there are a few small negative factors to take into consideration, as brought to our attention by low-star reviews. But we'll discuss these when we get into the review section...
---
How do these models compare?
Size
These two backpacks are much the same size, except that the Travel Gear 5977 is slightly smaller. For your reference, here are the dimensions of the two models:
Price
It depends on whether or not there are any sales or deals on at your time of purchase. As of now, the 1900 ScanSmart TSA Laptop Backpack is on special on Amazon, making it around $15 cheaper than the Travel Gear 5977 Laptop Backpack.
Functionality
Considering how similar in design these two styles are, they also have very similar functionality, i.e. ideal for traveling or commuting with laptops. However, the 5977 is described as being "logo friendly" and perfect for "company gifts, events and promotions".
I'm not too sure if this is relevant to anyone... but it's worth mentioning. The 1900 is very slightly more comprehensive, with loops on the front external pocket, which the 5977 doesn't have. 
Otherwise...they offer the same functional benefits and features. 
---
People Also Ask (FAQs)
Where are SwissGear backpacks made?
It depends on where you purchase your SwissGear Backpack from. SwissGear is owned by Wenger Swiss Army (whose parent company is Victorinox). There are various SwissGear backpack manufacturers and distributors around the world.
Are SwissGear backpacks good quality and durable?
Yes, despite their affordable price tags they are durable and well made. SwissGear backpacks are reliable and hard working.
I need a large backpack. Will this brand be good for me?
No, SwissGear backpacks are generally smaller, designed for laptops, urban commuting, leisurely day trips, work, and school. If you're after a large backpack for traveling, hiking or adventuring then a brand like Teton would be a better choice for you.
Can you take this backpack + a carry on bag on airplanes?
Absolutely, both of these SwissGear backpack models can be taken on board an airplane as well as another carry on bag, depending on the airline regulations. However, It's always best to call your airline prior to flying to get an exact answer as each company's policy can vary.
How do you wash or clean a SwissGear backpack?
SwissGear recommends wiping the backpack with a soft brush or damp cloth for a general clean. If there are tougher stains to be removed, they suggest using warm soapy water and a cloth to spot clean the dirty area without wetting the leather trim.
Leave the bag to dry outside or in an airing cupboard. Never submerge the bag in water, and never put it in a washing machine or dryer.
Where can you buy backpacks at cheap prices?
Amazon is a great place to find cheap SwissGear (and other brands) backpacks. You can often find a great sale or discount on new backpacks.
---
Conclusion
Overall, SwissGear's 1900 and 5977 backpacks have impressed the majority of their customers.
If you need a backpack for regular commuting and plane travel, then a SwissGear back could be a great choice, as long as you're not loading it up with too much heavy stuff.