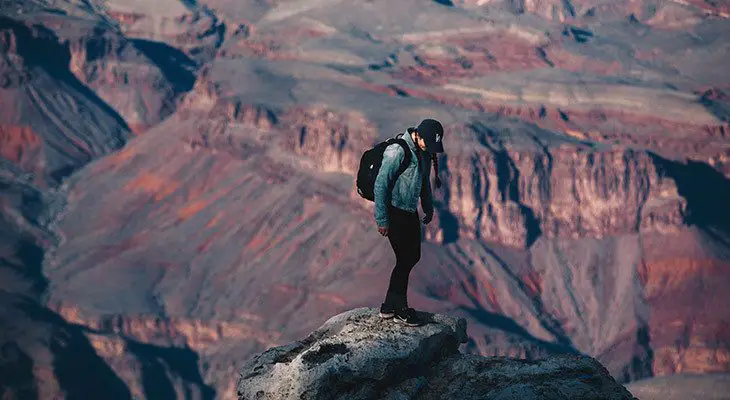 Mancro Backpack Review: Compared For Work, Travel & EDC
In a world that's increasingly on-the-move, backpacks are beginning to out-rival both purses and briefcases as the need to carry more of our belongings with us in comfort becomes more relevant.
In this Mancro backpack review, I'll look at and compare the top three models to help you find the right Mancro backpack for you.
---
What Makes the Mancro Brand Popular?
Mancro backpacks are growing in popularity as men and women are beginning to ditch their everyday briefcases and purses for larger bags that are both stylish and accessible.
From the Mancro school backpack to the Mancro Diaper Bag Backpack for parents on-the-go, Mancro seems to have a backpack to fit everyone's needs. We would highly recommend the Mancro college backpack for students or professionals who need to carry their laptops. The Mancro diaper bag range is perfect for busy parents.
All Mancro backpacks are made with a water-resistant polyester and made for the convenience of the user, and they come in a variety of attractive neutral colors that will appeal in both a casual or business setting. 
---
Who are Mancro backpacks made for?
There's a Mancro backpack designed for every teen and adult who needs to carry their personal belongings with them. Their designs are built for both comfort and accessibility.
The Mancro Brand includes large laptop bags for students and travellers that have been TSA-approved, which makes going through airport security a breeze, especially for busy professionals who travel all the time.
There are slim laptop bags for business people to wear comfortably while commuting to work that are fitted with an anti-theft lock. The Mancro business laptop bag is perfect for traveling internationally, as well.
There are diaper bag backpacks with user-specific compartments, like a wipes holder and built-in diaper changing pad. 
As bags are an item on most adults' list of must-haves, backpacks by Mancro also make a unique and functional gift. We particularly recommend getting a diaper bag backpack for anyone who has never tried one. When compared to a regular backpack, they are superbly functional.
---
What We Looked At: Mancro Backpack Buying Guide
Materials
We've taken a close look at the make-up of each Mancro backpack, including what types of materials they're made from, how their fabrics hold up over time, and if they're waterproof or weather resistant.
We have also taken a detailed look at the lining of the backpacks, their straps, handles, zippers, and any other added accessories. Some Mancro backpacks include USB chargers and locks – we've also focused on how well these stand up to the test of time.
Shoulder Straps
Backpacks are usually meant to be worn for an extended period of time, and we wanted to make sure that the Mancro backpack line stood up to the test of comfortability and function.
Every Mancro backpack comes with adjustable, padded "S-Curve" straps that allow the user to customize the backpack's fit to their everyday needs. The shoulder straps never caused any unnecessary back or shoulder pain. The straps functions vary depending on the bag and intended use or how much weight the bag can carry.
Size
Mancro backpacks come in a variety of different shapes and sizes. Mancro laptop backpacks come in either a slim, medium design or a larger travel design and both can carry a laptop of up to 17 inches.
Their largest bags can hold upwards of 50 lbs and have over twenty (yes, twenty!) different compartments. Although made to carry a lot, Mancro backpacks are incredibly lightweight. Nearly all their different designs weigh in at only 1-2 lbs each.
Comfort
Comfort is the most important factor when choosing a new backpack. Every Mancro backpack that we reviewed was exceptionally comfortable due to the padded shoulder straps and additional back padding.
The back padding was thick enough to give some extra support but not too thick where it made you sweat. The Mancro diaper bag backpack was comfortable, especially for new parents who constantly have their hands full.

Compartments
For each of the Mancro backpacks we've reviewed, we've taken a look at exactly how many compartments each backpack has and their intended purpose. For example, the Mancro diaper bag backpacks have compartments that are specifically designed to hold baby bottles.
The laptop bags each have compartments for specific sized laptops. Some of the bags have "hidden" compartments and extra security features.
Style Options
Mancro backpacks come in a variety of different styles, and we've made sure to check them all out. When it comes to color, the Mancro brand tends to lean more toward a neutral palette, which allows their designs to be appropriate for every location and occasion.
Most of their designs can be found in black, grey, and blue. Some of their designs will also feature a second color for the lining, such as red, but you won't find any bright colors or patterns with this particular brand.
Price
One of our favorite things about the Mancro backpack range is the reasonable pricing. You can pick up any of these bags for right around the $30 mark, which is pretty awesome. We would consider the Mancro backpack line a budget-friendly and versatile investment for parents and workers on the go.

Warranty
Mancro offers a Lifetime warranty on their products, which isn't typical of most backpack brands.
This doesn't cover every day wear and tear, but if something should come up with the functionality of the backpack (like a zipper breaking or a seam coming undone) the Mancro company is happy to work with you and replace your item. 
Additionally, with some of the Mancro backpacks an accident protection plan can be purchased for a small fee, making sure you're doubly covered in the event of an accident.
---
3 Best Mancro Backpacks Reviewed
1. Mancro Anti-Theft Business Laptop Backpack
Best Mancro Business Backpack
This Mancro Business Laptop bag is perfect for business people who are tired of carrying a briefcase to and from the office. I love that its slim design makes it look less like a backpack and more like a casual business bag, which makes it completely office-appropriate.
Some of the pros of the Mancro Business Laptop bag include the special computer compartment (I love that it can hold up to a 17" laptop), theft-proof combination lock, and built-in USB charger port.
The Mancro backpack charging instructions are fairly simple. You connect a power bank to the inside of the backpack and using an extra charging cable, you can plug your phone in from the outside of the bag. This is an excellent feature to have for business professionals.
The charger box doesn't come with the backpack, but once installed provides a super easy way to charge your phone while walking or driving to work, directly from your backpack. The straps of the backpack are very comfortable, and the water-resistant material means you won't have to worry when you're caught in the rain.
The only con regarding this backpack is that it's slightly smaller in capacity than many of the other backpacks out there, so whereas it's perfect for daily use to the office, you might want something a little larger for weekend traveling or long trips.
---
2. Mancro Diaper Bag Backpack For Men
Best Men's Mancro Diaper Bag Backpack
This Mancro backpack diaper bag for men is a versatile day pack for dads. You can easily fit everything you need for you and your baby, but you can pack in style. It looks great and professional for dads who are leaving the office and picking up the kids.
One of the pros of this Mancro diaper bag is the 14+ storage compartments. You get one large internal main compartment with several organizational pockets on both the inside and outside. It comes with two side pockets for storing a water bottle or umbrella. It has two front zippered pockets for storing your keys, phone, or wallet. These easy access pockets are even easy to reach when you're holding a baby or pushing a stroller.
The stroller straps on this Mancro backpack are perfect for quickly putting your bag on the stroller in front of you. In our opinion, it's a game changer since many diaper bags do not come with this option.
One of the cons about this Mancro backpack is the lack of a laptop sleeve. While we think many dads might want to forego bringing their laptop out with the kids, this would have been a nice thing to have just in case.

---
3. Mancro Diaper Bag Backpack For Women
Best Women's Mancro Diaper Bag Backpack
Don't worry, Mancro didn't forget about the mothers out there. Just like they made a diaper bag backpack for men, they also designed one for women. It's a slightly bigger capacity at 25 liters to accommodate the extra items moms need to carry around. 
This Mancro backpack features a 17-inch laptop sleeve, so you can store your child's tablet or your own laptop for working on the go. It also includes a charging port for those long days running errands. You can charge your devices while you're wearing this Mancro diaper bag backpack. It also comes with stroller straps, so it can easily hang in front of you while you push your kids.
Another thing we liked about this bag was how stylish it looked. It will match with almost any outfit and looks like a classic adult backpack. With 15+ organizational pockets, you can store bottles, diapers, and baby wipes easily. We also like the top carry handle for getting in and out of the car quickly with your baby.
The free changing pad was a huge bonus, as well. As most parents know, it can be difficult to find a clean place to change a diaper. This Mancro backpack takes care of that for you.

---
How Do These Mancro Backpacks Compare?
Size
These three models are all rather large backpacks and will be useful for everyday business or travel needs. The Mancro line really stepped up when it comes to building a suitable travel backpack that's TSA-friendly and can fit under seat in front of you on a plane.
The Mancro Business Laptop bag and the Mancro Diaper Bag Backpack For Women can both hold about 25 liters. Each of the two laptop bags can comfortably fit up to a 17" inch laptop.
I wouldn't suggest substituting the diaper backpack for a laptop bag, as it has different compartments. The Mancro diaper bag has tons of pockets for storing baby wipes and other essentials. The Mancro laptop bag has a slimmer design for office use.
Price
Mancro backpacks are at a competitive price point with similar brands of backpacks. During our Mancro backpack review, we were impressed that all three of these bags can be found on Amazon for around $30. They may go up or down by $5 but overall, these bags are reasonable.
The Mancro Anti-Theft Laptop Backpack is similarly in priced. The Mancro Diaper bags sell for slightly more on average but they are still very affordable. These models represent bargains when compared to other backpack brands on the market, which come in at well over $200.
Functionality
There's no doubt that Mancro creates their backpacks with the user in mind. They're all made to carry out a specific purpose. As you've seen in our reviews, the Mancro diaper bag line comes with two different designs, but whatever model you like best, will suit you well. Neither of them are overly gender-specific.
If you plan to use the bag for school or work, you'll want to consider one of the bags with a safety compartment for laptops and tablets, whereas if you're looking to lug around baby items, the diaper bag will be more suitable for you.
---
People Also Ask (FAQs)
Are Mancro backpacks good quality and durable?
Yes! Mancro backpacks are made of high-quality, weather-resistant materials that are made to last. Mancro offers a Lifetime Warranty, showing they stand by this statement.
How do you charge this backpack via USB port?
You'll need to purchase a power bank or battery to store inside the backpack. Then you can use the port to charge on the go. You can find excellent deals on power banks and other charging accessories online.
I need a large backpack. Will this brand be good for me?
Yes. Depending on your needs, there's a Mancro backpack that's right for you. The Mancro bag line generally carries from up to 25 liters.
Can you take this backpack and a carry on bag on airplanes?
Yes. Mancro backpacks are TSA-friendly. They're also small enough to be allowed as a carry-on bag as well. However, it's always best to call your airline prior to flying to get an exact answer as each company's policy can vary.
How do you wash or clean a Mancro backpack?
Mancro backpacks should be washed by hand and air dried. It's not wise to run these bags through a washing machine.
Where can you buy backpacks at cheap prices?
Mancro backpacks can be found at a discount on Amazon.
---
Conclusion
The Mancro backpack range is a popular choice for students, business people, travellers and parents because the company works hard to focus on the needs of each individual user. 
All of the Mancro bags are made with high-quality, weather-resistant materials that are made to stand the test of time.
Their extras, like special compartments, built-in locks and USB ports, are what separates them and makes them stand out above other backpack brands. If you could only pick one Mancro backpack we still recommend the Mancro Business Laptop backpack.