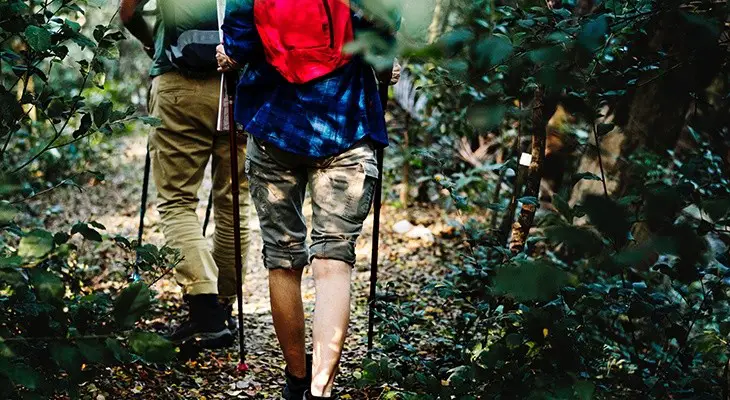 Kelty Backpack Reviews: 9 Best Models Compared For Outdoors
Kelty backpacks have been some of the industry's finest camping and outdoors backpacks for decades. Founded in 1952, the company focus on delivering quality and not just style.
Dick and Nena Kelty started making backpacks in their California home over 60 years ago, and the brand is still going strong. Have a read of the brand's interesting history here. 
The brand prides itself on using real backpack craftsmen who deliver a bag with unrivalled durability and versatility – a good investment if you ask me!
Kelty Backpacks Compared
| | | | | |
| --- | --- | --- | --- | --- |
| | | | | |
| | | | | |
| | | | | |
| | | | | |
| | | | | |
| | Kelty Tactical Raven 2500  | | | |
| | | | | |
| | Kelty KIDS Diaper Daypack | | | |
| | Kelty Pathfinder 3.0 Child Carrier | | | |
Who are Kelty Backpacks Made For?
Kelty backpacks are made for anyone who demands high quality and durability from their purchases. If you love the outdoors, camping or just demand a lot from your bag, then this is the brand for you.
These bags are made by professionals and they're made to last. They offer unisex design options and cater to everyone from beginners to experienced outdoors people.
---
Backpack Features We Looked At
Materials
All of Kelty's backpacks are made of durable fabric, usually Oxford polyester. Because the bags are designed to withstand great wear and tear, this is a great fabric to use because it's not only waterproof but also exceptionally durable and strong.
Straps
Depending on which Kelty backpack you choose, the strap system will differ. The heavier bags which are designed to hold almost 80L of stuff will obviously have more straps to support the weight you're putting on your back.
All the bags did have great quality, strong and supportive straps for the shoulders which makes carrying any heavy weight a breeze.
If you've never considered the importance of the shoulder straps of a backpack, read this brilliant in-depth guide. 
Size
Again, the size of Kelty's backpacks differ, depending on which one it is you choose.
They range in size from smaller travel bags which hold around 15L to huge camping rucksacks capable of holding some 80L. Whatever your backpack sizing needs, you'll find Kelty have a great option for you.
Compartments
As we've said before, any Kelty bag you should will be made to an incredible standard but with a high level of functionality. All of their options have many compartments to hold whatever it is you're hoping to take with you outdoors.
Some of their bags are more specific than others, so keep in mind what kind of compartments you need when you're shopping.
Style Options
There is a wide variety of style options but it's worth keeping in mind that these bags are all designed to be strong, durable and highly-versatile outdoors and camping rucksacks.
If you're looking for something exceptionally fashionable or stylish with a fancy print, these bags probably aren't for you.
Warranty
All Kelty products come with a lifetime warranty. This obviously doesn't mean the lifetime of the buyer but the reasonable lifetime of a rucksack. This is great for anyone who likes a little extra guarantee when they make purchases.
---
9 Best Kelty Backpacks Reviewed
1. Kelty Coyote 80 L Backpack
Best For Camping Weekends & Traveling
This bag is one of Kelty's most famous bags. Its huge capacity of 80L is great for anyone who needs a lot of space and strength in their camping rucksack or backpack.

This is perfect for anyone who's heading off for a couple of days and has a lot of things they want to cram into their backpack without compromising the strength or capability of the bag. Another great feature is the well-cushioned back, as well as the padded shoulder straps. This is a relief if you're carrying a heavy load.

It comes in three different colors as well, which is sure to cater to a wide range of tastes. Another great feature of this bag which gets a lot of good reviews is the completely waterproof design. The way that the bag seals and closes means that it's nearly impossible for water to get in, so it's a perfect choice for those hikes in rainy or tropical weather.
2. Kelty Redwing 44 Backpack
This bag is definitely one of Kelty's more multi-purpose options, boasting a great storage capacity but also a smaller, more manageable size.

Whether you're heading out for the day on the trails or using it as a carry-on, you won't be disappointed with the Redwing 44 backpack. It's not only the size which makes it perfect but also the practicality of it. There's a U-shaped zipper which means this bag is very versatile and easy to access while on the go, and it also includes several compartments for you to keep all your items well organized.

Additionally, there's a Dynamic AirFlow back panel which gets a lot of good reviews from customers, who said it made wearing the backpack a lot more comfortable. For a reflection on the importance of back panels, have a read of this. 
This bag is great for anyone who wants an all-purpose bag with great quality.
3. Kelty Women's Redstart Backpack
Though this bag is marketed to women, it would be a great choice for anyone considering its quality and versatility. This bag is a lot smaller than a lot of Kelty options but is perfect as a lightweight backpack that can carry whatever you put in it. Besides the larger main compartment, it features a variety of pockets that are very helpful for you to carry all your essentials - water bottles, car keys, umbrellas, or even bigger things like bike helmets.

This bag is perfect for anyone looking for a strong, versatile day backpack – whether you're hiking up some trails, going to the gym or heading to college. It also boasts a Dynamic Airflow back panel, meaning you can engage in some pretty rigorous sports but still stay comfortable.

It is available in two colors - purple and black. Not many options to choose from, but there's still some range!
4. Kelty Big Bend Sports Internal Frame Travel Backpack
Best For Long Camping Or Hiking Trips
This is Kelty's specialty camping and hiking bag – perfectly and expertly designed to meet the demands of camping and hiking. The outdoor lovers will surely appreciate how this backpack has been built with their needs in mind.

The bag boasts a great size to allow you to bring everything you need, as well as a strong and supportive strap system to make sure that the weight spreads evenly across your back - and that you feel comfortable while carrying it.

There's a water bottle compartment, and it also has a waterproof coating and an impressive number of compartments. This means that you can keep all your items in place so that they're accessible and easy to find. With a capacity of 70L+, this is sure to cater to whatever you have in mind for your next camping and hiking trip.

This bag is perfect for someone who wants a quality backpack that's not going to let them down mid-hike.
5. Kelty Trekker Hiking Backpack
Best For Short Hiking Or Camping Trips
Another great hiking option from Kelty, this bag is slightly smaller than the previous option and more suited to day-hikes or very short camping trips. This lighter, smaller option is perfect for anyone who doesn't need 70L+ capacity but would prefer a lighter, smaller camping backpack.

The bag is completely waterproof and comes with a water bottle compartment, sling pack, and several compartments for whatever you need. The bag gets great reviews for its structure and strength, even when carrying a heavy load.

It is durable and reliable, as well as pretty dynamic. The top flap also works as a cross-body pack. With adjustable suspension, an external frame, a dual-density foam waist belt, padded shoulder straps, stabilizer straps, and a sternum strap; this backpack couldn't be more thoughtful towards the avid hiker. That been said, it is not the best option for other kinds of activities, especially because of the external frame which makes it inconvenient for pretty much everything but hiking and camping.
6. Kelty Tactical Raven 2500 Backpack
Best For Day Use/Tactical
One of the smallest and most lightweight offerings from Kelty comes in the form of their Tactical Raven 2500 backpack, perfect for anyone who demands a lot from a daily backpack. It allows you to operate a radio while wearing it, making it a firm favorite in the armed forces.

However, you don't need to be a soldier to completely love this backpack and take full advantage of it. It is great for pretty much any outdoor activity, so you can take it to your next fishing or hunting trip, day hike, or even as a carry-on to your next air travel adventure.

The bag also comes with a removable rain cover, meaning none of your valuables or possessions are compromised in challenging conditions. This bag is perfect for anyone looking for a high-performing, durable, and tough backpack, no matter what you get up to. It is available in two different colors, so you can choose the one that suits you better.
7. Kelty Eagle 7850 Backpack
Best For Long Camping Trips & Expeditions
This is another tactical but fairly larger Kelty model. The Kelty Eagle 7850 backpack is an incredibly strong, durable, and tough product. The huge rucksack could easily be mistaken for a military-grade rucksack issued to army personnel, but instead, anyone can buy it online.

The cargo-style rucksack operates alongside satellite radio and is completely puncture resistant, meaning this rucksack can take you anywhere and carry anything. It has so many compartments that you don't have to worry about making a mess inside the backpack with so many items in it, because it is very easy to organize and there is a place for pretty much everything you need. Moreover, the cushioning in the back, the waist strap, and the shoulder straps is great!

This bag is perfect for anyone who demands a lot from a rucksack and expects a high level of durability. There's a sleeping bag compartment for extended camping trips and a waterproof coating to weather all the elements.
8. Kelty KIDS Diaper Daypack
Best For Parents with Babies
This is the first model of the list that wasn't exactly created for outdoor activities, but still can work just fine in a variety of places and situations. This bag is designed to carry kids' diapers and act as a changing bag for new parents. The whole bag has been designed by Kelty to offer a high level of functionality, storage, and compartments to help you organize your changing bag and ensure everything stays in the right place.

This bag offers two main compartments for diapers, large water bottles, or other personal accessories. If carrying this backpack is more than enough for you, you don't have to worry about bringing another bag for yourself - all your essentials can be easily stored and organized within this backpack. The bag is also waterproof, meaning it can be cleaned easily and carry a wide range of liquids. The zip is also designed to be stronger, to withstand any kids who also come in contact with it.
9. Kelty Pathfinder 3.0 Child Carrier
Best For Parents with Kids
This product is perfect for anyone who loves the great outdoors, camping, and hiking but also wants to bring their child along - there is nothing quite like passing on the passion for nature to your kids. The backpack includes a sun shield, meaning that the little ones were carefully considered by Kelty when designing this bag.

The bag is designed to have the ultimate strength and durability, allowing you to carry not just your child safely and securely, but also a wide range of personal belongings while keeping every item organized and safe.

When you set off to the country together, the last thing you want is the bag breaking and letting you down – that's why Kelty is a good choice. As they've been making bags since 1952, you can be guaranteed this bag won't disappoint you. They've perfected their crafting technique to make sure they deliver durable, convenient, and versatile products that last you for many years of adventures.
---
What Makes the Kelty Brand Popular
If you ask anyone who knows their camping backpacks they'll tell you Kelty is known for quality.
People have been investing in their bags since 1952 for a reason – they're made and designed by professionals to offer a level of quality rarely seen on the market these days.
Their bag range is functional and practical with plenty of features specifically added for camping, hiking and trekking. They can also be great for travelling, depending on your needs. 
---
How Do These Backpack Models Compare?
Size
There was a great variation in size amongst all of the top 9 Kelty models. Some of the bags are perfect for college or daily use while others are designed for length camping trips with a 70L capacity.
Check our 'Best For' answers with each model if you need help to decide which one fits what you have in mind.
Price
As with the size of each of the bags, the price also varied greatly. Some of the smaller models started at just $50, which others went up to the $500.
Depending on what's in stock and what size of backpack you choose, you could be looking at a big range in price.
Functionality
One thing that's impressive about Kelty's backpacks and bags is that the functionality of each and every model is amazing.
The bags have clearly been designed and made by professionals who know how to deliver a high level of functionality, no matter what model it is.
Internal Frame Vs External Frame
Only one of the larger bags had an external frame (the child carrier) with the rest boasting an internal, but strong frame.
---
People Also Ask (FAQs)
Where are Kelty backpacks made?
Kelty backpacks are made in the continental US, which means if you purchase them you're supporting local businesses!
Are Kelty backpacks good quality and durable?
This is one of their ultimate selling features – they're some of the strongest and most durable backpacks on the market at the moment.
Are these bags easy to adjust?
Yes, these bags are really easy to adjust. Each bag comes with a different set of straps which can easily be tightened by pulling down on them or loosened by pulling the lever up.
I need a large backpack. Will this brand be good for me?
Yes – this will be a great brand for you. Some of their backpacks have a capacity of 70L which is sure to match any needs that you have.
Can you take this backpack as a carry on bag on airplanes?
Yes you can – all reviewers said each bag caused no issue on airplanes and fitted comfortably into the overhead lockers. Always check with each airline before you fly for the precise restrictions. 
How do you wash or clean a Kelty backpack?
All Kelty bags can be cleaned easily using lukewarm water with a little bit of soap. After cleaning, make sure to place in a bright and warm place to let it dry properly.
Where can you buy backpacks at cheap prices?
Amazon is definitely the best place to buy Kelty backpacks – not only do you get a great deal but you'll be able to read the amazing reviews the bags get from previous customers.
---
Conclusion
Well, what more is there to say? Kelty has been making strong, durable and high-quality backpacks since 1952.
Their reviews from previous customers say it all – everyone is amazed at the quality and the functionality of each of their designs. These bags are definitely worth the investment and come with a lifetime warranty for that added guarantee.