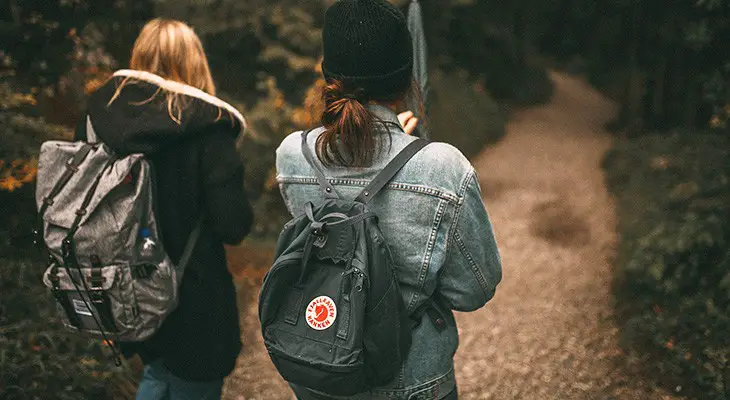 5 Best Fjallraven Kanken Backpacks: Reviewed & Compared
Sweden is the land of lingonberries and mouth-watering meatballs, not forgetting tasty Rakor and jaw-dropping sights. However, one of the most fantastic Swedish creations to emerge in recent years is the Fjallraven Kanken Backpack, the most iconic Swedish backpack of all time. But what makes it the best bag anyone can own, you may ask?
Well, this gift from the Swedish gods is the most trend-setting, stylish, spacious and durable bag that anyone could wish for. It offers its users convenience, compactness and an incredible range of colors. There's something to suit everyone's personality.
With that in mind, we've reviewed and compared some of the most popular models to help you find the one that will suit your needs and style best. Let's get started...
| | | | | |
| --- | --- | --- | --- | --- |
| | Fjallraven Raven 28L Laptop And Travel Everyday Carry Backpack | | | |
| | Fjallraven - Kanken No. 2, Heritage And Responsibility Backpack | | | |
| | Fjallraven Kanken Big Backpack | | | |
| | Fjallraven - Greenland Backpack Large | | | |
| | Fjallraven - Totepack No.2 Backpack | | | |
What Makes the Fjallraven Kanken Backpacks Brand Popular?
The name Kanken is a Swedish name that means "the lug," lugging something, and it is the brand name of one of the most incredible backpacks worldwide.
The Fjallraven Kanken backpack brand is one of the most popular backpacks in Sweden thanks to its timeless style, durability and quality construction. It's been a popular bag option for both adults and kids for a while now, especially throughout Europe and North America.
Once the territory of the true hipster, it's very much moved into the mainstream, as pointed out in this tongue-in-cheek Huffington Post piece. However, just because it's no longer considered particularly indie doesn't mean it's going anywhere. It's been a success for a good reason!
It's a functional brand with an impressive spacious design, especially the central compartment, making it easy to carry large items. The backpacks manage the impressive feat of being both lightweight, whilst being constructed from heavy-duty materials for impressive durability.
The original design was conceived to help improve back health and posture among students, but with time it has grown to be the most sought-after backpacks for everyone from college students to parents to photographers. Once you've tried a Kanken Backpack, you'll never go back!
---
Comparing Fjallraven Kanken Backpack Models
When comparing the best Fjallraven Kanken Backpack models, we looked at their:
Materials
Most of the Fjallraven Kanken Backpacks are made of heavy-duty materials, which makes them strong sturdy and durable. We also considered the sturdiness of the straps and handles and the ease of opening and closing the zippers. We also examined the water-resistance and waterproof nature of the bag, since no one wants a bag that risks leaking, thus running their documents and items.
Straps
When looking at the Fjallraven Kanken Backpack straps, we considered their adjustability, comfort and any other extra features they might have offered. For example, the Greenland Backpack has Greenland wax that provides extra protection for its handles, straps and the body of the bag.
Size
When it comes to size, we looked at the volume of the bag. Some like the Fjallraven Raven 28L Laptop and Travel Everyday Carry Backpack, which is the most spacious bag offered a capacity of 28l thus allowing you to carry your items conveniently and with ease.
Compartments
We also looked into the number of compartments the bag offers, including a laptop sleeve, side pockets, and a water bottle compartment.
Style
If your'e a fashion lover, you need a bag that accentuates your fashion sense. So we considered the number of colors a model has to offer. Some of the models have 13 while others have ten, nine, seven or six.
If how you'd team this bag with the rest of your wardrobe is a priority, then check out these tips for how to style your Fjallraven bag.
Warranty
For warranty, most of the models did not have any, while others require one to contact the seller for more information.
---
5 Best Fjallraven Kanken Backpacks Reviewed
1. Fjallraven Raven 28L Laptop, Travel & EDC Backpack
Quick Look - Bag Features
Who is it Best for?
Fjallraven Kanken is one of those brands that really care about the design of their bags. All of their products are good-looking, marking the pace in the fashion industry when it comes to backpacks. This model is no exception!

It is made with a mix of polyester and cotton, and provides a very simple yet resistant design. It's excellent for college students who need the convenience of a backpack that lets them navigate through campus easily and with comfort as they carry their most loyal companion: their laptop. It is also a great carry-on bag for those who make short business trips and don't need to take that many items with them on the plane. It has a 28-liter capacity, so it still can fit several basic essentials.

It features a comfortably padded back panel and shoulder straps so that you can carry it around with you anywhere without feeling a load in your back. Finally, it comes in three different colors, so you don't have to settle for a style that doesn't suit you!
2. Fjallraven - Kanken No. 2, Heritage & Responsibility Backpack
Quick Look - Bag Features
Who Is It Best For?
We feel like this model has a little more casual design than the previous one, but still works perfectly for a variety of situations (and the good-looking characteristic is for sure still there!)

It's excellent for urban commuters, business professionals, students, photographers, outdoor enthusiasts, and parents who need the convenience of a bag that allows them to travel comfortably and the capacity to carry baby must-haves like diapers, wipes, and clothes.

The two handles on the top make it easy to transport, especially when your back is too tired or you're carrying another bag up there. It also features a front zippered compartment and two easy-access side pockets, so everything inside the bag will be easy to organize and find.
Read Camilla's review of her classic Fjallraven backpack that's been her faithful companion for over five years, or watch Simple Victoria's unboxing video on Youtube if you need more convincing!
3. Fjallraven Kanken Big Backpack
Quick Look - Bag Features
Who Is It Best For?
Yeah, we know what you're thinking right now: didn't we just review this backpack? And the answer is: sometimes the bigger, the better. Yes, the design is pretty much the same, but this model stands out because it offers a greater capacity and allows you to carry even more items.

Because of its spacious design, this one is excellent for parents, business professionals, students, photographers, outdoor enthusiasts and urban commuters who fancy fashion and love the convenience of moving from one place to another swiftly thanks to their easy-to-manage bag - all of this without having to choose which of their essentials they have to leave at home because of the lack of space to fit everything they need.

This backpack allows you to store a 15-inch laptop in its own padded compartment, keeping it safe from undesired impacts and scratches. It still has the main compartment and three additional pockets for everything else!
4. Fjallraven - Greenland Backpack Large
Quick Look - Bag Features
Who Is It Best For?
Those of you who are looking for a different, lest rectangular design, will want to look at this. This model, in particular, was inspired in the design of a jacket - and now that you read it, we bet you can't unsee it! It's a pretty variation of the Fjallraven classic backpack. It features two front pockets which are great for keeping your smaller essentials, such as the earphones and keys that tend to get lost easily inside spacious bags.

It's excellent for parents, business professionals, urban commuters, outdoor enthusiasts, and photographers who require a highly waterproof bag and one that allows them to have peace of mind knowing that their expensive equipment is safe and sound.

It is also great for those students who head to a sports practice after class because the bag will fit everything they need and won't get wet if they need to leave it on the grass, or anywhere else near the field.
5. Fjallraven - Totepack No.2 Backpack
Quick Look - Bag Features
Who Is It Best For?
This one is another quite different but still beautiful backpack from Fjallraven. As its name describes, it was designed with everyday use in mind. It is built with polyester and cotton, a strong G-1000 fabric, and it's meant to last.

It's excellent for parents, business professionals, students, urban commuters, photographers, and outdoor enthusiasts who need a comfortable and easy-to-carry backpack. This model will allow them to conveniently keep their water, snacks, phones, and cameras close at hand, allowing them to have an easy, fun time enjoying the great outdoors. It is, for example, one of the best bags that you could take to the beach. Because of the material, the sand won't get easily attached to it and it is also fairly easy to clean (especially the bottom).

Even indoors, the bag is a perfect choice. It can be carried by hand, on the shoulder, or as a backpack; so it couldn't get any more convenient.
Who Are Fjallraven Kanken Backpacks For?
The backpacks are well suited to a range of consumers including:
Students
Those college or high school students who need a stylish-yet-functional bag that can hold books, stationery, small laptops and other school materials while still enjoying the signature quality and durability.
Business people
It's perfect for professionals who need a bag that offers them the comfort and convenience of a backpack without sacrificing their personality or professional appearance.
Parents
If you're tired of hauling around a cumbersome diaper bag, the Kanken spacious interior offers any parent plenty of space to comfortably carry baby essentials like diapers, wipes, and clothes.
Photographers
When going for shoots at some inconvenient locations, photographers need a bag that gives them confidence that tier items are safe and sound at all times. Kanken bags are durable and sturdy, thus making them the best option no matter what conditions you're shooting in.
---
How Do These Backpack Models Compare?
Size
Amongst the five models reviewed, the Fjallraven Raven 28L Laptop and Travel Everyday Carry Backpacks are the most spacious with their 28L volume. They can fit practically anything you might need with you. The one with the most constrained space is the Fjallraven - Greenland Backpack Large, since it has a narrow design that makes it difficult to unpack your things in a hurry.
Price
The most expensive Fjallraven Backpack is the Fjallraven - Greenland Backpack Large which is priced at around $200. The most affordable model in this review would be the Fjallraven Raven 28L Laptop and Travel Everyday Carry Backpack which sells at around $100.
Functionality
The Fjallraven Raven 28L Laptop and Travel Everyday Carry Backpack is the most functional backpack. It gives you enough room for your laptop, camera, phone, keys, camera, extra sweaters or diapers. It also has the water and smoothie bottle compartment that allows you to carry your H2O safely and is convenient for easy access. The least functional is probably the Fjallraven - Totepack No.2 Backpack.
---
People Also Ask (FAQs)
Are kanken backpacks good quality and durable?
Yes, they are. Most are heavy-duty materials that aren't only water-proof but also all-weather resistant, thus making them excellent for snow, rain, extreme heat and windy conditions.
Are fjallraven kanken backpack good for school?
Yes. The Kanken backpacks are one of the best school bag brands, being originally designed back in the 70s so that Swedish school children wouldn't experience back problems. They allow students to carry their books, notepads, small laptops and other school essentials conveniently, not forgetting their signature trendy style.
I need a large backpack. Will this brand be good for me?
Yes. Most of these backpacks have a capacity of more than 15L, a volume that allows one to carry a large laptop or camera equipment easily. They also have a width that can accommodate essentials like a sweater, bottle, phone and keys, as well as other things you might need.
Can you take the fjallraven kanken backpack + a carry on bag on airplanes?
These bags are usually considered a separate carry-on piece and most airlines will allow hand baggage plus this backpack. It's always best to call your airline prior to flying to get an exact answer as each company's policy can vary.
How do you wash or clean a kanken backpack?
According to the manufacturer's guide and some Fjallraven backpack experts, cleaning this bag is as easy as winking. All you have to do is to ensure that you follow some simple instructions like:
Where can you buy fjallraven kanken backpacks at cheap prices?
You can find some of the most affordable, new or used items on Amazon.
---
Conclusion
The Best Fjallraven Kanken Backpacks are ideal backpacks for students, parents, hikers, business professionals and urban commuters.
They're a worthwhile investment. So get your wallet out and purchase your favorite model today. You won't regret it!