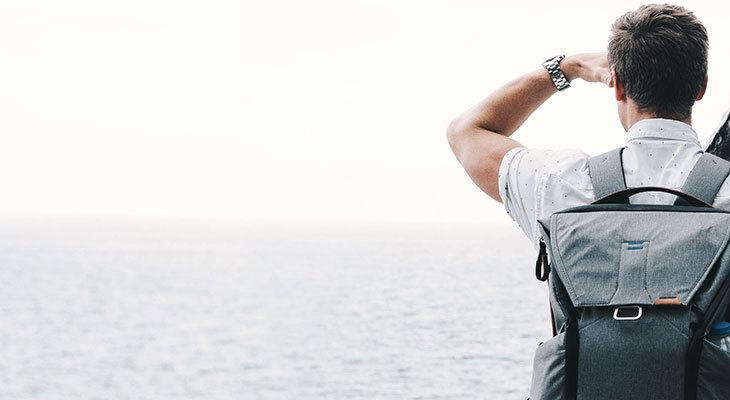 3 Best Peak Design Backpacks: Reviewed, Rated & Compared
Nowadays, everyone seems to be carrying a backpack or bag of some kind. There's no shortage of bags out there, with hundreds of companies trying to get a share of the market.
Some companies are trying to get ahead of the rest, by making a better, smarter bag, that works for you, rather than just with you. One such company is Peak Design.
What Makes The Peak Design Brand Popular?
Peak Design has made a line of backpacks and bags that are tough, comfortable, well designed, organized, and look good doing it. Their stylish workhorse bags are used by many and loved by many more.
They've had huge success on Kickstarter, having now launched 8 campaigns on the platform which have enjoyed huge support. 
They offer several different products from rather small sling bags to large and high volume backpacks. Finding a tough stylish backpack as large as thirty liters is hard to do outside of Peak Design's line, but they offer them and they even come in an assortment of colors.
---
Who are Peak Design backpacks made for?
Peak Design advertises their bags are for everyone from the commuter to the photographer to the adventurer. The bags have a great following in the photography world due to their strength and high configurable FlexFold dividers which allow you to organize your gear in a way that it's protected and not just piled into a bag.
Reading through reviews I found photographers using the bag for travel, a father who used it as a diaper bag, commuters who used it as a laptop bag, and a hiker who used it as a daypack. People are definitely putting these bags to work in real-world conditions, and are reporting back they the bags can handle it well. 
---
What We Looked at For Peak Design Backpacks?
Materials
With materials, we looked at the makeup of the bag including straps, handles, zippers, velcro, hardware, and shell. Also, we looked at if the bag was waterproof and if it offers impact protection. These are all important considerations as they contribute to the comfort of the bag, especially when you're carrying a lot of equipment.
Straps
We looked at the kinds of straps the bags feature, including whether they were adjustable and whether or not they were comfortable to wear. Straps should be flexible in terms of length and material, as this is important on long commutes.
Size
When it came to size, we looked at what the bag can hold, generally measured in liters. We also examined if the bag had external storage or expandable pockets. Depending on the primary use of the bag, size should always be a major consideration for buyers.
Compartments
We looked at the total number of compartments, but also any speciality compartments such as a laptop or tablet pocket. Laptop sleeves should always be closely compared as they often support a certain size of computer.
Style Options
We looked at the number of available colors and at if there were any variations of the bag available. Many brands will now offer a unisex style so that both men and women look great wearing their bag.
Warranty
We looked to see if the company offered a warranty. Additionally, we looked at what the warranty covers and how long it was effective for. Backpacks do break, so this is another extremely important thing to look for when buying.
---
3 Best Peak Design Backpacks Reviewed
1. Peak Design Everyday Backpack 20L (Charcoal)
Quick Look - Bag Features
The 20L Everyday Backpack is the mainstay of the Peak Design line, and reviewers rave about it. Matt Burns at Techcrunch has gone as far as to call it 'the best bag I've ever used', high praise indeed! 
Their 20L Everyday Backpack is one of the most commonly purchased bags and comes ready to be put to work. This highly versatile bag offers you multiple ways to organize, access, and stow your gear, whether it's cameras or a water bottle.
The backpack has internal padded compartments that give you more options for storing your things inside it. This bag also includes Peak Designs' Flexfold dividers which stay in place and keep your gear from ending up bunched at the bottom of your pack. Soldier Knows Best has a comprehensive video review on Youtube that means you can get a proper look at all the details of the interior. 
The 20L size gives you room to carry what you need without being overly broad and bulky. The dual side loading allows you to get to and replace items as they're needed without having to dig through the bag.
The "MagLatch" top closure also allows you to get into the bag without the unnecessary hassle of buckles or straps, while still providing a secure hold. The expandable side pockets also allow you to carry bulkier items on the side of the bag, which is excellent for tripods.
The Everyday Backpack also looks the part, with an ultra-clean style and heavy-duty functional hardware and absence of dangling straps add to the sleek and sophisticated look. The weatherproof 400D nylon shell looks excellent while keeping your gear safe.
---
2. Peak Design Everyday Backpack 30L (Charcoal Camera Bag)
Quick Look - Bag Features
The 30L Everyday Backpack is the larger cousin to the 20L bag, but still sports all the great features, along with an extra 10L of space. This bag is large enough to hold everything you throw at it and is used by some hikers as a day pack.
The 30L backpack is the bag most often used by photographers as a travel bag due to its increased size, which allows for carrying extra lenses and gear for multiple setups.
The sleek and stylish design on the outer shell looks professional and upscale without advertising it as a camera bag holding high-value items, which is a big plus for travel.
Even though larger than the 20L, the dual side loading zippers, "MagLatch," and internal pockets keep your stuff within reach without having to dig through the bag.
If you're a keen photographer, check out this extremely detailed review of the Everyday Backpack on Photography Life to get a really good idea of whether this could be the perfect bag for you. 
---
3. Peak Design Everyday Sling 5L (Ash Camera Bag)
Quick Look - Bag Features
The Peak Design Everyday Sling 5L comes in as the smallest and lightest bag in Peak Design's Everyday line. The bag is a single strap bag that's designed to be across the body as a sling bag, or it can be adjusted to be a waist bag.
The bag features a quick adjusting feature that allows you to loosen the strap when you need to access your gear, but tighten it if you become more active, such as riding a bike or hiking. Maintaining the durability and sleek design choices of its larger cousins, the Sling 5L looks great and keeps your gear safe from the weather with its 400D nylon weather-proof shell.
The Sling 5L also features the Felxfold dividers to help you keep your stuff separate and protected, rather than just thrown together in a bag. There's also a padded tablet pocket that will hold a tablet up to 11 inches as well as some stretchy, smaller pockets on the inside that help secure batteries or memory cards.
Considering it's so small, this bag packs a lot of punch and is perfect for someone on the go or the photographer that only needs a camera and some accessories. 
---
Negatives about these Backpacks
While these bags have impressive numbers in most categories, there were some negative aspects. Price was the most significant factor, with these packs costing significantly more than similar products currently on the market.
Another concern many users reported in reviews is that the material seems to stain easily, and without a right way to wash the bag this could be an issue long term. There were also some people that found the straps to be uncomfortable and to loosen while wearing, but this seemed to be a personal preference rather than an actual defect of the bag.
Some users also reported difficulty fitting some 15" laptops into the laptop pocket of the larger bags, so it seems to be brand dependent. If this is a significant factor for you, it might be a good idea to test fit your laptop into the bag before purchasing.
---
How do these models compare?
Size
When it comes to size, there are some significant differences here. The three bags have 25L of difference between them, which is a lot of space. The 30L bag is definitely in the "big" category, and would be great for anyone who needs to carry a lot of gear or pack for multiple days. The 30L would also be the perfect bag for traveling since it will hold a good amount of clothing or whatever else you need.
The 20L Backpack would be better for your commuter or person who needs to carry their gear but doesn't need the expansiveness of the 30L. Carrying a backpack, maybe a camera and some other accessories would be great in a bag of this size. It could also handle a small overnight trip or a short day hike.
The 5L Sling Bag would be good for a person on the go who needs to stow their gear, a photographer that only requires a camera, or as an everyday bag for your wallet, keys, etc. 
Price
The price, which is the most substantial drawback of these bags, isn't that different between the two backpack sizes, with the Peak Design website listing them at $259.95 for the 20L, and $289.95 for the 30L.
The smaller Sling Bag comes in much lower, with the Peak Design site listing it at $99.95.
Functionality
The functionality of these bags is impressive. They're highly configurable and can adapt to almost any use. The Flexfold divider system, expandable outer pockets, and padded inner pockets mean you can arrange this bag to fit your needs, rather than struggling to fit everything in.
The 400D nylon shells also mean they can take a beating and still look great. Being weather-proof also lets you use them in any conditions and trust that your gear is safe.
---
People Also Ask (FAQs)
Are Peak Design backpacks good quality and durable?
Yes. These bags are built out of high-quality materials and feature a tough 400D nylon exterior which is durable to withstand heavy use. They also feature custom metal hardware.
Are Peak Design backpacks good for school?
No. These backpacks are marketed for people who need to stow and carry an assortment of gear, which is why their Flexfold dividers are so helpful. You'd need to remove all of these to fit textbooks, which would largely defeat the point of this bag.
I need a large backpack. Will this brand be good for me?
Yes. The larger 30L Everyday Backpack is considered large and would handle the needs of most regular people.
Can you take this backpack + a carry on bag on airplanes?
Maybe. The 20L Backpack and 5L sling bags will definitely fit under a seat. However, the 30L has some mixed reviews, with some people saying they had no issues, but another saying it wouldn't fit under a seat.
However, the 30L could make a wonderful carry-on, rather than an under the seat item. Whatever bag you purchase, be sure to check the guidelines of the individual airline every time you fly, as they are continually subject to change. 
How do you wash or clean a Peak Design backpack?
Wash by hand with warm water and mild soap.
Where can you buy these backpacks at cheap prices?
The backpacks are available on Peak Design's website, but the cheapest prices are on Amazon.
---
Conclusion
The Peak Design Everyday line of bags are guaranteed to fit any need you throw at them. Tough and professional looking, these bags are designed to work hard, look good, and keep your gear organized and safe.
The adaptability and configuration means that the bag will continue to be usable even if your needs change. These are definitely bags to consider when making your next purchase.