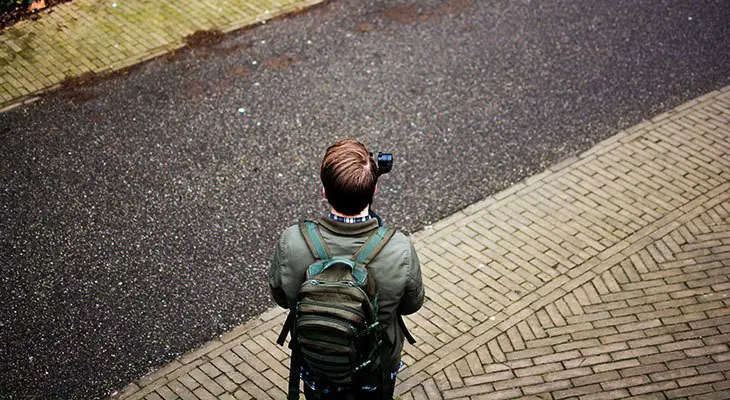 Best Nomatic Backpacks: Reviewed, Rated & Compared
Nomatic is one of the biggest brands out there for minimalist, functional bags that have both the versatility and high-quality you need for life on the go.
We'll be reviewing the Water-Resistant Nomatic 40L Travel Bag/Backpack and the 20L slim version as they're their most popular models.
What Makes The Nomatic Brand Popular?
Nomatic was born on Kickstarter, and is a big name as far as stylish, modern and minimalist bags go. A lot of trendy Instagram influencers and celebrities have been spotted wearing them. The bags are famous for their sleek, black design which will match any outfit or lifestyle.
One of the best things about them is that the company has managed to provide amazingly functional bags without compromising on style. The Daily Beast calls these products the origami of backpacks. 
These bags come with a huge storage capacity (between 20-40L), lots of pockets and a lifetime guarantee all while looking great. What's not to love?
The brand offers two, main options: the travel bag (40L), the travel backpack (20L). Both look very similar on the outside, but the interiors of the bags serve different purposes. They've currently got a new Kickstarter project running. Check out the details here if you're curious. 
---
Backpack Features We Looked At
Materials
The exterior of Nomatic travel bags and backpacks is made of a highly-durable, waterproof tarpaulin, which is extremely popular for outdoor bags and rucksacks. The material provides protection against the elements, while being lightweight and flexible – perfect for a rucksack or a travel bag.
All Nomadic travel bags and backpacks come with the same exterior fabric. That means that no matter what you choose, you're protected against the elements. The bags come with a full perimeter zipper and lockable zippers to ensure your things stay secure while you're on the move. 
Straps
Carrying 20-40L on your back can feel heavy, but with the way Nomatic have designed their travel bags and backpacks, it'll feel so much easier. The travel backpack and bag come with detachable waist and sternum straps which will help distribute some of the bag's weight around your body, making it feel a lot lighter. The back straps can be tucked away and the side handles can be used to carry the bag as a brief case or suitcase.
Size
This bag looks incredible compact for something that can carry some 40L. Both Nomatic bags on the market are the size of a typical backpack but use space efficiently and effectively to allow you to fit more in. Empty, the bag weighs around 4lbs and has dimensions of roughly 50x35x20cm.
Compartments
All Nomatic bags come with numerous compartments designed to accommodate everything you're carry while on the move. There's a compartment to feed your suitcase handle through, a water bottle compartment and a laptop compartment. What's more, there's an earphone and sunglass compartment and several other compartments inside for various personal items.
The laptop compartment will fit most standard laptop sizes, with customers saying that all of their laptops fit snugly with no issues. The backpack comes with a specific removable panel for paper, tech and accessories. The travel bag switches this for a shoe compartment, mesh divider and compression packing tube to cater more to clothes and other accessories you need while travelling. 
Style Options
The Nomatic style of bag is the best part of their products. They're black, sleek and minimalist. Only coming in one color may see strange, but the limited choice of colors is actually a selling point. It makes the brand more recognizable, distinct and is sure to catch others' eyes.
Warranty
All Nomatic bags come with a lifetime guarantee, something which is very reassuring when buying from a new brand. No matter what happens to the bag or what goes wrong, the company promise to replace it for you.
---
Nomatic Backpack Reviews
1. Water-Resistant NOMATIC 40L Duffel/Backpack
Quick Look - Bag Features
2. Nomatic Backpack 20L Laptop Bag RFID Protected

Quick Look - Bag Features
---
How do these models compare?
We compared the 40L Nomatic travel bag to two other similarly priced options on the market:
Timbuk2 Blitz Pack
The Timbuk2 Blitz Pack isn't exclusively for travelling. The manufacturers say you can take it hiking, camping or to college.
It does feature several compartments to house things like laptops, clothes, pens, phones, etc. and size-wise compares pretty well to the Nomatic version. 
However, this bag comes with a nylon outer fabric which isn't as durable as tarpaulin can be, but will still be relatively water resistant.
This is a cheaper option than the Nomatic bags so if you're looking to save some money, you could consider this. However, it doesn't come with a lifetime warranty.
eBags Professional Weekender
This bag is pretty similar to the Nomatic travel bag. It's organized, lightweight and durable with enough compartments to fit anything you're bringing with you.
The bag has waterproof coating, a designated clothes compartment and adjustable straps, similarly to the Nomatic option.
Price-wise, the e-Bay option is cheaper but doesn't come with a full lifetime warranty like its Nomatic competitor – which could be a deal-breaker for a lot of customers.
Style and functionality-wise, this bag is good and if you're looking to save a bit of money, it might just inch ahead of the Nomatic option.
---
Who are Nomatic bags made for?
All Nomatic bags are aimed at anyone who wants a stylish bag but one with high functionality. If you're a minimalist, you'll love this brand.
Students, professionals or parents who are planning a trip or just carrying out daily tasks will find these bags useful. Basically, they're great for anyone who wants a bag that will last for years and carry everything they need.
---
People Also Ask (FAQs)
Where are Nomatic backpacks made?
They're manufactured in Vietnam with a company the brand has worked with successfully since 2014. The bags all come with a lifetime guarantee, meaning the company promises to replace any bag you're not happy with.
I need a large backpack. Will this brand be good for me?
This brand is great for you – 40L is an impressive feat for any backpack manufacturer. It has an expandable compartment as well meaning that it can be as big, or as small, as you'd like it to be.
Can you take this backpack + a carry on bag on airplanes?
Yes – both the Nomatic travel bag and backpack have been specifically designed to fit airplane overhead compartment requirements, so you'll be able to take them on-board wherever you are.
Even the Nomatic backpack can be taken on-board as an additional item to your carry-on suitcase for lighter items. However, it's always best to call your airline prior to flying to get an exact answer as each company's policy can vary.
How do you wash or clean a Nomatic backpack?
Nomatic bags are designed to be durable and survive the elements, but you should still be careful while cleaning them. Tepid water and a mild soap or detergent are sufficient to clean the bag and keep it looking good.
Where can you buy backpacks at cheap prices?
Amazon is the perfect place to find cheap, high-quality Nomatic bags. The best thing about Amazon is you can ask the seller any questions you have about the bags and look at customer reviews, a good thing before investing in anything, including a travel bag.
---
Conclusion
Nomatic backpacks and Nomatic travel bags are brilliant, up-and-coming options on the travel bag and rucksack scene. Doing the research for our Nomatic travel bag review left us pleasantly surprised, seeing as it's such a new brand. 
Their quality, versatility and functionality mean that they can be used across the US by everyone – whether you're a student, a business person or a parent heading away for a few days.
The 40L capacity is unbelievable, but what's even better is that the bag remains stylish, streamlined and sleek even when full to the brim.