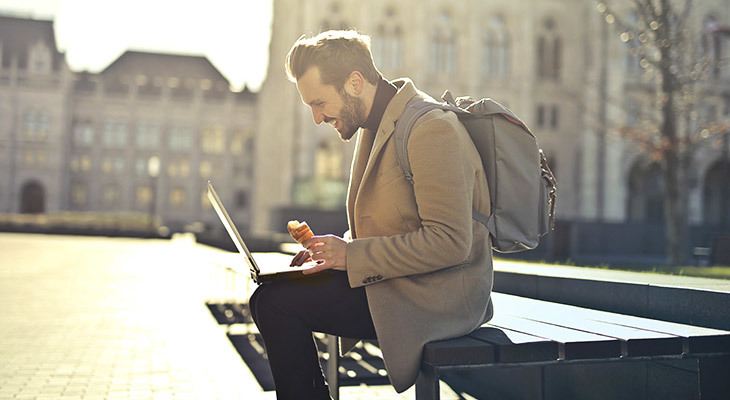 6 Best Timbuk2 Backpacks Reviewed, Rated & Compared
If you want to buy a new backpack, you're in the right place. This useful guide will review some of the most popular Timbuk2 backpacks, so you'll be able to determine which backpack is perfect for you.
After all, the right backpack will be comfortable, practical and useful – but the wrong backpack will be ill-fitting and uncomfortable.
And, when it comes to backpacks, everyone has different needs. Maybe you travel for work and need a laptop bag that's TSA-compliant, or maybe you need a gym bag that's appropriate for work too.
Timbuk2 Backpacks Compared
What Makes The Timbuk2 Brand Popular?
Timbuk2 is a well-established bag manufacturer. They produce a wide range of high-quality, durable bags, and they're based in San Francisco.
Today Timbuk2 have tens of thousands of customers, but the company had humble beginnings. It was initially started when bike messenger Rob Honeycutt decided he needed a proper handlebar bag to carry everything he needed on a bike. He realised that he couldn't buy a bag like this, so he decided to make his own – and soon other messengers started to notice his bag.
Rob received multiple requests from other messengers asking to buy his bags, so he bought enough material to make 50 more bags. He made the bags in his basement, and then he sold them to the local bike shop. Unsurprisingly the bags sold out quickly, and Rob realised he was onto something.
So Rob decided to create more messenger bags, and Timbuk2 was born. The bags were very popular, and soon they were sold across America.
Today, Timbuk2 sell a wide range of bags, including backpacks, and they have a global audience. A big part of their brand is advertising to hardworking people, so they sell a wide range of practical backpacks, including laptop backpacks and backpacks that are ideal for cyclists.
As their website states, it was never about bags for this company, but about the community. 
---
Who are Timbuck2 backpacks made for?
Born on the back of hardworking bike messengers, Timbuk2 create practical, durable backpacks that are designed for day-to-day working life. This includes backpacks that are designed to carry laptops, as well as backpacks that are specifically designed to carry Apple products (such as iPads). This is ideal for business people and people who travel for work, as well as students.
Timbuk2 also create backpacks that are perfect for active people, such as backpacks that are ideal for cycling and hiking. So whether you're an office worker or an active hiker, it's likely that Timbuk2 have the perfect backpack for you.
Even Instagram star Pippa, a tiny rescue schnoodle, got her first taste of cycling in a Timbuk2 messenger bag, proving there really is something for everyone! 
These backpacks are certainly designed to withstand a lot. Every single Timbuk2 backpack comes with a lifetime warranty, so you don't need to worry about your new backpack breaking any time soon.
---
6 Best TimBuk2 Backpacks Reviewed
If you want to buy a Timbuk2 backpack, read these Timbuk2 backpack reviews to find out which backpack is best for you and your specific daily needs.
---
1. Timbuk2 Command Backpack
Quick Look - Bag Features
If you travel regularly, the Command backpack could be the perfect backpack for you. This is because it's TSA-compliant, so you'll have no problems taking it through the airport.
It comes with more room than you can shake a stick at. The main compartment in the bag is 30 liters in volume, which is 93% of the total volume of the backpack, so there's lots of room for storage.
You should easily be able to fit a laptop, some books, trainers and gym clothes in the bag. The zips on the side of the bag can also be pulled down fully, so you can open the bag wide when you're filling it up.
The bag also has a front pocket that can hold an iPad, and this pocket is padded to make sure the iPad doesn't get damaged.
Pangolins With Packs points out the on-strap bottle opener in their review, perfect for popping open a cold beer wherever you and your bag might happen to be. 
Like all Timbuk2 backpacks, this model comes with a lifetime warranty.
2. Timbuk2 Spire Backpack
Quick Look - Bag Features
The Spire backpack was designed to specifically hold Apple products, so it's ideal for anyone who owns a lot of Apple products. The main laptop pocket can hold a 15" Macbook, and there's also a slightly smaller pocket that can hold an iPad. 
The backpack is also seriously resilient. It's made using water-resistant TPU, as well as an innovative canvas material that helps to repel water, so your Macbook and iPad will be safe even if it's raining outside.

This bag isn't as large as the Command backpack, but it does have expandable volume due to the roll top main opening. So while it isn't ideal for people who regularly carry lots around with them, it can expand if you need it to.

The bag is also very sleek looking. It has an incognito back zip to make the bag look less bulky, and the custom fit strap can be altered to fit any body type.
3. Timbuk2 Especial Tres Backpack
Quick Look - Bag Features
The Especial Tres backpack is designed for cyclists, so it's super practical. The bag has lots of different pockets for practicality, including dual-side stretch pockets that can easily hold a water bottle each. There's also an internal organiser that can hold pens or a phone.
The bag is also very water-resistant. It has a waterproof roll-top opening to protect the items inside the back, as well as an internal drop liner with a waterproof seam. This means that your items will still be dry after hours of cycling in the rain.
However, it's worth noting that the bag isn't completely waterproof, so if you're out in a downpour all day you may want to head inside after a few hours.
The bag also has a few specific cycling features. The back of the bag features a cooling panel for ventilation, and the straps are wide and padded so they're extra-comfortable to wear. The bag also has a vista loop that can be used to attach bike lights to your outfit.
In total the back of it is 20" high and 13.5" wide, so it's a fairly large backpack.
4. Timbuk2 Uptown Laptop Travel-Friendly Backpack
Quick Look - Bag Features
The Uptown Laptop Travel-Friendly backpack is another backpack that's perfect for travelling. The bag is designed to be TSA-friendly, so you'll have no problem taking it through customs. You can even open up the side of the back so the laptop is laid flat.
The bag also has a designated pocket for an iPad, as well as a second pocket for other gadgets. There's also a large main compartment that can be used to store books or a laptop.
The bag can easily be transported around the airport. There are reinforced grab handles on each side of the bag, as well as the standard over-the-shoulder straps, so it's easy to heave around. There's also a removable sternum strap for extra comfort.
This laptop bag is seriously useful for people who travel regularly with a laptop. However, if you don't use your laptop when you're travelling, this bag could be a little impractical.
5. Timbuk2 Parkside Laptop Backpack
Quick Look - Bag Features
The Parkside backpack is a fairly small bag that's perfect for both college and high school students, as well as for office workers. Do not be discouraged by the fact that the backpack is small - it still has plenty of space inside, as well as a laptop sleeve that can carry a 15" device.

The main compartment is also more spacious than it seems. You'll easily be able to fit a pair of shoes in, so it is a great bag to take to your soccer or basketball practice after school, or for then you're heading to the gym before getting to the office. There's also an external pocket that can be used to hold a water bottle or a u-lock.

This bag will also help you keep all of your items in place. There's an internal organizer that can hold pens, phones, and other small items such as your keys.
6. Timbuk2 Q Laptop Backpack
Quick Look - Bag Features
The Q backpack is an affordable option that's perfect for all kinds of students. While the bag may be more affordable than the other models on this list, that doesn't mean it isn't a high-quality pack. There are multiple internal and external pockets, as well as a front panel that can be unzipped to reveal an internal organizer.

The Q backpack also has a bigger laptop compartment than the other bags on this list, so if you have a slightly larger computer, this bag may be the best option for you. This is such a good thing because many laptop sleeves on most backpacks are designed for the more popular compact laptops in mind.

The bag also has a few innovative features. There's a ventilated back panel to keep you feeling cool and fresh all day, as well as a fully-padded laptop pocket to keep your laptop safe as you travel. So in this case, affordability doesn't mean that you have to compromise on quality!
---
People Also Ask (FAQs)
Are Timbuk2 backpacks good quality and durable?
Yes, and every Timbuk2 backpack comes with a lifetime warranty.
Are Timbuk2 backpacks good for school?
The laptop backpacks are perfect for school, college and university. This is because most of the backpacks come with a padded pocket to hold a laptop, as well as large interior pocket that can easily hold pens, school books and spare shoes.
Are these bags TSA-friendly for carry-on luggage?
These bags are usually considered a separate carry-on piece and most airlines will allow hand baggage plus this backpack. It's always best to call your airline prior to flying to get an exact answer as each company's policy can vary.
How do you wash or clean a Timbuk2 backpack?
Simply wipe the backpack down with a damp cloth. You can also wash the backpack on a low heat if it's very dirty.
What other types of bags does Timbuk2 make?
You can also buy Timbuk2 tote bags and Timbuk2 side bags – simply use the Amazon search bar to see the other options available.
Do Timbuk2 give a warranty?
Yes, all Timbuk2 bags come with a lifetime warranty.
Where can you buy backpacks at cheap prices?
---
Conclusion
If you're looking for a practical, durable bag that will last for years without breaking, you should think about investing in a Timbuk2 backpack. They're available in a wide range of styles, so it doesn't matter if you're a cyclist or a businessman. Either way, you should be able to find a great backpack that's designed for your needs.
This includes water-resistant backpacks with sternum straps that are perfect for hiking and cycling, as well as laptop bags that are specifically designed to hold Apple products.
And most importantly, all Timbuk2 backpacks come with an impressive lifetime guarantee – so you don't need to worry about replacing the bag in the future.
Stylish, practical and affordable – what more could you want from a backpack?
Images via https://www.timbuk2.com/