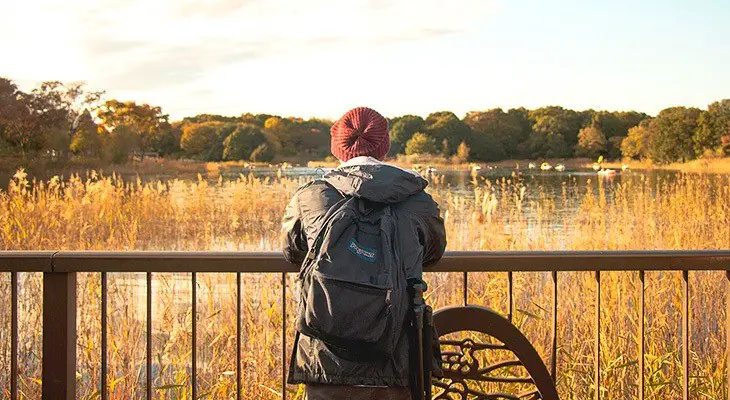 9 Best Jansport Backpacks: Reviewed, Rated & Compared
It's easy to find the right Jansport backpack for your personal needs. With more than 50 years in the industry, we're going to explain out why these Jansport backpacks are the most sought-after bag for school, college and everyday carry.
This popular backpack supplier promise's purchasers discovery, adventure, and a new journey, so we decided we needed to review and compare some of their bestselling models to help you make the right choice. 
Jansport Backpacks Compared
| | | | | |
| --- | --- | --- | --- | --- |
| | Jansport Unisex SuperBreak | | | |
| | | | | |
| | Jansport Half Pint Classic | | | |
| | Jansport Unisex Spring Break | | | |
| | | | | |
| | Jansport Right Pack Digital Edition | | | |
| | | | | |
| | Jansport Austin Laptop Bag | | | |
| | Jansport Drive 8 Core Series | | | |
Who are Jansport backpacks made for?
There truly are no limits on who can use these backpacks, but it's always helpful to have a list of possible users. The list includes students, day hikers, professionals and campers. Depending on your lifestyle, you might find yourself a bit confused when you need to buy a good backpack, so it's good to opt for a versatile brand. 
Just because you're not a student or a particularly adventurous person doesn't exclude you from the list. The durability of Jansport backpacks isn't a myth, so you can easily use it every day to go to and from the office, the gym or school without it wearing out quickly.
Moms often check out the price of Jansport backpacks at the start of every academic year, for that reason. These backpacks can be used for any journey and definitely for every adventure. Let's face it; going to school can be an adventure too. 
---
Backpack features We Looked At
Materials
One of the reasons Jansport backpacks are so popular is their durability. This is due to the fact that they use materials of the highest quality.
With straps that won't easily give up on you and zippers that stand the test of times, the durability is remarkable. These backpacks are also water resistant, which is always important, for any adventure. For an in-depth guide into different backpack materials, check out this handy guide by Pangolins With Packs. 
Straps
Jansport don't skimp on their backpack straps. In fact, a lot of thought goes into creating straps that are adjustable and soft on the shoulders.
You'd only realize the importance of this if you've ever had backpacks straps cutting into your skin. Luckily for you, the straps on these backpacks are well padded.
Size
Jansport produce a huge variety of backpacks. You can find backpacks for any situation and experience. You can find anything from smaller backpacks for a quick hike up the mountain to the biggest Jansport backpack to take with you on a camping trip.
This is what makes Jansport so great. They carefully consider why and when consumers would need their products and design them accordingly. 
Compartments
The standard Jansport backpack comes with one large compartment and a smaller zipped compartment in the front. It's an uncomplicated design, but you have space for just about anything you need to carry with you.
If you need a Jansport laptop backpack, you'll definitely find the perfect option for you to keep your laptop safe whilst you're comfortable. 
Style Options
Jansport backpacks started with a basic design, but over the years they've gone on their own adventure. There are a variety of style options available to suit anyone's personality and preferences.
You can find their packs in almost all the colors of the rainbow. They have everything from simple black backpacks to some neon options if you're feeling particularly adventurous.
Warranty
Creating and producing backpacks since 1967 makes you an expert in the field. This is why these backpacks can offer a lifetime guarantee.
If you have any issues with Jansport backpacks, you can return them to be fixed or replaced. This always makes consumers more comfortable with investing in new products. For a guide to claiming on the warranty of your backpack, have a read of this article. 
---
9 Best Jansport Backpacks Reviewed
1. Jansport Unisex SuperBreak Blue Topaz Backpack
Best Jansport Backpack For Boys
It's easy to see why this backpack is a top seller and to be the best Jansport backpack review. When you're looking for durability and functionality, this is the one to go for. It's an uncomplicated backpack without any unnecessary extras cluttering it up. 
You'll find one large compartment, with a zippered smaller one in the front. This has been designed to keep smaller items that you need quick access to, like stationary or your phone, safe. What really makes this backpack a winner is its affordability and size.
If you're looking for a great backpack to take with you to the park or school, this one is a great option. On the other hand there's no water bottle pocket, so it might not be the best option to taking hiking, for example. If you need a little more convincing, Business Insider rates this backpack as the best backpack for elementary school. 
Size
25 liters is enough space for you to carry it to school or college and fit all of your books in. A lot of students need sufficient space to squeeze in everything they need for the day and this is perfect for that. It's also not an overwhelming amount of space for everyday use.
Price
This backpack is affordable and doesn't disappoint on quality. Its price is a steal for a good quality backpack, since it costs around what you would generally pay for a lesser quality backpack. It's also the price that convinces a lot of people to buy this particular model.
Functionality
You can use this backpack for a quick trip or for everyday use. The lack of a laptop sleeve doesn't make it the most suitable choice for a lot of professionals. It's popular amongst students because it does what it says on the tin. The padded shoulder straps also help when you're carrying a heavy load with you every day.
2. Jansport Big Student Backpack
Biggest Jansport Backpack
Need a little more space when heading out to school? We've got you covered.
Sometimes, you just need a bigger backpack to carry to school and an average size doesn't cut it. Of course, Jansport has given every situation a lot of thought and come up with a big backpack for students to use.
Even though it doesn't have a laptop sleeve, there are two separate compartments. You can easily use one of the compartments to separate your laptop from your other books and accessories. Those textbooks do take up a huge amount of space. If you pick this backpack, then that's no longer a worry.
Size
One of the best benefits of choosing this bag is the amount of space you get. 34L is sufficient for any student to carry around their gear. Jansport truly understands the needs of their consumers, and are constantly evolving with these needs. I guess that's what makes them as successful and popular as they are.
Price
With a price around $40, which in some sites may include free shipping and a lifetime guarantee, you're getting a good deal. These backpacks definitely last a long time and the price is extremely reasonable when you consider the quality. 
Functionality
Even though the name of this backpack specifically says that it's for students, don't be bound by that. We prefer to look at it as a suggestion. This also makes a great backpack to carry to and from the office. It's durable and can make a good gym bag or work well for a short hike with your friends.
3. Jansport Half Pint Classic Daypack
Best Jansport Mini Backpack
Taking a stroll downtown and need to take a few essentials with you? This cute mini backpack is just what you need. It's so cute that it becomes not just a backpack but a fashion statement. You might find yourself wearing it even if you don't have that much to carry because you like the way it looks with your outfit!
This backpack is a great option for smaller kids who don't need a lot of space. It's also an essential run-around-town backpack. You won't want to use this bag to go to the gym or go out camping, as that's not what it was designed for. The design is similar to other Jansport backpacks. One 'larger' compartment and a smaller zipped section. 
Size
This backpack might be very big, but it's the size that makes it pretty unique and special. If you're just popping to the coffee shop around the corner, would you really want to carry a normal sized backpack with you? Probably not. Now you can carry a few essentials around town while still looking great. With only 10.25L of space, this will be perfect for certain people. 
Price
Now let's get the good part and that is the price. For approximately $20, you can buy yourself a cute little backpack, which is very affordable for Jansport. What's great about this backpack is that you can use it forever. Smaller backpacks have been fashionable since the 90s and this trend is not going anywhere.
Functionality
This mini daypack is great for your run around town to keep your wallet, phone, and essentials in. Ladies can totally replace their handbags with this little backpack. It's also great for younger kids who don't have the strength to wear a normal size backpack just yet. The small capacity of this backpack does not allow for a heavy load, which is perfect for smaller ones.
4. Jansport Unisex Spring Break
Best For High School Girls
This would be the middle ground between the SuperBreak backpack and the Half Pint one. It's a perfect in-between size when you don't want a full-sized backpack, but the smallest one won't work for you either. It's great for students who aren't burdened with large textbooks and makes for a perfect everyday laptop. 
All of Jansport's quality standards have been adhered to when it comes to this backpack. There's one large compartment with a zippered section including an organizer. This might not be essential for high school or college students because of the capacity.
Size
It's kind of the perfect size for many situations. This backpack is not too big or too small. With 21.23L of capacity, there's sufficient space for students in middle school or lower grades. It hits the right balance, offering enough space but not being easy to overload.
Price
Overall, could find this backpack a little more expensive than the larger SuperBreak. If you're the type of person who wants to get more quantity for their money, then the SuperBreak looks more attractive. At this price, this is the type of backpack that you'd buy for a specific reason or occasion.
Functionality
You can use this backpack for school or for any outdoor activity that requires walking short to medium distances. There's sufficient space to carry all your essentials, so it can easily work as a gym bag as well. If you have a separate laptop bag, then you could use this bag for your commute to the office.
5. Jansport Mesh Backpack
Best Jansport Mesh Backpack
It's easy for items to overheat in backpacks. Once again, Jansport have anticipated that possibility. This mesh backpack is light to carry around because it doesn't have a lot of padding and material weighing it down. As this backpack is mesh, you can see all of your things without having to unzip it.
There are some schools who recommend backpacks in which items can be seen without opening. This is just for safety reasons. The quality of this bag will mean it lasts you through the whole school year. If you're worried about the mesh ripping with everyday use, you shouldn't. This material will stand up to an awful lot of abuse. 
Size
This backpack is very large and has been used by students from all over. There's not much weight to this bag, so how much it weighs you down will depend on what you place inside. With a huge capacity of 32L, you can fit just about anything in there. It might be a bit too big for younger kids, but it's a great backpack for the older ones.
Price
You can buy this backpack for around $30, but due to popularity, it can be difficult to find. If it's out of stock, you might have to wait a while. It's definitely worth it. This is a competitive price when you consider the quality. 
Functionality
Students love this backpack because it's light to carry and it looks super cool. People use these mesh backpacks for various reasons. They're great to use as hand luggage, as security checks become a breeze. It's also a great option to take with you to the office if you have to go through security.
6. Jansport Right Pack Digital Edition Laptop Backpack
Best Jansport Laptop Backpack
If you're someone that needs to take your laptop with you, don't worry, we haven't forgotten you. This backpack is great for any professionals or university students who need their laptops or tablets with them at all times, which these days is most of us. It was designed with the modern consumer in mind.
With added protection for your digital items, it's easy to see why this backpack is so popular. This is definitely not an average backpack, but is ahead of its time. It even includes a digital organizer as one of its features, which is fantastic. Separating your digital items is essential to keep them from sustaining any damage and this is exactly what this backpack allows for. 
Size
The size of this backpack is great for a lot of different uses. Of course, being designed for the modern individuals, it does deliver on its promises. There's enough space to carry most of your electronic and digital items with you, as well as a few extras. 31L capacity is more than what most laptop bags offer, so the size is definitely a plus.
Price
This is one of the pricier items in the Jansport range, but I reckon it's worth it. The cost is around $80, which is actually more affordable than a lot of other laptop bags. A parent might well not be willing to pay this much for a school bag that gets dragged around everywhere. The same doesn't apply to professionals, who have valuable items to protect.
Functionality
With the extra padded protection, this backpack is for anyone who carries valuable items around. Your laptop, tablet and other digital items will be well protected without having to add any extra covering. Digital items are protected in the rain and water damage is no longer a concern.
7. Jansport Digital Student Backpack
Best Jansport Backpack For Girls
Times are truly changing and we're seeing more classrooms equipped with technology. There was a time when all students needed to carry around was a few books and stationery, but that's not the case anymore. This digital backpack for students is up-to-date and fashionable. As it's so popular, this backpack occasionally sells out.
We really like the look of this backpack. There's protection for all digital items that students might need to carry between home and school. The padding and extra sleeve for a tablet ensure optimal protection. You can now freely move between classes without worrying about dropping an expensive item. When you look at Jansport customer reviews, it's easy to see why this brand is aligned with quality. 
Size
With this item currently out of stock, not a lot of information has been made available. We hope to see it back in stock sooner than later.
Price
You can pay as much as $80 for this backpack, but it's a matter of personal choice. This doesn't look like a conventional backpack and that's what encourages people to pay the price. There are cheaper options available in the Jansport range that could do the same as this pricey bag. You might want to look around a bit more before purchasing.
Functionality
As the name suggests, it's a great bag for students, but will work just as well for a funky professional. The style and design are very unique and might not be for everyone, but we really like it. You can take this backpack with you to the library, classroom or the boardroom.
8. Jansport Austin Laptop Bag
Best Jansport Laptop Carrier
This backpack's design is so fun and great for girls to use in school. It has added laptop protection and has enough space for everyday use. You get everything you would from a more expensive backpack. The price is attractive to many consumers and it is a popular bag.
When tested, the quality of this backpack is fantastic and can take on even the toughest students. This is definitely not a boring backpack, with ample smaller compartments to separate your items. We found the zipper quality fantastic and it seems almost impossible to break. This is definitely a winner for students on the go. 
Size
This is one of Jansport's larger bags for students and has ample space for all your essential needs. Students carry a lot of items around every day, and being able to fit everything in a compact space is great news. With 38L of packing space, it's easy to see why this is one of their best sellers.
Price
If the price is a deciding factor for you, this bag is your best choice. It delivers on quality and affordability, which doesn't always go hand in hand. Being able to get this fantastic bag for around the $30 price point seems like a great deal to us. If you need a good quality laptop bag without breaking the bank, check this one out.
Functionality
Of course, this is suggested for students, but there's nothing wrong with using it for the office. The design is great and there's enough space for the corporate employee to use it as well. Parents love this bag for their kids because it just won't fall apart after the first semester.
9. Jansport Drive 8 Core Series Wheeled Backpack
Best Jansport Rolling Backpack
This is backpack that brings you everything that you need, but at a price. If you're willing to invest in a backpack that will last you years and make your life a little easier, this is your choice. Wheeled backpacks  are often considered better for our spines and posture. This makes this backpack very popular.
A lot goes into manufacturing good quality wheeled backpacks and this is reflected in the price. This backpack is padded at the back, has space for your laptop and even a water bottle pocket. Space is ample and the design is elegant. It's definitely one of our favorite wheeled backpacks on the market. 
Size
There's more than enough space in this bag to use it every day to go to and from the office or school. The wheels make it easy to take from one place to another. There's nothing about the size that we could find fault with. Anything larger would be difficult to pull.
Price
This is the most expensive item on our list, but it's also the only one with wheels. You can often find this backpack for just over $100 online. With all the amazing features, capacity and design, this backpack is worth the money. Knowing that you have a lifetime warranty attached to this purchase, makes it easier to part with the money. 
Functionality
We would suggest this bag for students, professionals or anyone who moves between spaces on a daily basis. The wheels make it easy to walk to work or campus. With lasting durability, you're assured that the wheels of this backpack won't give up on you. A lot of thought went into who would be using this backpack and therefore the elements that wear out quickly have been strengthened.
---
What Makes The Jansport Brand Popular?
Founded in 1967, no brand lasts this long without gaining popularity. They'e now the world's largest backpack maker, with an long, interesting history, reflecting the history of the modern backpack as a whole.
I remember years back, Jansport designed canvas backpacks that no child could destroy. With price, design, and quality combined, Jansport has become a name to be reckoned with. When a brand has a solid foundation more focus on the customers than the company, you have a winner.
Focusing on creating backpacks that are functional, durable and fashionable has put them ahead of the pack. Today, Jansport could easily be considered to be the most popular brand of quality backpacks. There's real passion in what they do as a company and it shows in what they produce.
We don't think for a minute that this brand will fall off the face of the earth anytime soon. Their products are world-class and that is a fact recognised by customers. If you have any doubt that these backpacks are worthy of their reputation, just give them a chance and Jansport will totally win you over. 
---
Color Range Of The Jansport Brand
Jansport has a variety of color and design options available for boys and girls. You can find anything from classic backpacks to floral designs and even some neon thrown in for fun.
This brand haven't put any limits on the variety they offer. They've really considered their consumers when it comes down to design and they nailed it.
---
People Also Ask (FAQs)
Where are Jansport bags made?
Jansport is an American brand, and their products are crafted in the United States. It is, however, widely known and available worldwide. 
Are Jansport backpacks good quality and durable?
They absolutely are.  Founded in 1967, this brand has decades of experience designing and building long-lasting and convenient products. Their popularity around the world has been rightfully earned.
Are Jansport backpacks good for school?
They're perfect for school. They tend to have enough space, compartments and additional features that make it easy for students to carry everything they need.
I need a large backpack. Will this brand be good for me?
Yes. You can find plenty of large backpack options, and that is one of the reasons why so many students, travelers and sportspeople have chosen this brand for years.
Can you take this backpack + a carry-on bag on airplanes?
Depending on the bag you choose, you'll be able to use this as your extra item (to place under the seat in front of you) or your carry-on. Always check with your airline before you fly. 
How do you wash or clean a Jansport backpack?
There may be several ways to clean, depending on the kind of stain or dirt that you want to take off. Generally speaking, a damp cloth soaked in a water and soap solution will do the trick.
Where can you buy backpacks at cheap prices?
Amazon is a great place to buy backpacks, since there is a wide variety of sellers and products to choose from. You could get free shipping and a large guarantee, depending on the seller.
---
Conclusion
Jansport has been a brand to be reckoned with for decades and they're not going anywhere anytime soon. These backpacks are some of our favorites, but there are many other options available.
You can find all kinds of shapes, sizes, and designs without much of a search. These backpacks are an investment and will last you a lifetime.