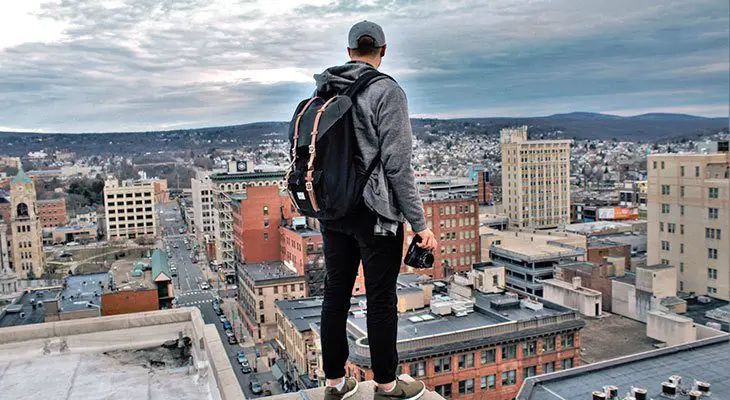 5 Best Herschel Backpacks: Reviewed, Rated & Compared
Herschel Supply Co. is a Canadian company that makes a wide variety of fashionable, high-quality bags, including its original product, the Herschel Classic backpack.
This article reviews the five most popular Herschel backpack products and will provide supporting information—comparing those models to one another and explaining the function and value of a Herschel backpack in general. 
Herschel Backpacks Compared
| | | | | |
| --- | --- | --- | --- | --- |
| | Herschel Heritage Backpack | | | |
| | Herschel Pop Quiz Backpack | | | |
| | Herschel Retreat Backpack | | | |
| | Herschel Little America Backpack | | | |
| | Herschel Men's Classic Backpack | | | |
---
What Makes the Herschel Brand Popular?
The Herschel Supply Co. originated in Canada and started by specializing in backpacks before expanding into the design and manufacture of other Herschel bags and accessories. A likeable feature of the Herschel brand is that all of their bags are lined with engineer-inspired striped fabric. This gives them a nostalgic flare, but because it's only on the interior it doesn't give them an overly fancy look.
When it comes to their exteriors, Herschel outdoes itself. Most of the Herschel backpacks come in at least 20 different color patterns, and there's an option for everyone—men, women, teens, children, students, artists, business people, etc. That said, the Herschel backpack is always streamlined and refreshingly simple. Some packs have more of a mountaineering look, others are perfect for students or a casual workplace look.
Herschel backpacks are sold all over the world, mostly in urban areas. The founders aimed to create products with nostalgic appeal but modern relevance and convenience. Consequently, their products have become a fad among students in Europe.
That's understandable, considering how stylish a Herschel backpack is and the consideration the company has given to students' needs (laptop sleeve, smartphone pocket, and a big compartment for books).
The lack of water bottle holders in most of their products may be a deterrent for Americans, who may (somewhat erroneously) view Herschel bags as needlessly pricey or preppy in appearance. Otherwise, it's hard to see why this brand hasn't become more popular in the USA.
---
Who are Herschel backpacks made for?
Despite the Herschel backpack being made with quality materials, they aren't famous for being good for hiking or mountaineering. If you want an outdoor pack, you can check out our favorite hiking backpacks. They're a bit more formal. Most are only water resistant, not waterproof. These backpacks are really more for urban or predominantly indoor use. Depending on the Herschel bag, they can be used for the gym, school, office, freelance work, or day travel. 
While the website separates them into Herschel men's, women's, and kids', most of their backpacks are unisex, come in a variety of colors, and all have adjustable straps. Therefore, depending on how much you want to carry and how big a person you are, almost any of the models are fair game. While Herschel backpacks are stylish, they're still backpacks—not formal briefcases—so they would only work for fairly casual office use.
However, out of all the Herschel bag sizes, the medium-sized backpacks are suitable as carry-on bags for air travel, so they offer a nice-looking, easy-to-use option for the traveling worker. 
While the brand is a fad for young people, there's no reason a backpack user of any age couldn't enjoy the comfort, durability, and classic style. Herschel are a well renowned brand all over the world with super model Suki Waterhouse being recently spotted in New York wearing her Herschel daypack.
---
What We Looked At: Herschel Bag Buying Guide
Materials
The zippers of every Herschel backpack have full-grain leather pulls, and many models have protective covering flaps over the zippers for added security and water resistance. That said, only some models (the Herschel Pop Quiz backpack, on the list below) are truly waterproof. Herschel backpack quality is something you can rely on, as this company has a great reputation.
Shoulder Straps
Every Herschel backpack reviewed here has adjustable contoured shoulder straps. Some even have padded straps. The Herschel Retreat backpack has padded and contoured straps, as does the Herschel Little America, but in addition, the latter has mesh back padding, too. Listed below, the Herschel Classic backpack has the simplest, least-padded strap system.
Size
Every Herschel bag in the list below is medium-sized; they range from 17L to 24L. In general, you can expect to fit enough for a day trip to work or school in these Herschel bags. 
The largest model on our list, the Herschel Classic Backpack, is best for carrying a lot of books, spare clothes, or gym gear. The smallest option is the Herschel Little America backpack, which is ideal for carrying a few essential items every day.

Comfort
The Herschel backpack line is known for being comfortable and casual. While you may not be able to load a Herschel bag up with enough supplies for a multi-day hike, you can definitely take it with you to work or school.
The comfort level is fantastic for short trips with only a few items. The straps and material are soft and padded, which makes walking to class enjoyable.

Compartments
Every Herschel bag has some sort of smaller front compartment, but the size and interior may vary with each bag. None listed below have water bottle compartments, and very few in this company's product line do.
Herschel backpacks are generally minimalistic with compartments. However, some backpacks have as many as five. Almost all of them have a laptop section and a smartphone pouch with a headphone port. Every Herschel laptop backpack can fit up to a 15-inch laptop.
You can check out our review of the best laptop backpacks here.

Style Options
All Herschel backpacks bear the company label clearly visible on the front pouch. There are two general builds: zippered or drawstring with a magnetized, buckle cover flap. One thing that Herschel does really well is offering an extensive color selection for every backpack. There tend to be at least 30 color options (with the exception of the Herschel Classic backpack on the list below).
Price
The Herschel backpack line tends to sit at the mid to upper end of the price range. Most of them will run anywhere between $50 and $90. On the lower end, you have the Herschel Pop Quiz backpack, which we think is great for high school students.
On the upper end, you have the Herschel Retreat backpack, which is better for people who want more space and can afford to spend a bit more money.

Warranty
In general, Herschel backpacks are under a limited lifetime warranty. However, the warranty applies to cases of manufacturing error only. Damage from wear, negligent treatment of product, or accidents are not covered under the warranty.
Keep in mind that only Herschel backpacks purchased from authorized resellers come with a limited lifetime warranty. If you are unsure, check with the seller.

---
5 Best Herschel Backpacks Reviewed
1. Herschel Heritage Backpack
The Herschel Heritage backpack is ideally suited to the student or traveling worker who wants a relatively spacious but simple backpack. The Heritage has the normal Herschel features: zippered front pouch, striped interior, top loop, clean-cut design, and plenty of color options. 
Also, like most Herschel backpacks, this one has a 15'' laptop sleeve and a small interior pouch for carrying small media devices and a headphone port. In addition, the Herschel Heritage backpack front pouch has a key clip.
Most users are pleased with the volume and claim that the Herschel Heritage backpack can probably handle even a slightly larger laptop. A few users feel that individual items in the pack aren't very well retained or protected, so this is probably not the best pack for people who really need to keep a lot of small items isolated and in place.
While not technically waterproof, users report that the Herschel Heritage backpack keeps out water fairly well. While most users claim that it's comfortable to wear, this isn't a heavily padded backpack. Therefore, it's probably not the best pack for people who anticipate long walks in outdoor elements.
---
2. Herschel Pop Quiz Backpack
The Herschel Pop Quiz backpack is perfectly suited for a high school student. It is in the name after all! It offers more compartments and more internal protective padding than other bags on this list. Therefore, it's better suited for the school commuter and for the user who wants to keep a number of small items in place and protected within the backpack.
It has a waterproof element over the zipper, padded and fleeced lining for the 13'' laptop sleeve and the sunglasses compartment. In general, most high school or university students would probably prefer the Herschel Pop Quiz backpack over any other option.
It also offers organizational divisions within the front pouch and a compartment for media and a headphone port. The Herschel Pop Quiz is among the most spacious on this list by 0.5L, but ultimately it's similar to the Herschel Heritage. You can probably fit even a 15'' laptop into the sleeve.
We would highly recommend this option for students who want the ultimate Herschel laptop bag to carry with them to school in style.

---
3. Herschel Retreat Backpack
The Herschel Retreat backpack is described as a "pared down" version of Herschel's Little America backpack, and with the Retreat's drawstring closure on the main compartment and its large magnetic strap-bound cover flap, this is an accurate description.
We would describe the Herschel Retreat backpack as having a "mountaineering" style, due to the stylishly rugged duffle-like structure. With its very classy mountain pack look, the Retreat is a great look for a casual workplace or going away for the weekend. It has a media pouch with a headphone port, laptop sleeve, and, like all Herschel backpacks, a front pouch.
However, the Herschel Retreat's front pouch is noticeably smaller than that of other Herschel bags. For these reasons, the Retreat might not be quite as good for students—it might be better suited for the day traveler. Furthermore, its contoured, well-padded straps are good for someone who needs to carry the backpack for long periods of time.
Also, the rucksack-style closure (as opposed to zipper) means that it's easier to fit more into the pack, if you need to. This is our favorite Herschel backpack for traveling on day or overnight trips.
---
4. Herschel Little America Backpack
The Herschel Little America laptop backpack is a smaller version of the Herschel Retreat bag. With this bag, you get a 13'' laptop sleeve, and relatively small 17L volume. The backpack is ideal for the worker who doesn't have a large laptop or too much to carry.
Depending on how much one really needs to carry, this Herschel bag is a good idea for more petite people. That said, it still has a good-sized front compartment, a media pocket with headphone port, and a fleece-padded laptop sleeve.
All the while, the Little America laptop backpack has the same "mountaineering" look as the Herschel Retreat backpack. It has a drawstring closure covered by a magnetic strap-bound flap.
The straps over the front pocket give extra security since your important items, such as your phone, will be covered. The drawstring closure generally gives the user more opportunity to fit more into the pack, if needed. An added bonus is that it's the best externally padded backpack on this list, so it stands to be the most comfortable for long-time wear.
---
5. Herschel Men's Classic Backpack
The Herschel Classic backpack offers space with complete simplicity and minimalism. The only compartment (besides the main one) is the usual front pouch. This Herschel Men's backpack doesn't have a laptop sleeve, so we don't recommend this one for work or school.

The zipper pulls are rope, rather than full-grain leather—another example of the understated functionality of this pack. For these reasons, this pack is probably better suited to a traveler (it is in fact a great carry-on bag) than to a worker or student. However, it can be a good choice if you usually carry tons of books.
It is meant to last since the fabrics are durable and of good quality. On the other hand, it's not waterproof, so it wouldn't be so good for long walks or outdoor adventures. Despite the men's designation, there's no reason a woman couldn't use this pack. 
Ultimately, the Herschel Classic backpack is a good value for someone who wants a simple backpack with minimal compartmentalization. Altogether, it's an ideal gym or travel bag. 
How Do These Herschel Backpacks Compare?
Size
The largest of the listed backpacks are the Herschel Classic backpack and the Herschel Pop Quiz, which sit at 24 and 22 liters, respectively. These bags are best for carrying a lot of items to school, work, or overnight trips.
The smallest is the Herschel Little America backpack. The small size of this bag would make it a great bet for an airplane carry-on or business trip, even though most of these packs would probably go through in most airports.
Price
Relative to some brands, Herschel backpacks might seem expensive; however, for the quality you're getting, it's a good value. Also, it's pretty easy to find good deals, especially on Amazon.
The Herschel Classic backpack, then the Heritage, are the two cheapest on this list. The Herschel Pop Quiz backpack is very close to the Retreat's price but generally comes in a little cheaper.
You can check out our reviews of even cheaper backpacks here.

Functionality
Saying which one is the best Herschel backpack for every occasion is tricky—it really depends on the kind of adventures you have. The Herschel Little America backpack is the best design-wise for a variety of situations, so a traveling worker should definitely consider it.
The Herschel Pop Quiz backpack is arguably the best for the student, because it has more pockets and the front pouch has organizational divisions. For the traveler, the Herschel Retreat backpack is ideal with its large rucksack design. The Herschel Men's Classic backpack, with its stunning simplicity, would be great gym bag for people who go after work.
People Also Ask (FAQs)
Are Herschel backpacks good quality and durable?
Yes. This is something in which the company takes pride—their attention to detail and quality of their products. Most models have full-grain leather zipper pulls or synthetic leather straps.
Are Herschel backpacks good for school?
Yes, that's really their claim to fame. Some students might not like the lack of water bottle holder or even the general lack of compartments. However, a Herschel school backpack is spacious and includes modern technology accommodations, which should make up for any lacking in these areas.
Also, the Herschel Pop Quiz bag has the most compartments of any backpack on this list. Therefore, the Pop Quiz is probably the best bet for the active high school, college, or university student.
I need a large backpack. Will this brand be good for me?
Possibly, but it depends on how large. Generally, Herschel specializes in medium-sized backpacks, with 25L being the largest available.
If you really need a large backpack, you probably don't want one designated as Mid-Volume, because it's a bit on the smaller side.
Generally, Herschel specializes in urban wear, not large hiking packs. Therefore, if you really want a giant pack for hiking or camping, Herschel is probably not the right brand to consider.
Can you take this backpack and a carry-on bag on airplanes?
Generally, yes—for all of the listed Herschel backpacks. All of them should fit under an airplane seat. If there is a problem with under-the-seat fit, you can always put it in the overhead compartment, but in that case, you might need to be sure your other bag can fit under the seat.
Airlines might vary, though. Some users claim that they did have to have the bag checked, and some very strict airlines might not allow them as carry-on at all.
How do you wash or clean a Herschel backpack?
Generally, you can just wipe the interior and exterior off with a damp cloth or paper towel. If more cleaning is needed, you should first remove any debris by wiping, Q-tip, and/or light vacuuming.
If a truly deep clean is needed, you can use a mild soap (such as Ivory) and running water to wash a Herschel backpack inside and out. Generally, you don't need to submerge a backpack. Then, gently shake the excess water off and leave it out to air dry. Don't wring it out.
It's ideal to leave a towel under the area where it's drying (especially if it's inside), because it it's likely to drip.
You can check out our step-by-step guide on washing a Herschel backpack here.

Where can you buy backpacks at cheap prices?
Amazon is definitely your best bet for the best prices on the Herschel backpack brand. You can almost always get some sort of reduced price on Amazon, especially if you have Prime—often $10.00 to $20.00 off the original price.
Retailers such as Nordstrom and Urban Outfitters also offer good prices on Herschel backpacks.
---
Conclusion
With so many options, finding the best Herschel backpack for you or someone you know should be no trouble. We like the Heritage model as an excellent value for money backpack.
A good-quality backpack is the easiest way to carry personal belongings with you, in such a way that you avoid the tedium of multiple little bags and the possible injury from lifting weight unevenly (as you do with a tote or book bag).
Even if you haven't really been a backpack person in the past, consider it. With the Herschel backpack line, you'll find you can carry your belongings more easily, while looking and feeling great.