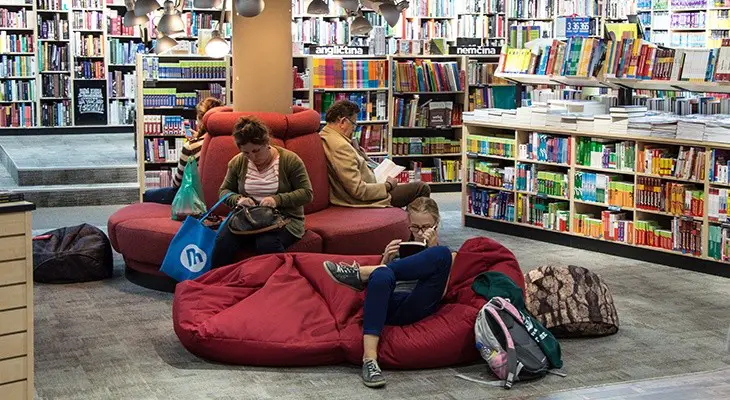 State Backpacks: Reviewed, Rated & Compared For Every Day Use
If you want to buy a new backpack and are considering both style and social responisibilty, then this state backpack review is for you.
We'll be reviewing some of the most popular State brand backpacks and comparing the models so that you can work out which bag is best for you.
Who are State backpacks made for?
State backpacks are designed for a wide range of people. For instance, they have a line of backpacks that are specifically designed for children, as well as lots of laptop backpacks and hiking backpacks.
In general, State backpacks are designed for busy people who are on the go. Whether you're a college student with lots of books or an office worker who has to commute with a laptop, a State backpack will suit your needs. This is because all State backpacks are very practical. All of the backpacks come with multiple pockets for organization, as well as unique features to suit different people.
Some backpacks come with padded laptop pockets to protect your laptop as you travel, while other backpacks can be folded down so that they can fit in your pocket! This may seem unnecessary, but it's perfect for hikers, campers and people who want to travel light. So it doesn't matter who you are, or how old you are; it's very likely you'll find a State backpack that you like.
---
Features We Looked At
We looked at a few different features to provide a thorough analysis of each bag. Here are six features we considered:
Materials
If you want to buy a durable backpack that will last for years, you'll need to find a backpack that's made from a high-quality material. For instance, if you live in a rainy area you may want to invest in a waterproof or a water-resistant backpack, and if you live in a warm area you may want to buy a backpack with a mesh back panel so that you don't get too warm. Read about the differences between the terms waterproof and water-resistant, and the pros and cons of each, here. 
Backpack Straps
High quality backpack straps are wide and padded, as this means that you'll be able to carry lots of things without the straps digging into your shoulders. This is very important if you plan on wearing the backpack on a daily basis, as over time the straps could alter your posture in a negative way.
So if you're looking for a college backpack or a backpack for work, you should look for a State backpack with wide, padded straps. It can also be useful to look for a backpack with adjustable straps, especially if you're quite tall or quite small, as you'll be able to customize the backpack so that it fits your body shape perfectly.
Size
Size isn't necessarily an indicator of quality, but it is an important factor, especially if you have lots of things to put in your backpack. If this is the case, you should look for a large backpack with a lot of room inside. It can also be useful to go for a backpack with lots of different pockets and sections inside, as this will make it much easier for you to organize your things.
Number of Compartments
A high quality backpack will have at least one extra compartment. Whether it's a small internal pocket or a larger external pocket, there will be an extra compartment where you can store valuable items.
However most State backpacks come with multiple compartments, including padded laptop sleeves and large inside compartments that can be used to store clothes. This is perfect for sports students, hikers and athletes.
Bag Style Options
State backpacks are available in a wide range of styles, although the colors can be more limited. Some backpacks can be bought in multiple colors, but many are only available in one colour.
However, there are lots of different styles to choose from, so you should still be able to find a State backpack that you love.
Warranty
Some backpacks come with a warranty, which is a good indicator that you have found a durable backpack. However lots of high quality backpacks don't come with a warranty, including most State backpacks.
Thankfully, warranty isn't as important as other factors (such as material and size). So if you find a backpack you like but it doesn't have a warranty, check the materials and the zippers to see if it is durable or not!
---
4 Best State Backpacks Reviewed
1. State Bags Bedford Backpack
Quick Look - Bag Features
This minimalist backpack is perfect for college or work. It has a padded laptop sleeve, so you don't need to worry about your laptop being damaged as you travel, and it also has a large side pocket that can be used to hold your phone, travel card, and even a water bottle. The bag is also very lightweight, and it has thick, padded shoulder straps to make sure you're comfortable while carrying it everywhere you go.

To summarize, our State Bedford backpack review found that this model is perfect for people who have a lot to carry. Maybe those college students that head to a sports practice after class and want to carry their spare clothes and books all in the same place, or those office workers who like to hit the gym before or after their shifts. It's also available in a wide range of colors, so you should be able to find a design that you love!
2. State Women's Slim Lorimer
Quick Look - Bag Features
This pesto backpack has a simple yet stylish and quite elegant design. The bag is made from 100% cotton, so it's very durable, and it also has polished zippers that add a military feel to it. While this backpack may look fairly basic from the outside, the inside is certainly more complex.

There are two internal pockets, including a large pocket that could be used to store a laptop or gym clothes. We also love the pesto green color – perfect for work and socializing! To summarize, our State Lorimer backpack review found that this backpack is the perfect everyday model for stylish women, however, men would also love it! The neat design makes it a great choice for anyone with a fashion sense.

The front pocket outside the bag is exactly what you need to keep all your essentials handy and easy to find - such as your wallet, keys, phone, phone charger, and more!
3. State Kane Children's Backpack
Quick Look - Bag Features
This funky little backpack is perfect for children. It's available in a bright lime/gray design, and although it looks like a fun backpack it's actually very practical. The backpack has a large main storage compartment that can easily hold a lunch box and a coat, and there are also Velcro side pockets that are easy for children to open and close. Moreover, a larger variety of compartments allow the kids to easily organize their pencils, scissors, and pretty much everything they usually take to school.

There's even a laptop sleeve, so if your child needs a laptop or a tablet for school, they can easily put it in their backpack and keep it safely stored when it's not in use. In summary, our State Kane backpack review found that this backpack is perfect for children – but if you really like the design, it can definitely be used by adults too!
4. State Boys' Seneca
Quick Look - Bag Features
This small backpack is ideal for outdoor adventures. The backpack is made from 100% polyester, so it's very durable, fairly easy to clean, and it also has water-resistant properties.

There are also lots of pockets that can be used to organize and store things for your trip, including a large external pocket that can be used to hold a water bottle. Sure, this backpack doesn't have a laptop sleeve – but who needs a laptop in the great outdoors? That been said, it may not be the best option for those students who need to carry a laptop or tablet to school, or for the office worker who just needs a smaller back to carry their essentials and electronic devices.

To summarize, our State Boys' Seneca backpack review found that this model is perfect for outdoor adventures, including camping and hiking trips, and even would work just fine as a sports practice backpack!
---
What Makes The State Brand Popular
State backpacks are very popular, and this mostly because of the strong moral ethos behind the brand. Unlike most backpack brands, who simply design and sell backpacks, State backpacks donate one backpack to a local child in need for every bag that's bought.
They call this the 'buy a backpack give a backpack back' system, and it's wildly popular with people across the globe. After all, a new backpack is great – but if you can give someone else a backpack with your purchase, that's even better!
Their mission focuses on social injustices and can be seen on their website.
"For every STATE bag purchased, STATE hand-delivers a backpack - packed with essential tools for success - to a local child in need; but our commitment goes beyond simply a material donation."
Read more about the interesting and inspiring story behind State backpacks here.
But that isn't the only reason people love State backpacks; they're also popular because they're durable, affordable and stylish. The backpacks are also available in lots of different styles, so whether you're looking for a practical, no-frills bag, or something more flashy and unique, you should be able to find it.
Yet with so many different styles, it can be hard to know which State backpacks are the best – but thankfully we have your back. We have listed four of the most popular State backpacks, including laptop backpacks and college backpacks. 
---
How Do These Models Compare?
Size
If you're looking for a fairly large backpack that can hold a laptop, food, clothes, books and other things, the best option is the Bedford backpack.
This sizable backpack has lots of storage space, as well as a padded laptop sleeve that can hold a 15-inch laptop. However, all of the bags are decently sized, including the children's backpack!
Price
All of the State backpacks on this list are affordable, which is probably why all four are so popular. Most of the prices are under $100, which is very reasonable for such durable backpacks.
One of the more expensive bags on the list is the Seneca backpack, but this is because the bag is made from extremely durable materials that are perfect for the outdoors.
Functionality
All of the bags on this list are functional, but in different ways. The Bedford backpack is perfect for people who are heading to work or college, while the children's backpack is best suited to younger people.
However the only backpack on this list that's really functional for the outdoors is the Seneca backpack, so if you're looking for a functional outdoor backpack, go for the Seneca.
People Also Ask (FAQs)
Am I really helping others if I buy this bag?
Yes! If you buy a backpack from this brand, a second backpack will be donated to a child in need in the US. You get style and convenience for yourself, while also sharing it with others who need it the most!
Are State backpacks good for school?
Yes, some models (such as the Bedford backpack) are perfect for school. Some others, like the Boys' Seneca, could be less convenient, depending on what you need to bring to the campus.
I need a large backpack. Will this brand be good for me?
Yes – just make sure to check the size measurements before you make a purchase. The women's Lorimer is one of the biggest bags made by State, but not every model will be as large as the other.
Can you take this backpack + a carry on bag on airplanes?
Most State backpacks can be taken as a carry on. However, it's always best to call your airline prior to flying to get an exact answer as each company's policy can vary. Generally speaking, you should be go to go.
How do you wash or clean a State backpack? 
Some backpacks need to be hand washed, while others can be machine washed. To wash by hand, take a damp cloth that has been rinsed through warm water and gently rub it on any dirty area. This should be sufficient for removing most stains.
Where can you buy backpacks at cheap prices?
The best place to buy backpacks at a cheap prize is Amazon. We stock lots of different State backpacks, and they're all competitively priced! If there is a model that you like and it's out of stock, it could be a matter of days for it to be available again (it will depend on the seller).
---
Conclusion
If you want to buy a backpack from a company that really want to make a difference, pick up a State backpack.
You'll receive a durable, affordable backpack, but that isn't all; so will a child in need. This is a great way to help out less fortunate children in America!
Images via: https://www.statebags.com/