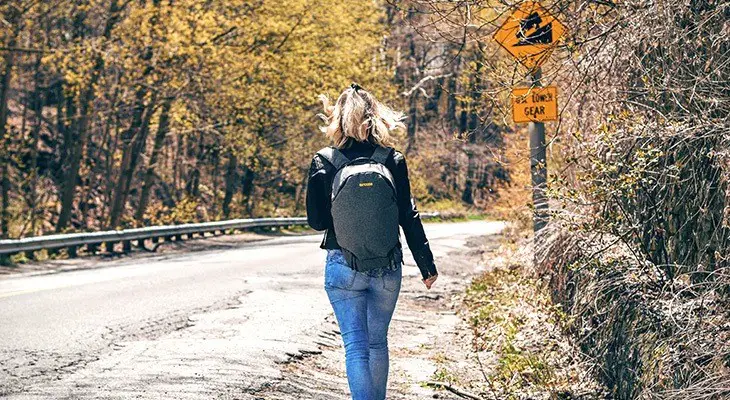 Bobby Anti-Theft Backpacks: Reviewed, Rated & Compared
Are you worried about other students on campus or pickpockets in the countries you travel to trying to get in your bag?
With the Bobby Original Anti-Theft Backpack, you'll never need to worry about that. The side of the backpack facing away from you is sleek without any zippers. The only accessible area of the backpack lies against your back.
So, with that in mind, what is the Bobby Brand?
What Makes the Bobby Brand Popular?
This is the brand that made anti-theft backpacks popular. Dutch company XD Design made Bobby Brand Anti-Theft Backpacks popular after an incredibly successful Kickstarter page. They're still going with their Kickstarter campaigns, currently offering 7 different models, the latest being a sleeker version, the Bobby Urban.
One reason that Bobby backpacks stand out is their durability. Another reason, and perhaps the main reason Bobby Brand is so popular, is the innovative, hidden zipper design their backpacks have.
Who wants to risk having their belongings stolen by a thief? For someone to pickpocket you while you're wearing this, they would have to stick their hands under the backpack and touch your back. They wouldn't be able to steal from you surreptitiously, making you less of a target.
---
Who are Bobby Backpacks Made for?
Bobby Backpacks are known for their minimalist design. With the ability to carry 13 liters, you'll find that this backpack works best for someone using it on a daily basis, such as a student or a commuting professional.
Due to its anti-theft nature, students find this backpack great as it protects their important belongings like their laptops. Sometimes, college campuses can be frequented by some less-than-honest individuals, so it's great to be able to protect your valuable items as much as possible.
Another group who might love the Bobby Backpacks are travelers. There are pickpockets targeting tourists in hot spots all over the world. Thanks to the hidden zipper design, pickpockets have a difficult time prying these backpacks open.
I'd recommend a Bobby Backpack as a day pack for anyone carrying a light load going on a city break, perhaps to Europe. 
---
What We Looked At: Bobby Backpack Guide
Material
The Bobby Backpack is anti-shock and is composed of several protective layers, which cushion your belongings. This structure also helps the backpack last longer.
The exterior shell features seamless stitching and padding. To top it all off, the top handle is extremely strong and able to carry loads that are on the heavier side.
Straps
The straps, along with the entire back panel, are lined with mesh for ventilation. This adds to comfort and also helps wick away sweat. This mesh design offers good ergonomic support.
What's more, the Bobby backpack features a luggage strap in the middle, making it secure when you're traveling.
Size
The Bobby backpack is on the smaller side, as it's 45 centimeters tall, 30 centimeters wide, and 16.5 centimeters thick. It can hold up to 13 liters.
This brand focuses on a minimalist design, so it's perfect to hold your daily essentials without being so large that it's uncomfortable to wear.
Compartments
The Bobby Backpack actually only has one compartment, which contains the various organizational pockets. The padded laptop sleeve can fit a 15-inch laptop and is located near the bottom of the backpack. On the front side of the compartment, you'll find three padded pockets. One of these pockets is larger than the others and is designed for a thermos.
The other two are smaller and will fit things such as glasses. The third pocket even has a zipper, making it perfect to store pencils and pens. On the side, you'll find a hidden pocket with a USB cable. On the outside of the bag, you can find a USB port.
Style Options
This backpack has three different colour options, including all black, grey and black, and black and red.
Warranty
XD Design offers a two-year guarantee on all of their backpacks.
---
2 Best Bobby Backpacks Reviewed
1. Bobby Original Anti-Theft Backpack by XD Design
Quick Look - Bag Features
The Bobby Original Anti-Theft Backpack is the perfect anti-theft backpack for anyone concerned about protecting their belongings. Hidden zipper and anti-cut technology make it nearly impossible for anyone to steal from the bag.
The backpack shifts weight towards your back rather than away, so you'll feel less strain. The many pockets inside are perfect for holding larger items such as laptops and tablets, along with smaller, easy-to-lose items such as glasses and pencils.
Each bag features a USB port, although you'll have to buy an external battery so you can charge your devices on the go.
Overall, this bag is great for both students and travelers. However, I wouldn't recommend it to someone who needs to carry a lot of gear, such as a hiker.
If you are considering a Bobby backpack for travel purposes, check out this in-depth review from a travel perspective from Wishlists & Wanderings to see how it worked out for the blogger on her trips to Spain and Amsterdam. 
For a general overview of the backpack in video format, check out this unboxing by the Red Ferret. 
---
2. Bobby Compact Anti-Theft Backpack by XD Design
Quick Look - Bag Features
The Bobby Compact is a smaller version of the original Bobby Anti-Theft Backpack. Overall, this bag is pretty similar to the one mentioned above in terms of material, features, and comfort. It's just smaller and more ideal for someone who only really needs to carry the bare essentials with them. This is perfect for college or commuting if you only tend to bring your laptop and some other things like a phone charger, glasses, water bottle, keys, and a wallet.

Even with this minimalist design, the Bobby Compact has both a laptop and tablet sleeve. Another thing that sets the Bobby Compact apart from the original is that it comes with a Mini Bobby, which is a shopping tote. An integrated rain cover is also included.

Overall, the Bobby Compact is best for someone looking for a backpack that protects their belongings but isn't too large or heavy to carry around.
---
How do These Models Compare?
Size
The Bobby Original is larger than the Bobby Compact. I'd say that the Bobby Original would be better suited to travelers who wish to carry their laptop and charger along with cameras, maps, souvenirs, a change of clothes, and so on.
The Bobby Compact is probably better suited for your average college student that only needs to take their laptop, phone charger, pencils, and paper along with them.
Price
Surprisingly, the Bobby Compact is a little bit more expensive than the Bobby Original. You might be thinking, "well, that makes no sense seeing as the Bobby Compact is the smaller model," but remember, the Bobby Compact comes with more stuff.
With the Bobby Compact, you'll also receive a Mini Bobby and protective rain cover.
Functionality
Overall, the Bobby Original and Bobby Compact function at the same level. The only noticeable difference is the size.
With that being said, the Bobby Compact is going to be a lot more functional for someone who only needs to carry around the bare essentials, whereas someone with a heavier load would probably prefer the Bobby Original.
---
People Also Ask (FAQs)
Are bobby backpacks good quality and durable?
Absolutely! The thick, multi-layered material around the Bobby Backpack makes it very durable.
I need a large backpack - will this brand be good for me?
That depends on what you define as large, but generally the Bobby Backpack isn't great for carrying a lot of stuff.
Can you take this backpack plus a carry-on bag on airplanes?
Yes, the Bobby Backpack is small enough to bring on the plane with you alongside a carry-on bag. However, it's always best to call your airline prior to flying to get an exact answer as each company's policy can vary.
How do you wash or clean a bobby backpack?
The water-resistant material makes the Bobby Backpack very easy to clean, simply grab a wet cloth and wipe down the outer exterior.
Where can you buy backpacks at cheap prices?
---
Conclusion
The Bobby Backpack far exceeds its goal of safety. Aside from the safety aspect, the design of the anti-theft backpack is visually-pleasing and it's extremely comfortable to actually wear thanks to its excellent design.
Overall, this bag has the perfect balance of functionality and comfort, making it a bag I hope to use for years on end.
Images via: https://www.xd-design.es/bobby