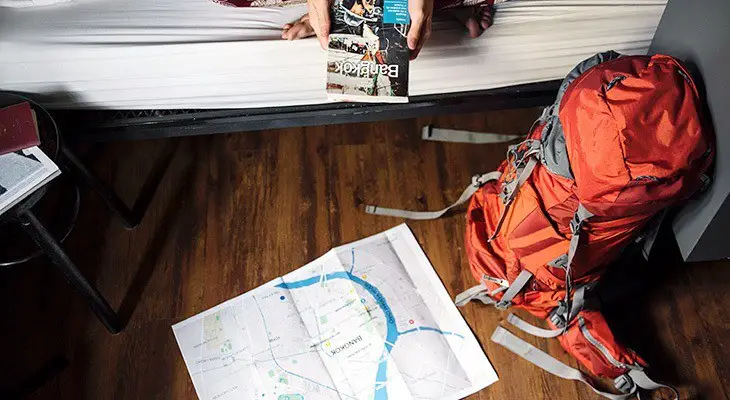 Best Teton Backpacks: Reviewed & Compared For Outdoors
Are you looking for a backpack for hiking, leisure, traveling or adventuring? You're in luck, as in this article we're taking a close-up look at Teton backpacks. We've narrowed down the four most popular Teton backpacks and studied them in detail.
You'll find a comprehensive rundown of the features, pros, cons, and suitability of each backpack so you can make an informed choice.
Who are Teton backpacks made for?
Teton backpacks are generally made for people who often embark on hikes, camping and intrepid journeys. However, they don't forget about students and busy commuters, with a small selection of backpacks designed for carrying books, gym gear, and work necessities.
If I were to describe the Teton customer:
---
What We Looked At
Here's what we considered when we were rating and evaluating each Teton backpack...
Materials
All of the Teton backpacks we review here are made from ripstop. Some of them use 600D Diamond Ripstop, others use 420D 2MM Squared Double line Ripstop. These technical terms may not mean much to you, but all you need to know is that they're all sturdy, durable, rip-resistant fabrics.
All of the backpacks are water resistant but not totally waterproof, but they all include an extra rain cover to keep the bag and contents dry. The zips have also come under fire from some customers, which I'll also mention in the reviews. 
Straps
All Teton backpacks reviewed here have many straps, buckles, zips and compression ropes to hold items tightly. Some of the models have received negative reviews for the comfort and design of the shoulder straps, which I'll elaborate on in the reviews.
Size
The Teton backpacks in this review are all reasonably large, from 55L to 90L in capacity. The smallest backpack in our list, the Scout 3400, is designed for youth hikers and smaller adults, which the largest backpack, the Grand 5500 is made for larger adults.
Each review will specify the dimensions and capacity of the backpack so you can get an idea of how it would fit you.
Compartments
The Teton backpacks reviewed in this article are not for working, studying or commuting. They're more suited to hiking, off-the-beaten-tracks trips and camping. If you're looking for laptop or tablet compartments, you won't find them in these backpacks.
These backpacks follow a pretty generic design with a main large compartment, smaller zipped internal pockets, external sleeping bag pockets, and open pockets for carrying tents and poles.
Style Options
Some Teton backpacks come in one simple color, usually black, (such as the Grand 5500). Others come in a range of color choices such as the Explorer which comes in blue, green and silver.
All four of the backpack models reviewed here have a classic backpack style/design with an elongated shape, hard internal frames and straps for the shoulders and hips.
Warranty
All Teton backpacks have a limited lifetime warranty. Teton also has a great parts replacement service. 
If a part wears out or breaks, you can fill out a short form on the Teton website and they'll ship the part to you. Simple!
---
4 Best Teton Backpacks Reviewed
1. Teton Sports Scout 3400 Internal Frame Backpack
Quick Look - Bag Features
The Scout 3400 backpack has been designed for young hikers and people with smaller frames. It's great for female hikers too, as the dimensions and weight are smaller than backpacks made for larger males. It's the lightest backpack on the list, at 5lbs.
The backpack can be adjusted to suit different heights by adjusting the aluminum frame. It also has an adjustable, padded waist belt with a maximum of 60 inches.
It has an external pocket for a sleeping bag, which has been criticized for being too small. I suspect this is because the backpack is intended for young or small people. There are at least four pockets on the external sides of the bag which can be closed with compression straps.
The verdict: great for scouts, young hikers, beginners, females and small males, short trips.
2. Teton Sports Explorer 4000 Internal Frame Backpack
Quick Look - Bag Features
This is the second smallest backpack on the list in terms of capacity, and Teton recommends this pack for trips of 3-5 days according to how much it can carry. But when it comes to size, it's very versatile and can fit a range of different heights and sizes.
The frame is adjustable, so if you're as small as 5.1 feet or as tall as 6.4 feet you can adjust the backpack to suit you. It has a large main compartment and six extra pockets.
However, some customers have noted that the mesh pockets on the outside of the bag are too small to be very useful. The Explorer has open-cell foam padding on the lumbar and hip straps for comfort and support.
Like all Teton backpacks, the Explorer includes a water-resistant rain cover which can be tucked away between uses.
The verdict: great for taller people, long weekend trips up to 5 days, best value for money 
3. Teton Sports Outfitter 4600 Ultralight Internal Frame Backpack
Quick Look - Bag Features
The Outfitter is described by Teton as a backpack which has been designed for ultimate comfort and ergonomic safety while carrying lots of gear. However, there are a few negative comments from customers who have found that the Outfitter was actually very uncomfortable for them, especially when it was heavily loaded.
I think this is dependent on the size and shape of the wearer because some people found the pack to be very comfortable. There's a detachable hood which can be used as a waist pack for day trips when all you need is a small bag. The Outfitter has lots of pockets, pouches and is very adjustable. 
The verdict: great for tall, broad-set males but not so great for females and smaller males. Great for longer trips where lots of items are required. 
4. Teton Sports Grand 5500 Backpack
Quick Look - Bag Features
The largest of the Teton backpacks, the Grand 5500 has a capacity of 90L and is very large in dimension. It has been designed for rough, rugged and extreme journeys where all kinds of equipment are required. There are lots of external loops for clipping ropes and gear to, as well as room for gear such as skis and snowboards.
The main compartment is easily accessed with the large, upside-down U-shaped zip which opens to expose the contents of the backpack. The shell of the Grand is made from very durable and hardy 420D Oxford material which is water-resistant.
For rain protection and even for a makeshift shelter or poncho, a tarp is included with the backpack, tucked away until needed. The Grand can be adjusted to fit different torso sizes from 16 to 22 inches, while the waist belt and padded lumbar panels provide comfort and support.
The verdict: great for long trips, tall and strong hikers, rugged or deep-bush camping and hiking. Great for extreme weather and tough excursions in tough terrains. 
What Makes The Teton Brand Popular
Teton Sports is an American brand based in Utah. They specialize in outdoor and hiking equipment such as tents, cots, sleeping bags and, of course, backpacks. Their backpacks are geared toward all genders and ages, with a strong focus on sports and the outdoors.
You can find large backpacks for hiking and camping, as well as small backpacks for day trips, urban commuting, and sports hydration. With most backpack styles, Teton provides a range of colors for their customers to choose from, whether it's classic black, earthy green or bright blue.
---
How Do These Models Compare?
Let's see how these backpacks stand up to each other in terms of size, price, and functionality. We've paired them up based on the two smallest and the two largest in capacity.
Teton Sports Scout 3400 Vs Teton Sports Explorer 4000
Size
The Scout is the smallest backpack on the list, with a capacity of 55L. The Explorer is the second smallest with a capacity of 65L. The Explorer is only half a pound heavier than the Scout and only slightly larger in dimension. The Scout has been designed for young hikers and lighter, smaller people.
Price
The Scout and the Explorer are very similar in price, with the Scout about $5 more expensive than the Explorer. They're both super affordable, under $70 at their regular price, before sales and specials are deducted.
Functionality
The Scout 3400 is ideal for younger people, such as kids in scout groups. It's also suitable for women and small men. The Explorer is better for taller people who are going on trips of up to 5 days.
Teton Sports Outfitter 4600 vs Teton Sports Grand 5500
Size
The Grand 5500 is the largest bag in capacity (90L), with the Outfitter coming in close second (65L). However, when it comes to dimensions, they're not too different, with the Outfitter being slightly longer and wider than the Grand.
If you need a large backpack for a long, rugged trip with lots of items to pack, try the Grand. But be aware that it's best suited to tall, broad people. The Outfitter is also best for larger, taller people but it has a smaller capacity. 
Price
The Grand 5500 is more expensive than the Outfitter 4600. The difference is about $50 depending on when you purchase it and if there are any sales on.
Functionality
Both of these backpacks are made for lengthy outdoor trips and hikes. However, the Grand 5500 is best suited to very long hikes in remote areas.
This is because of the added tarp which can double as a tent, poncho or rain cover during emergencies. The Grand is most suited to tall, strong, large-framed people due to the size and weight of the pack.
---
People Also Ask (FAQs)
Are Teton backpacks good quality and durable?
Yes, Teton backpacks are strong, well-made and backed by a limited lifetime warranty. They're designed to be reliable and durable even on the longest and hardest of hikes and adventures.
I need a large backpack. Will this brand be good for me?
Yes, Teton has large backpacks for hiking and traveling, such as the Grand 5500, a 90-liter backpack.
Can you take this backpack plus a carry on bag on airplanes?
Depending on the airline's rules and regulations for carry-on luggage, you can take most Teton backpacks on board with you. However, they will normally be your carry-on luggage rather than your extra item, as these bags generally won't fit under the seat in front of you. 
How do you wash or clean a Teton backpack?
Teton recommends that their backpacks are to be washed in a bath of warm water and a dash of detergent, avoiding getting too much water in contact with the foam padding. The aluminum frames can be submerged in water because they don't rust.
Teton instructs to gently agitate the bag with your hands to loosen and wash away dirt and debris. After hand washing, hang the bag outside in the sun until it's dry, clean and ready to go. Teton backpacks should not be put in the washing machine.
Where can you buy backpacks at cheap prices?
Amazon is the best place to search for an affordable backpack. They stock Teton backpacks at good prices, so take a peak.
---
Conclusion
Teton Sports offer a range of backpacks which are really affordable, well made and functional for hikers and adventurers. While they do come with a few issues here and there, they're great value for the low price tags.
For newbies and young hikers, definitely check out the Scout. But for seasoned adventurers with tall, strong frames, take a look at the Grand.
Of course, before purchasing a Teton Sports backpack, take a look at the specifications so you can be sure to choose a backpack to suit your size, height, and needs.