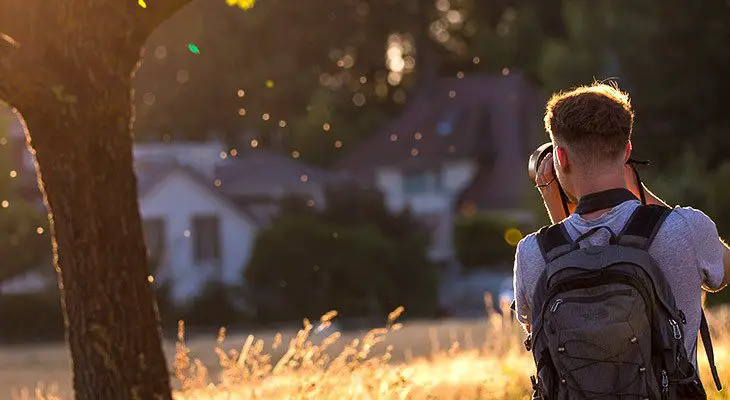 6 Best North Face Backpacks: Reviewed, Rated & Compared
If you've ever shopped for a new backpack or just researched backpacks in general, you'll have seen the name North Face.
The outdoor company The North Face has a fascinating history, and an interesting ethos and approach to marketing, as discussed in this article published on The Guardian. It was born in San Francisco, CA, in 1966 as a climbing equipment store. It quickly grew to include other lines including ski-wear and camping equipment.
In 2007 The North Face combined with Jansport, the largest backpack manufacturer in the world. Now combined, the company produces over half of the backpacks sold in the US each year.
North Face bookbags have also grown in popularity in the last ten years, adding to their already expansive market share.
Despite not being originally designed with fashion being a priority over practicality, the North Face has become something of a surprisingly style icon in recent years.
North Face Backpacks Compared
| | | | | |
| --- | --- | --- | --- | --- |
| | | | | |
| | | | | |
| | The North Face Women Classic Borealis | | | |
| | The North Face Women's Surge | | | |
| | | | | |
| | The North Face Router Daypack | | | |
What Makes The North Face Backpacks Popular?
From the very beginning, The North Face has been known for being highly selective in the products they offer, with a major focus on quality. This has continued and is still true today. The Jansport line was also known for their durability, and when the companies combined they formed a formidable backpack line.
With great attention to detail, quality materials, careful design, and proven durability, they're difficult to beat when selecting packs. The company also caters to outdoor enthusiasts not only in design but also in marketing, which further increases their market impact.
---
Backpack Features We Looked At
Materials
We looked closely at the makeup of the bag including the different fabrics, handles, zippers, velcro, and hardware. We also looked at if the bag was waterproof and whether it offered any impact protection. These are all important considerations as they contribute to the comfort of the bag, especially when carrying a lot of gear or books for extended periods of time.
Straps
We looked at the kinds of straps the bags feature, whether they were adjustable and whether or not they're comfortable to wear. Straps should be flexible in terms of length and material as this is important on long commutes. The North Face's FlexVent suspension system adds flexibility for additional stress reduction and the injection molded straps add extended comfort.
Size
When considering size, we looked at what the bag can hold, generally measured in liters. We also examined if the bag had external storage or expandable pockets. When considering if a bag is a good fit, the size needs to be a determining factor not only for regular storage or gear for when you're carrying unusual loads.
Compartments
We looked at the total number of compartments, but also any specialty compartments such as a laptop or tablet pocket. Laptop sleeves should always be closely compared as they often support only a certain size of computer. Make sure you do your homework when it comes to carrying your laptop. We also looked for the inclusion of extra padding for fleece lined pockets for scratch protection.
Style Options
We looked at the number of available colors and if there were any variations of the bag available. Many brands will now offer a unisex style so that both men and women look great wearing their bag, as well as women-specific models that are designed to fit a woman's body better.
Warranty
We looked to see if the company offered a warranty. Additionally, what does the warranty cover and how long is it effective? The company's reputation for backing their bags make a big difference to people who depend on their gear.
---
6 Best North Face Backpacks Reviewed
1. The North Face Women's Recon Laptop Backpack
Quick Look - Bag Features
The North Face Women's Recon Pack is a redesign of an older pack made especially for women. This rugged and durable back is designed to get you and your stuff from point A to Point B in style. This bag is an excellent choice for women who are commuting or have a lot of gear to carry back and forth. It would also do well as a book bag for a student.
This bag features a new and improved suspension setup, reflective markings all around, mesh water bottle pockets, an expandable front stash pocket large enough to hold a helmet, and an impressive 30-liter capacity. The pack also has a laptop pocket designed for a 15" laptop, and an additional tablet sleeve with extra padding.
The Recon measures 19.25" x 13" x 7" (48.9 cm x 33 cm x 17.8 cm) with a total volume of 30 liters. It weighs 2lb 6.1oz when empty. It's important to be aware of the weight it's safe for you or your child to carry. 
The laptop sleeve measures 11.5" x 17.75" (29.2 cm x 45 cm). It's also covered by a lifetime warranty. 
2. The North Face Jester Backpack
Quick Look - Bag Features
This backpack is perfect for commuting or for use as a bookbag. With tons of organizational features such as pen holders, a front accessory pocket, an integrated key clip, a padded laptop sleeve, a 360-degree reflective mesh water bottle pockets, an LED light clip, and a bungee system to hold additional items if needed. It comes in a unisex or women-specific version.
It will also help you carry it all in comfort with its new FlexVent™ injection-molded shoulder straps, optional hip belt, and a sternum strap with integrated whistle. The bag weighs 1lb 11oz when empty and measures 19.5"X12.5". The bag is also covered by a lifetime warranty. 
3. The North Face Women Classic Borealis Backpack - Rose Red
Quick Look - Bag Features
The North Face Borealis is an everyday bag designed for women that can be taken on more extended missions when needed.
The bag features a two-compartment system. The first is a large main compartment that will accommodate an impressive about of gear, or books and binders. This compartment has an integrated padded and fleece-lined laptop sleeve for laptops up to 15". 
The front compartment helps organize your gear with an internal panel, zip-secure pockets, and features an extra-padded tablet sleeve.
The backpack also features the FlexVent™ suspension system, two mesh water bottle pockets, 360-degree reflectivity, an elastic bungee system, a fleece-lined outer pocket for sunglasses or electronics, a removable hip belt, a padded top handle, and a sternum strap with integrated whistle buckle.
The Borealis is 19.75" x 13.25" x 9.753" (50.2 cm x 33.7 cm x 24.8 cm), weighs 2 lbs 8.9 oz (1160 g), holds up to 27 liters, and is covered by a lifetime warranty. 
4. The North Face Women's Surge Backpack
Quick Look - Bag Features
The Surge backpack is a pack by The North Face designed for professional women on the go. The bag features a dedicated mobile-office compartment which has space for your laptop, tablet, and documents.
It also has multiple fleece-lined pockets for your phone or sunglasses, two mesh water bottle pockets, 360-degree reflectivity, the FlexVent™ suspension system with straps molded to fit a woman's body, and a large main compartment for books and binders. 
The backpack measures 20" x 13.25" x 10.5" (50.8 cm x 33.7 cm x 26.7 cm) and weighs 3lbs 2 oz empty. A capacity of 31 liters provides lots of room, and it is covered by a lifetime warranty. 
5. The North Face Vault Backpack
Quick Look - Bag Features
The Vault backpack is a unisex minimalist pack that sports clean designs and a simple look. This bag is designed to be a workhorse and would make a great student bookbag.
This smaller 26.5-liter bag still features a main compartment with a padded laptop sleeve, internal organizational pockets, two mesh water bottle pockets, the FlexVent suspension system, 360 degrees of reflectivity, and a sternum strap with integrated whistle buckle.
This bag measures 19.5" x 12.75" x 9.5" (Laptop Sleeve: 11.25" x 13.25") and weighs 1lb 10.8oz when empty. This pack doesn't have a hip belt but is available in a women-specific version. 
6. The North Face Router Daypack
Quick Look - Bag Features
The North Face Router Daypack is the largest bag we've reviewed. It comes in an at impressive 41 liters, which means you have enough space to haul all your gear for everything up to a weekend excursion, and still have a stylish, durable, travel-friendly bag.
If you take long business trips or are one of those students that live out of their backpacks, this is definitely the bag for you. 
The Router features 3 compartments and a laptop sleeve designed to hold laptops up to 17", which is designed to lay flat for mobile office work. It also features the FlexVent suspension system and a front compartment that has fleece-lined pockets for electronics, as well as an internal organization pouch.
It also has two external zippered pockets for easy access, two mesh water bottle pockets, and 360-degree reflectivity. 
This bag is heavier as it's much larger, weighing 3lb 8oz when empty. 
---
Who are North Face backpacks made for?
The North Face targets outdoor enthusiasts from a wide range of activities with their bag lines. From hiking packs to snow sports, they dominate the outdoor bag market.
Due to their inherent durability and quality, they've also become very popular with everyday backpack users, both business commuters and students. The bags lend themselves well to regular use and The North Face has begun incorporating features and bags meant for this market.
---
Negatives of these Backpacks
The biggest negative about The North Face bags is their price. They cost more than other packs in the same niche but deliver high quality, durability, and a lifetime warranty.
Another common complaint was that the individual pockets were often too small, with some laptops not fitting in sleeves, some sunglasses too big for the outer fleece pockets, or only certain kinds of pens fitting in the organizational pouches.
If these things concern you, you may want to make sure you get to try out the bag before you make a purchase, or at least know the return policies. 
---
Choosing a color
One detail about The North Face backpacks is that they come in a wide assortment of colors. The choices vary depending on bags, but most have anywhere from 10 to 15 options, which allows you to personalize your selection. The lighter color shells are excellent for light duty or cleaner environments, the darker colors show less dirt and would be better suited for travel or commuting.
An added benefit to having the brighter colors or even trim colors is that it helps you to be able to spot and identify your bag quickly, which can help if traveling with a group or checking your bags for a flight. 
---
How Do These North Face Models Compare?
Size
The models reviewed range from 26 up to 41 liters, which encompasses much of the "mid-size" backpack range. The smaller bags such as the Borealis and Jester would be a good fit for a high school student or commuter with only a tiny amount of gear. The larger Router could handle multi-day business trips and commuters with longer equipment lists.
Price
Of the bags we reviewed, the difference between the cheapest to the most expensive was almost $100. The low end was the Vault, priced under $100, and the high end was the Router up towards the $200 mark.
One thing we noted about The North Face bags is that the price and availability tend to be very different for each color scheme. For the Jester alone, there was up to a $63 difference on Amazon depending on your color choice.
Functionality
As far as functionality goes, the 6 bags reviewed are all quite capable. The Surge and Router have the addition of the lay flat mobile office compartment, that not only allows you to work right from the backpack, but also breeze through security checkpoints. The Router also gets top marks for volume, with the 41-liter capacity enough for nearly any user.
The North Face line's designs help the bags work for you, with optional carrying solutions and customizable storage options. They also cater to electronics users with fleece-lined pockets and extra padding. 
People Also Ask (FAQs)
Are The North Face backpacks good quality?
Yes. The North Face prides themselves on being selective and offering high-quality gear.
Are The North Face backpacks comfortable to carry?
Yes. The FlexVent suspension system features an adjustable yoke and injection molded straps to make sure the bag fits right and breathes well. This makes for a comfortable and cool carry.
Where can you get The North Face bags at cheap prices?
Amazon. Make sure you check the different colors for changes in price.
Would The North Face packs make a good bookbag?
Yes. The customizable organization options and extra pockets will help keep you organized and still have plenty of room for books and binders.
Are The North Face bags waterproof?
No. While the outer shells will be water-resistant, the entire bag isn't waterproof.
Which is my favorite & why?
Out of the bags reviewed, my personal favorite is the Router. With tons of room and organizational options, you can have all the gear you need and be able to find it. The lay-flat laptop sleeve with its extra room means that getting my computer in and out wouldn't be a hassle.
---
Conclusion
If you're looking for a good quality and high functioning backpack for daily use, The North Face line is hard to beat. The price is a little high compared to others, but the bags deliver enough quality to back the price up, plus come with a lifetime warranty.
With everyday use, comfort takes a high precedent, and The North Face bags do very well with most users thanks to their updated suspension systems and quality straps and buckles.