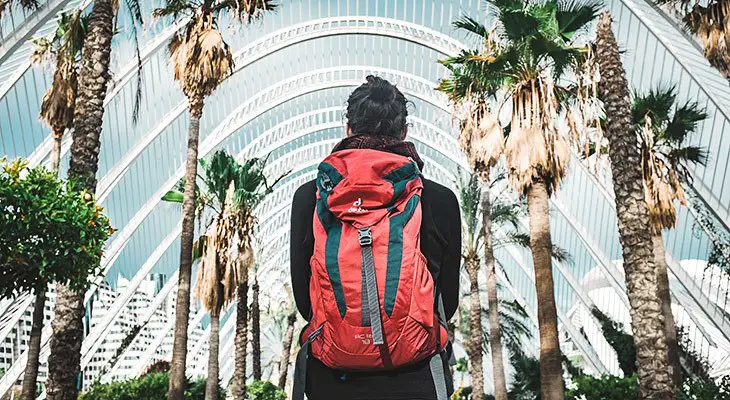 10 Best Deuter Backpacks: Reviewed, Rated & Compared
Arguably one of the leading backpack brands in the world, Deuter has been developing backpacks for leisure, military and outdoor activities since 1898. A popular question among outdoor enthusiasts is "what backpack is the best for me?"
This is why I've reviewed the most popular Deuter backpack models in this article to help you choose the one that perfectly suits your purposes.
What makes the Deuter Brand Popular?
At Deuter, their sight isn't just set on short-term profit-making. One important value that they uphold is the fusion of economy, ecology, and social commitment. Furthermore, the authenticity and reliability of the brand are also values that have helped them stay relevant for a very long period of time.
Focused on making products for outdoor activities, they've been able to recruit qualified employees and create one of the best working environments.
This is hugely reflected in the style and personality of their backpacks. I mean, under such working conditions, the individuality and creativity of each employee can only blossom into great ideas.
For an impression of Deuter as a brand, have a read of this interview with their Marketing Manager, Becky Marcelliano.
---
Who are Deuter Backpacks made for?
As I said earlier, at Deuter, their focus is on developing backpacks for outdoor purposes - snow sports, hiking, trekking, camping and other related activities.
However, they also make backpacks for leisure and everyday use. Deuter Backpacks are available for men and women, and they have different models to suit different purposes.
As a potential customer, you should consider what your outdoor plans are before deciding on which model is the best for you. That in fact, is the very essence of this review.
So, it doesn't really matter if you're male or female. If you need a backpack for hiking, camping, or everyday activities, you're very likely to find a Deuter backpack that will satisfy you.
---
What We Looked At
Materials
The type and quality of materials used in making a backpack will directly affect the durability. Typically, Deuter products are known to be durable, and that's not unrelated to the materials used. Some large Deuter backpack models have internal aluminum frames, which helps them keep their form, even after years of use.
All their backpacks, however, have polyurethane coating. This ensures water-resistance and durability of their products.
Straps
If backpack straps are poorly designed, using such backpacks will inevitably result in shoulder and back strains. To make sure that this doesn't happen, Deuter uses appropriate strap padding, depending on the size and type of backpack.
Shoulder straps aren't sufficient to ensure comfort, especially for hiking backpacks. Hip belts and chest straps are additional features commonly used by Deuter to ensure comfort.
Check out this video by Deuter showing exactly how to adjust your backpack to get the best fit.
Size
The functionality of any backpack is closely related to its size. Certainly, you can't compare a backpack for just books and a laptop with a hiking backpack.
Even when picking out a backpack for hiking, there has to be a distinction between short hikes and long hikes. Deuter offers a variety of sizes for different purposes, from their typical lightweight backpacks to their 65-liter backpacks.
Compartments
Apart from size, the number of compartments is another thing you want to consider when choosing a Deuter backpack. Eventually it all comes down to what you need the backpack for.
However, Deuter can boast of a large variety of backpacks with different types and sizes of compartments.
From U-zip openings to shoe compartments to large main compartments, Deuter has surely got you covered in terms of storage options.
Style Options
It may be safe to say that Deuter backpacks have a unique style, even though it's a case of "form follows function".
A distinct pattern of design has evolved with Deuter over the years, from their seemingly narrow backpack designs to their removable hip belts and exquisite S-shaped straps. Additionally, Deuter offers a lot of style options in the different colors their backpacks come in.
---
10 Best Deuter Backpacks Reviewed
1. Deuter Speed Lite 20 Athletic Daypack
Quick Look - Bag Features
| | |
| --- | --- |
| Waterproof | |
| Number of Compartments | |
| Laptop Sleeve | |
| Best For | Day Hiking, biking, daypack, women/men, + more |
| Size | |
| Warranty | |
This lightweight backpack is perfect for day hikes, ski races, and mountaineering. The Speed Lite's distinct features are its lightweight and compactness.
These features make the backpack perfect for light packing while ensuring that you still have enough space for necessary gear. The light and padded back has a ventilated air mesh to ensure carrying comfort.
The only demerit of this backpack is that it's not big enough for long hikes, but that shouldn't be a problem if you're not planning on going on one.
There are lots of interesting features, however, on the Speed Lite. It has adjustable and padded shoulder straps, and sunglasses loop on the shoulder strap. It has side pockets for water bottles and you can use a hydration system with it.
If what you're looking for is a backpack for short hikes and other related activities, the Speed Lite is perfect for you.
2. Deuter Futura Vario SL 45+10 Backpack
Quick Look - Bag Features
| | |
| --- | --- |
| Waterproof | |
| Number of Compartments | |
| Laptop Sleeve | |
| Best For | Hiking, biking, daypack, women/men |
| Size | |
| Warranty | |
Specially designed for men and women, Deuter's Futura Vario 45+10 SL has a Vari-Fit system which allows it to fit different back length.
Like most Deuter models, Futura offers maximum ventilation through a steel spring frame that supports the mesh, thus creating space between your back and the pack. Additional features like the adjustable hip belt and the S-shaped 3-D AirMesh shoulder straps give the Futura its special edge.
The backpack has a built-in detachable rain cover, a separate bottom compartment, and space for a hydration system. The backpack also features additional pockets to house everything you might need for hiking, climbing, camping, traveling and other outdoor activities.
This load-carrying backpack, however, cannot be used for air travel as it exceeds the size allowed by most airlines.
3. Deuter Giga Bike Backpack
Quick Look - Bag Features
| | |
| --- | --- |
| Waterproof | |
| Number of Compartments | |
| Laptop Sleeve | |
| Best For | |
| Size | |
| Warranty | |
Certainly, this is a more adaptable backpack than most Deuter models. The design and fit of this backpack make it perfect for bike commutes and at the same time it perfect for school, office and other day-to-day activities.
Designed to allow optimal airflow, breathable mesh lining containing contoured foams ensures that the back is comfortable.
This backpack has two compartments with the main compartment designed to hold folders and documents, the second compartment can hold your laptop or smaller folders and documents. Just like other Deuter products, the backpack has a PU coating. This makes it resistant to water and abrasion.
According to customers, the mesh hip straps stay out of the way, it's perfect for air travel and it's quite spacious. This backpack, however, isn't designed for hiking and it wasn't designed to accommodate a hydration system.
4. Deuter Freeride Pro 30 Backpack
Quick Look - Bag Features
| | |
| --- | --- |
| Waterproof | |
| Number of Compartments | Two (with additional pockets) |
| Laptop Sleeve | |
| Best For | Alpine Skiing, Snowboarding, Ski Touring and more |
| Size | 22x12x7.1 inches (30 liters) |
| Warranty | |
The Deuter Freeride Pro 30 Backpack is specially designed for cold weather. It's perfect for any cold weather outdoor activity like snowboarding, skiing and ice climbing.
The detachable helmet holder, shovel compartment, fleece-lined goggle pocket and many other features will help you hold your equipment safely in cold and snowy conditions.
The backpack is designed with a removable VARIFLEX pivoting hip belt that ensures your comfort and also helps against the development of blisters. The sternum strap helps stabilize the backpack on your shoulders.
Furthermore, it comes with a lot of storage options and attachment loops for hiking poles or even an ice axe, because of what it's designed for. The breathable back design protects your back from excessive sweating. It's not surprising that this backpack is really expensive.
However, with the features that have been incorporated into the design, you'll surely get your money's worth.
5. Deuter ACT Lite 35+10 SL Pack - Women's
Quick Look - Bag Features
| | |
| --- | --- |
| Waterproof | |
| Number of Compartments | Two (with additional pockets) |
| Laptop Sleeve | |
| Best For | Camping, Hiking, Huts, Trekking |
| Size | 28.4x10.2x8.7 inches ( 35 liters + 10 liters) |
| Warranty | |
Women's backpacks are typically not as long as men's, and the Deuter's ACT Lite 35+10 is an example of this.
Women who love camping, hiking and trekking will find this backpack very appealing, with its Aircontact act lite system that reduces perspiration by up to 15%, x-frame construction, height adjustable lid, padded hip belt and so many more features. It's a perfect backpack for trekking and alpine climbs.
PU coating makes this backpack resistant to water and the strong ripstop threads make the backpack suitable for rough and long use. Additionally, the pack's hydration system compatible with compartments for your hiking poles and wet gear.
The detachable top compartment is, however, very small and the backpack doesn't come with a rain cover.
For a super in-depth review of this backpack complete with photos of the interior, check out this piece by Pangolin With Packs.
6. Deuter ACT Trail 30 Hiking Backpack
Quick Look - Bag Features
| | |
| --- | --- |
| Waterproof | |
| Number of Compartments | |
| Laptop Sleeve | |
| Best For | Hiking, Mountain Climbing |
| Size | |
| Warranty | |
This light and versatile design of the ACT Trail 30 offers you the easiest way to carry heavy loads.
Designed specifically for hiking and mountain climbing, the Aircontact system, derlin frame, pockets, front opening, hip fin garage, sternum strap, rain cover, stretch compartment and many more features make this backpack perfect for outdoor activities.
The backpack has attachment loops for hiking poles and helmet holder; also, it is hydration system compatible.
You can easily adjust the backpack to fit you perfectly by using the load adjustment straps and as regards ventilation, you're covered. The Aircontact back system's breathability will reduce sweating while hugging your body perfectly.
Like in other Deuter models, the PU coating is present to make the pack water and abrasion-resistant.
While you can also use this backpack for other things apart from hiking, it doesn't have that many pockets where you can store things.
7. Deuter ACT Lite 65+10 Hiking Backpack
Quick Look - Bag Features
| | |
| --- | --- |
| Waterproof | |
| Number of Compartments | |
| Laptop Sleeve | |
| Best For | |
| Size | |
| Warranty | |
While this backpack is suitable for both day and long hikes, it's also perfect for any backpacking trip. The backpack is designed to help you pack a lot of loads and carry it with ease.
It's designed to sit close to the body so that the weight will be evenly distributed on the back. Unlike most body contour packs, this backpack has a perfect ventilation system that will reduce perspiration by 15%.
You should also know that the backpack has a Vari-Quick system that allows it to be adjusted to fit any back length and with all its features, the 65-liter pack offers an additional 10-liter boost.
There are compartments for hydration system and hiking poles. Some people have complained, however, that there's too much space between the hip wings that help to ensure comfortable load distribution.
All in all, the ACT Lite 65+10 is a great backpack for hiking, and backpacking trips.
8. Deuter Schmusebar Kid's Backpack
Quick Look - Bag Features
| | |
| --- | --- |
| Waterproof | |
| Number of Compartments | |
| Laptop Sleeve | |
| Best For | School, Day Care, Family Hike |
| Size | |
| Warranty | |
Certainly, it isn't only adults that enjoy outdoor activities. This is why Deuter developed The Schmusebar kid's backpack with colorful designs and interesting patterns.
With soft S-shaped straps, breathable and padded backs, your little ones can take this backpack to school, daycare, sleepovers and even family hikes.
Animal patterns make them fun to carry for children, and the mesh side pockets provide space for snacks and other small items, apart from the spacious main compartment.
The compression strap, the kid-friendly buckles, and the lightweight material all make the backpack perfect for children.
Additionally, to prevent mix-ups, there is a name label inside the pack.
9. Deuter Junior Kid's Backpack
Quick Look - Bag Features
| | |
| --- | --- |
| Waterproof | |
| Number of Compartments | |
| Laptop Sleeve | |
| Best For | School, Day Care, Family Hike |
| Size | |
| Warranty | |
Specially designed for children playground and trail exploration, Deuter's junior kid's backpack is fitted with S-shaped soft shoulder straps and chest straps to manage load perfectly. The Airstripes back system offers adequate ventilation, mesh side pockets and front zip pockets provide space for snacks and school items like pencils.
There's also a name label on the inside to prevent mix-ups in schools and on the playground.
With its size and features, this backpack is perfect for children aged 5 and above. Another interesting feature is the waterproof PU coating, so you can be assured that your children's books and other valuables won't get soaked.
10. Deuter Kid Comfort 2
Quick Look - Bag Features
| | |
| --- | --- |
| Waterproof | |
| Number of Compartments | |
| Laptop Sleeve | |
| Best For | |
| Size | 13x28x17 inches (16 liters) |
| Warranty | |
This best selling pack is very popular with parents and kids alike. Child comfort is ensured through the design and material used, the step-in side access for kids to get in and out of the carrier easily, the soft chin pad provides support for kids to rest and adjustable footrests help to promote circulation.
The wearer is also protected by the adjustable Vari Fit system, which allows the pack to conform to the wearer's size.
Additional features include 2 grab handles to lift the backpack without assistance and ample storage space. You can be sure of your child's safety as the backpack has been certified by the Juvenile Products Manufacturers Association (JMPA).
The sun and rain roof compatibility is another feature that makes that pack interesting among many others.
---
How Do These Models Compare?
Size
Hiking backpacks are usually large or at least of a medium size. Of all the backpacks reviewed, only the Deuter Speed Lite 20 Athletic Daypack and the kid's backpacks are really small. The other backpacks, because of their functions, are large.
Even though most of these backpacks are large, there's a great difference in their respective volumes, so it depends on what you really need.
Price
Generally, Deuter backpacks can be expensive, but as they have a lot to offer in terms of backpack features, this is justified. Of all the backpacks reviewed, only the Speed Lite 20, the Junior Kid's Backpack, and the Schmusebar Kid's Backpack are really cheap.
You should know, however, that with every Deuter backpack you buy, you'll get value for money.
Functionality
Deuter backpacks in general and most of the models here are made for outdoor sports and activities, hiking, snowboarding, backpacking trips, trekking, camping and so on.
Some models are, however, versatile and can serve other functions, like the kid's backpacks and the Giga Bike Backpack. The Deuter Speed Lite Athletic Daypack is also fairly adaptable.
---
Frequently Asked Backpack Questions
Are Deuter backpacks good quality and durable?
Generally, Deuter backpacks are strong and of good quality, most models have PU coating and strong weaves to make them water and abrasion-resistant.
Where are Deuter backpacks made?
All Deuter backpacks and accessories are manufactured in Vietnam.
I need a large backpack. Will this brand be good for me?
The Deuter brand is perfect for you if you're looking for a large backpack. They have a lot of options for you to choose from.
Can you take this backpacks + a carryon bag on airplanes?
As there are different sizes of backpacks, this will depend on the size of the particular backpack. They have a lot of backpacks that exceed the size allowed by most airlines. It's always best to call your airline prior to flying to get an exact answer as each company's policy can vary.
How do you wash or clean a Deuter backpack?
The inside of Deuter backpacks can be cleaned with a vacuum and the outside with a toothbrush. When cleaning the outside, make sure you use only mild detergent mixed with water. A soft cloth or brush can also be used.
Where can you buy Deuter backpacks at cheap prices?
You can buy Deuter backpacks at cheap prices on Amazon.
---
Conclusion
Deuter is a leading backpack brand worldwide and they have a history of manufacturing some of the best outdoor backpacks in the market today.
Comfort is assured through their breathable back system and quality is assured by the PU coating that makes the backpacks water and abrasion-resistant. Deuter backpacks are suitable for children and adults alike.
Images via: https://www.deuterusa.com/